Carty Wells to Abraham Miller, 400 Acres
On 23 Dec 1782, John Ray surveyed 400 acres for Carty Wells, located beside the road leading from Bullitt's Lick to the Falls of the Ohio. This tract is later referenced as adjoining that of George Slaughter's 680 acre tract. Wells received a deed to his land on 4 Jan 1786. Then, on 14 Apr 1810, Wells, who was living in Shelby County, sold his claim to this land to Abraham Miller who also lived in Shelby County at the time. Then, on 18 Aug 1810, Miller sold the tract to Joseph Brooks.
A transcription of this deed, and an image of it both appear below.
---
Bullitt County Deed Book B, pages 387-9
This indenture made this 14th day of April in the year 1810 between Carty Wells of the county of Shelby and state of Kentucky of the one part and Abraham Miller of the county and state aforesaid of the other part, witnesseth that the said Carty Wells for any in consideration of the sum of $400 to him in hand paid, the receipt whereof is hereby acknowledged, hath granted, bargained, sold and relinquished and by these presents doth grant, bargain, sell and relinquish unto the said Abraham Miller and his heirs and assigns forever one certain tract or parcel of land lying and being in county of Bullitt containing 400 acres patented to the said Carty Wells the 4th day of January 1786, and bounded as follows, to wit. Beginning at a white oak and gum standing on the west side of the road leading from Bullitt's Lick to the Falls of Ohio and about one mile northwardly from Phillips' cabin on said road, thence West 400 poles to two white oak trees, North 160 poles to two pine trees standing on the south of a knob, thence East 400 poles to white oak, thence South 160 poles to the beginning with its appurtenances to have and to hold the said tract or parcel of land with all and singular its appurtenances to the said Abraham Miller, his heirs and assigns. And the said Carty Wells for himself, his heirs, executors and administrators covenants and agrees to and with the said Abraham Miller that he will warrant and defend the said tract or parcel of land against himself, his heirs, but not against the claim of any person or persons else, it being fully understood by and between the parties to this deed that if the whole or any part of said tract of land should be taken by prior or better claim of any person other than himself & heirs & those who may claim under him, the said Wells, that the said Wells is not to be responsible for the same or to refund the purchase money, but that the said Miller take the risk of the title on himself without recourse. In witness whereof I have hereunto set my hand, seal the date aforesaid. (signed) Carty Wells. Teste: Jno Hall.
Shelby County Sct
Clerk's Office, 14th April 1810 This indenture was this day produced in my office and acknowledge by the within named Carty Wells to be his act and deed for the purpose within mentioned. Whereupon the same is admitted to record. And I do certify that a true copy thereof is recorded in my office. Attest: James Craig, clerk.
Bullitt County Sct
I certify that on the 18th day of August 1810 the within indenture and the certificate thereon endorsed was delivered to me at my office in order to be recorded, and that I have recorded the said indenture & the said certificate together with this certificate in my office according to law. Witness my hand this 20th of August 1810. (signed) Fred W. S. Grayson, CBCC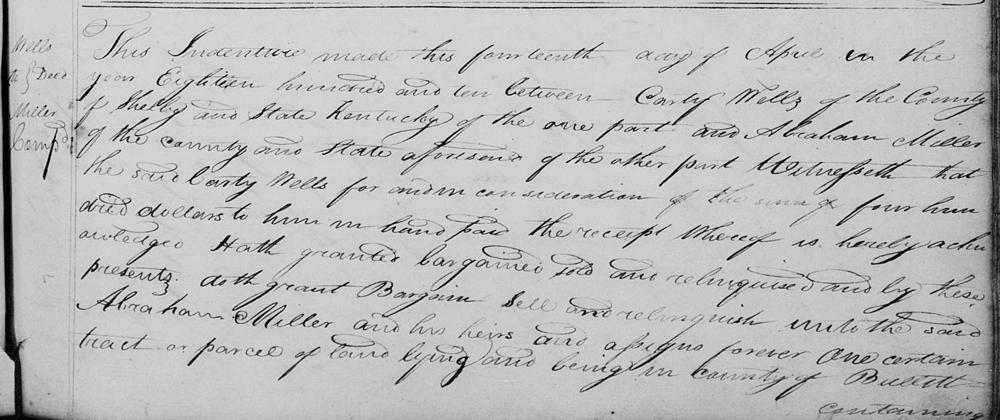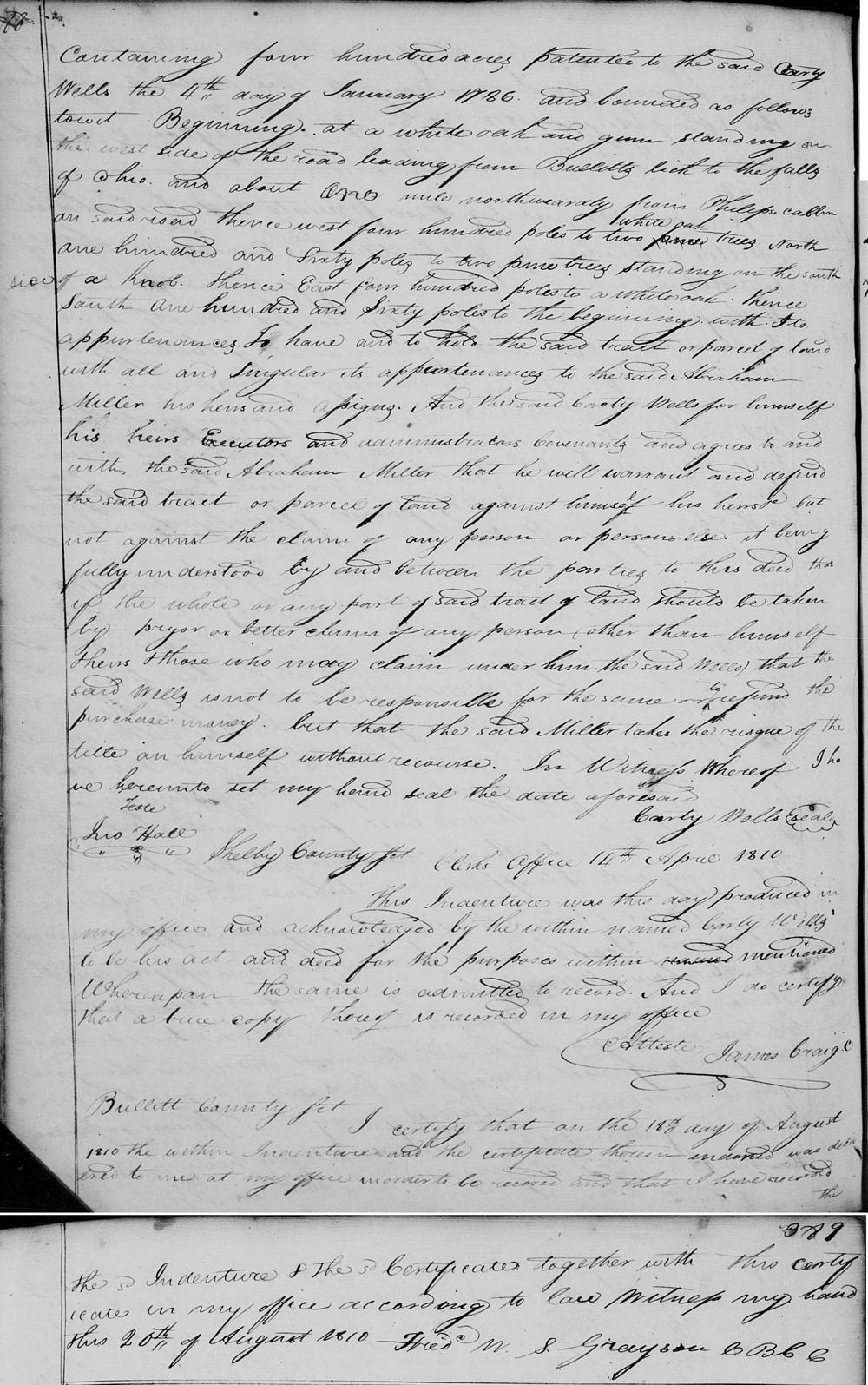 ---
If you, the reader, have an interest in any particular part of our county history, and wish to contribute to this effort, use the form on our Contact Us page to send us your comments about this, or any Bullitt County History page. We welcome your comments and suggestions. If you feel that we have misspoken at any point, please feel free to point this out to us.