James A. Sturgus to John Beckwith - 400 Acres
In 1802, James A. Sturgus had purchased this tract (formerly the George May plat, shown in the drawing below) from Richard Bibb. Then, in 1807, he sold it to John Beckwith as shown in the transcription and deed image below. Beckwith's son, John Williams Beckwith, sold it to George Finley in 1812.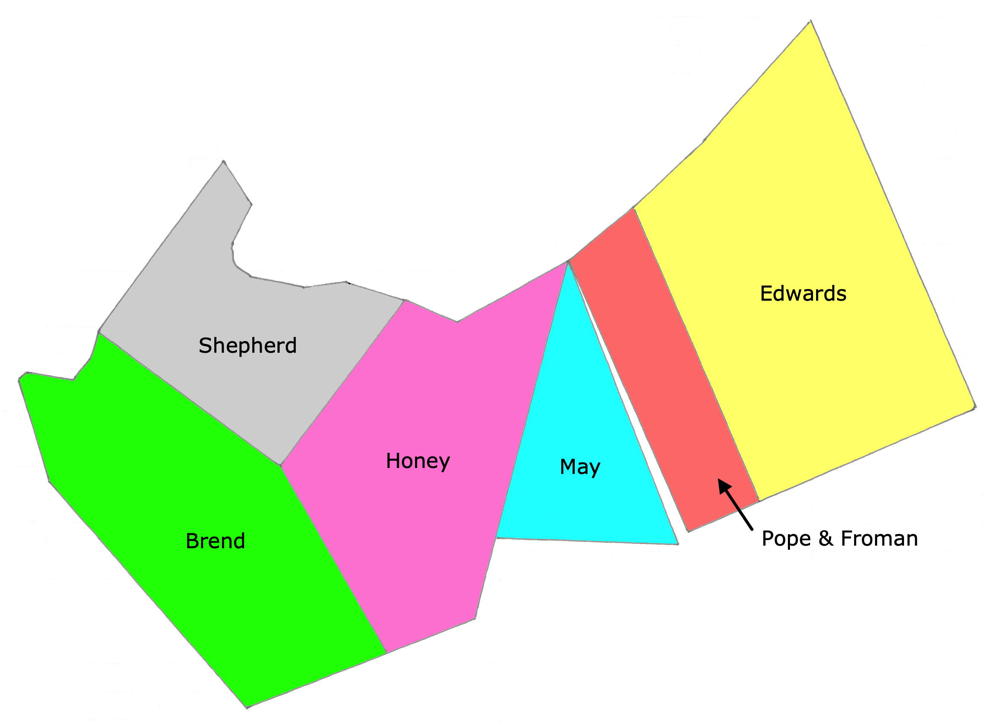 ---
James A. Sturgus to John Beckwith
Bullitt County Deed Book B, pages 104-105
This indenture made this sixteenth day of January in the year of our Lord one thousand eight hundred and seven between James A. Sturgus of the county of Bullitt & Commonwealth of Kentucky of the one part and John Beckwith of the same county and Commonwealth aforesaid of the other part. Witnesseth that the said James A. Sturgus for and in consideration of the sum of six hundred and ninety four dollars, sixty six and a half cents current money of the United States of America to him in hand paid by the said John Beckwith with the receipt whereof is hereby acknowledged, hath given, granted, bargained and sold, and by these presents do give, grant, bargain and sell, alien, release, convey and confirm unto the said John Beckwith, his heirs and assigns forever a certain tract or parcel of land situate lying and being in the said county of Bullitt and on the south side of Salt River conveyed by deed recored in the county court of Bullitt from Richard Bibb and wife to James A. Sturgus containing by estimation four hundred acres more or less and bounded as follows, to wit. Beginning at a walnut and two small hickorys standing on the river bank at low water mark, a corner to James Honey's 970 acre survey, running thence twenty one degrees East four hundred and ninety poles to a red oak and elm, thence North eighty eight degrees West two hundred and ninety poles to a stake in James Honey's line, thence with Honey's line North eighteen degrees East four hundred and sixty poles to the beginning with its appurtenances to have and to hold the aforesaid tract or parcel of land unto the said John Beckwith, his heirs and assigns, to his and their only proper use, benefit and behoof forever the said James A. Sturgus for himself, his heirs, Executors, & administrators doth further covenant and agree with the said Beckwith, his heirs &c that he will warrant and defend the said tract of land above described unto the said John Beckwith, his heirs, executors, administrators, and assigns forever against the said James A. Sturgus, his heirs &c, and agains all persons claiming by, through, from or under tem, but not against the claim or claims of any other person or persons whatsoever. In witness whereof the said James A. Sturgus hath hereunto set his hand and affixed his seal the day and year first above written. (signed) Ja A. Sturgus
Bullitt County to wit
I Frederic William Spence Grayson, clerk of the county court of said county do make known that on the 16th day of January last james A. Sturgus, a party to this indenture, personally before me acknowledged same to be his voluntary act and deed and that I have truly recorded the same in my office as required by law. Witness my hand this 26th of June 1807. (signed) Fred W. S. Grayson
Deed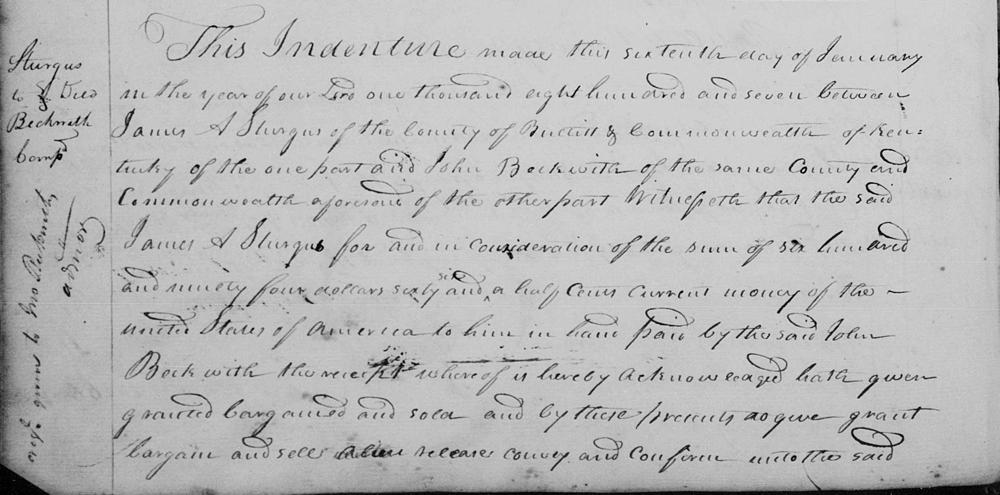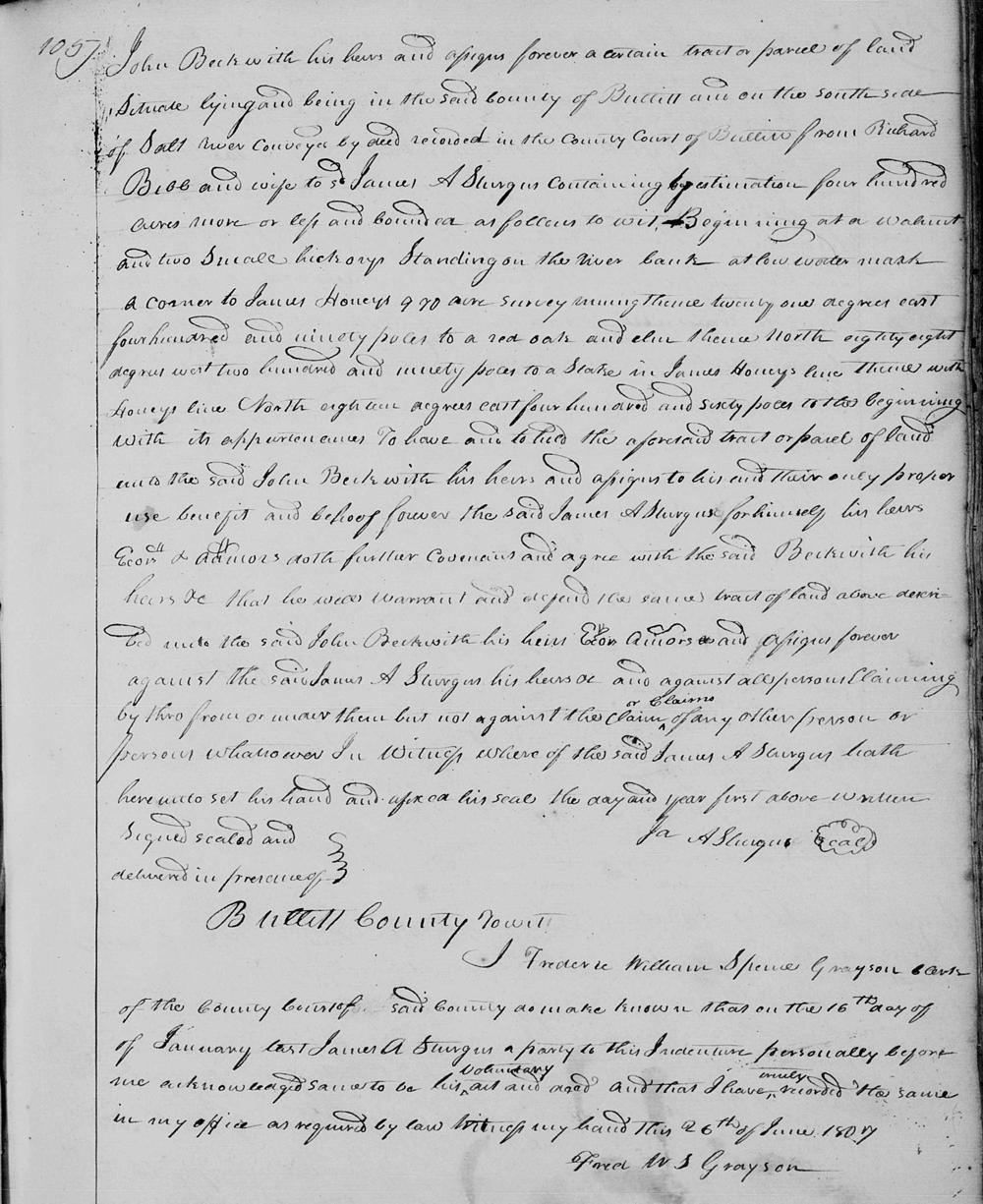 ---
If you, the reader, have an interest in any particular part of our county history, and wish to contribute to this effort, use the form on our Contact Us page to send us your comments about this, or any Bullitt County History page. We welcome your comments and suggestions. If you feel that we have misspoken at any point, please feel free to point this out to us.