Adam Shepherd to John Scott Jr. - 6.75 Acres
In June 1810, Adam Shepherd sold a small tip of Peter Shepherd's 900 acre survey to John Scott Jr. This had been the location of Shepherd's ferry across Salt River, and part of the sale included that Adam Shepherd's family would continue to use the ferry at no charge.
Scott almost immediately sold the same tract to John Griffin with the same requirement to transport the Shepherd family across the river for free.
---
Bullitt County Deed Book B, Page 381
This indenture made the 18th day of June in the year of our Lord 1810 between Adam Shepherd of the county of Bullitt and Commonwealth of Kentucky of the one part and John Scott Jr. of the same county and Commonwealth of the other part. Witnesseth that for and in consideration of $1 to him in hand paid before the sealing and delivery hereof, the receipt whereof is hereby acknowledged, hath given, granted, bargained and sold, and by these presents doth give, grant, bargain and sell, alien, release, convey and confirm unto the said John Scott Jr., his heirs and assigns, forever a certain tract or parcel of land situate, lying and being in the county of Bullitt on Salt River containing six acres and three quarters by survey and bounded as follows, to wit:
Beginning at John McGee's southwestwardly corner of sugar tree and beech, running thence South 58° West 44 poles to John W. & U. Beckwith's corner to an ash tree on the bank of Salt River, North 6° East 64 poles to a stake in John McGee's line, thence South 35° East 50 poles to the beginning.
To have and to hold the said tract or parcel of land with all its appurtenances there unto belonging unto the said John Scott Jr., his heirs and assigns to his and their only proper use, benefit and behoof forever; and the said Adam Shepherd for himself, his heirs, executors and administrators doth covenant, promise and agree to and with the said John Scott Jr., his heirs, executors administrators and assigns that he will forever warrant and defend the said tract or parcel of land with all and singular the appurtenances unto the said John Scott Jr., his heirs, executors, administrators and assigns against him the said Adam Shepherd, his heirs, executors and administrators and the claim or claims of all and every person or persons whatsoever claiming by, through, from or under him.
It is further agreed between the parties that his, the said Adam Shepherd's family is to be ferried over Salt River at the said Scott's ferry without paying anything therefor.
In witness whereof the said Adam Shepherd hath hereunto set his hand and affixed his seal the day and year first above written. (signed) Adam Shepherd
Bullitt County Sct The within indenture was acknowledged by Adam Shepherd on the 19th of June 1810 to be his voluntary act and deed. And that I have recorded the same in my office. July 5th 1810. Fredrick W. S. Grayson, CBCC.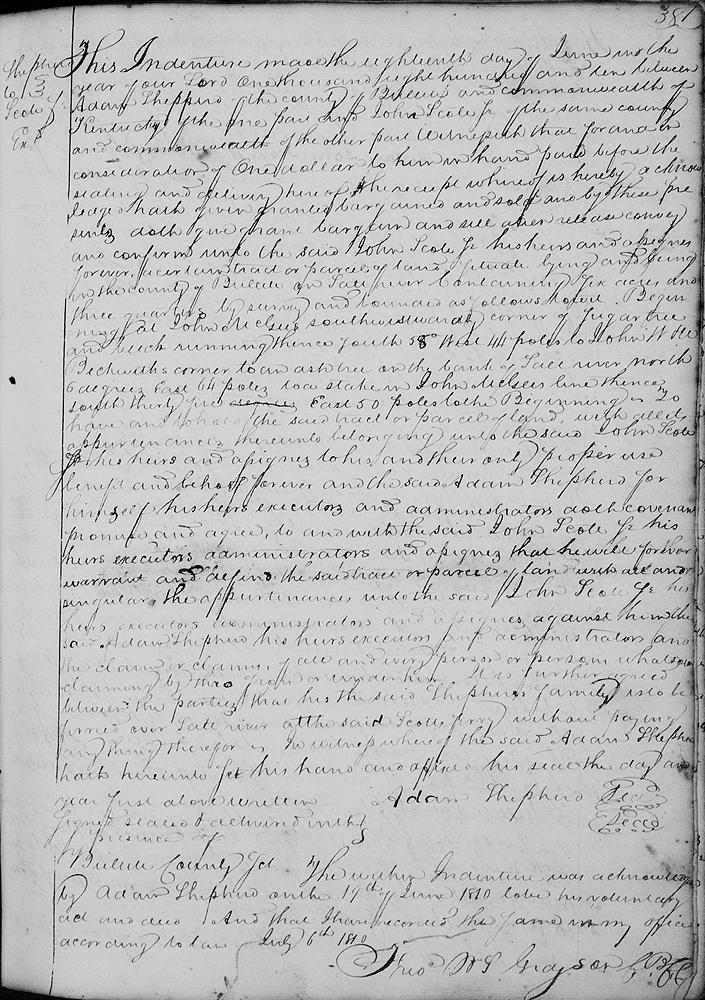 ---
If you, the reader, have an interest in any particular part of our county history, and wish to contribute to this effort, use the form on our Contact Us page to send us your comments about this, or any Bullitt County History page. We welcome your comments and suggestions. If you feel that we have misspoken at any point, please feel free to point this out to us.