Murder or Not?
In January 2012, I published this non-fiction book about a murder trial that took place in Bullitt County more than a century earlier. We have decided to serialize the book here on the museum web site. Links to each part of it will be added to its table of contents here. You may also use this link to go back to the previous episode.
---
Huber's Station - April 27, 1894
Early Friday morning a train from Louisville approached Huber's Station. William Shallcross, the engineer, saw a man walking along the track a hundred feet south of the station platform. He blew the train whistle to warn the man off the tracks, but the man seemed not to hear. Shallcross applied the air brakes in a vain attempt to stop. The locomotive's pilot or cattle catcher scooped the man up and tossed his body to the side of the tracks. When the train's crew hurried back to where he lay, they found him dead, and were shocked to see that it was Mr. Huber, whom they all knew very well.
James Henry Huber was the family patriarch and founder of the community that bore his name. During the Civil War, the Louisville & Nashville railroad skirted the eastern edge of the knobs, and passed through land suitable for both crops and pasture, before reaching the divide between Coleman and MacDonald Knobs just north of Shepherdsville.
Here, in February 1866, Huber purchased 333 acres of land from the estate of Charles Q. Armstrong. It lay on both sides of the tracks, and by 1871 he arranged for the railroad to build a small depot on the east side of the tracks next to his land. Although a narrow county road passed through the area on its way to Shepherdsville, having the daily trains stop at Huber's made it the preferred route to travel to Louisville or points south.
When Huber moved to Bullitt County he brought with him his five children by his deceased first wife, and two children by his current wife. They were joined by the family of his mother-in-law, Mary Casseday, who was then married to Alexander Casseday. One of Mary Casseday's children was Samuel Casseday who was on the train with Francis Hagan a decade later.
For more than twenty years, the Hubers lived at Huber's Station, while James traveled each day to Louisville to work as the cashier for the Peoples Bank of Kentucky, a job he held for thirty-two years. Along with their daughter Mary and son William, James and Henrietta added three more daughters and a son: Emeline, Henrietta, Jennie, and Paul.
Tragedy struck the family in 1892 when their youngest son Paul was killed in an accident. Then a year later, their son William died as well. These two losses weighed heavily on James who had already lost two married daughters by his first wife.
In late 1893 the small bank where he worked decided it could no longer successfully compete against the larger banks and went into liquidation on January 1, 1894. As cashier, James Huber completed the business of closing the bank in March of that year.
About the same time he began to suffer from what was called "softening of the brain" and was confined to his bed for a time. He partially recovered and was lucid at times, but was unable to manage his affairs.
For several weeks he had been able to be about, and was in the habit of going every morning to the long railroad platform in front of his residence to take his daily exercise by walking up and down. On the morning of April 27, soon after 8 o'clock he went there as usual and alone.
His death left Henrietta, his widow, alone with four daughters, one an invalid who required constant care. Two of the girls, Emeline and Henrietta, married Presbyterian ministers in 1897 and left home, leaving their mother with her eldest daughter, Mary, and the invalid Jennie.
Over the years, the Huber's Station area became a fashionable location for summer homes for several of the well-to-do families of Louisville, and in 1889 the Frank Hagan family purchased a tract of 82 acres south of the area, and close to Gap-in-the-Knob, a small railroad depot located between Coleman and MacDonald Knobs (see next map). In May of 1891 Frank Hagan's son Francis bought additional land in the area from George Wilcox. Then in 1896 he purchased an additional 135 acres from J. H. Gardner which bordered on land owned by the Huber family.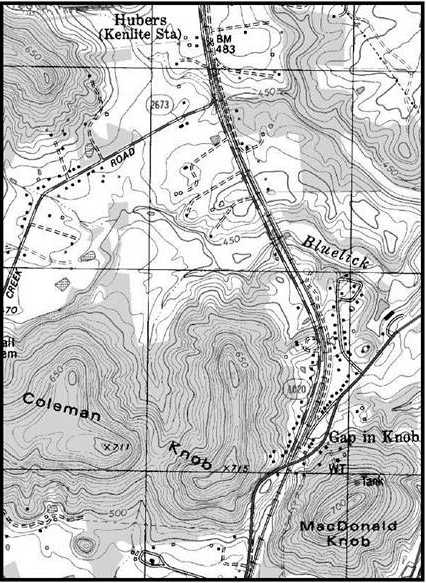 Portion of 1997 Brooks, Kentucky topographical map.
Francis J. Hagan was born in 1868 to Captain Frank Hagan and his first wife, Zerilda Sloan Hagan. There was little doubt where his life's work would lead, since his father was a lawyer, and eight of his uncles were lawyers as well.
Francis was named for his father, and also called Frank by many who knew him well. His mother died in 1879, leaving Frank Sr. with three sons: Francis and his two younger brothers, Robert and Louis. Two years later Frank Sr. married Virginia Wilder Egerton who was not yet twenty-one at the time of her marriage.
Francis was educated in the Louisville Male High School and the Louisville Law School. Then he joined his father's law office where he had a successful practice for several years. However, his health declined, and the family decided he needed to get away from the city and the pressures of his law practice. Later his brother would say that Francis' health had always been "delicate."
Francis Hagan came to live in the Huber Station area, at least part-time, perhaps as early as 1889. Certainly he was almost a permanent resident by 1895, although he continued to be listed in city directories as boarding in his father's Louisville home.
Meanwhile, in August of 1892 Miss Tenie Taliaferro of Newport, Kentucky purchased ten acres that lay north and west of the railroad station. Miss Taliaferro was John Barbour's aunt, sister to his mother. It is very likely that this is where the Barbours, including John's parents, lived when they moved to Huber's Station later that month.
Then in February 1895, Miss Taliaferro purchased forty-seven and a half acres from Ellis and Carrie Oglesby. This land lay on the east side of the railroad, just north of the Huber place. As she remained in Newport, it is likely that the Barbours or other relatives looked after this place.
John Robert Taylor Barbour was born on July 2, 1866 in LaGrange, Kentucky to Francis Madison and Sarah Todd (Taliaferro) Barbour. He was the youngest of five children, and their only son.
His father was an Oldham County merchant and lawyer from the time of his marriage to Sarah until the family moved to Louisville sometime before the 1880 census. In that year John's extended family included his parents and two married sisters with their families, all living on Eighth Street in Louisville.
By 1886, when John was 20, the family had moved to Sixth Street, and John was working as a clerk for the Louisville, Evansville & St. Louis railroad company. The following years found them on Guthrie Street, and then First Street, and then Second Street. It is not clear why they moved so frequently, but throughout this time John kept working for the same railroad.
John married Clara Ann Metcalfe on April 14, 1890 in Louisville, and brought her home to live with his parents.
By 1891, John was clerking for the Louisville & Nashville railroad, and the family had once again moved, this time to Broadway near Eighth Street. Then in 1892 the entire family moved to Huber's Station.
For reasons unknown to us, sometime in late 1894 or early 1895 they rented a house from Henrietta Huber on land at the north edge of the Huber land, just south of Miss Taliaferro's property.
The Huber women, mother and daughter Mary, came to depend on John Barbour to guide them in financial matters, even to the extent of letting him handle their money. This might not be unusual, given the trust they felt for him, and his acknowledged expertise in such matters.
As early as 1896 John went to work for the Louisville Water Company in the treasurer's office, commuting between the city and his home daily.
Near this time, John's sister Lillian married Richard Turner Lewis in February 1896, and in May Richard Lewis bought five acres near Huber's Station that had belonged to Maurice Nash. Lewis next purchased almost 95 acres from Henrietta Huber in 1898. The Lewis land was almost directly west across the railroad tracks from where John Barbour's family was renting from the Huber's.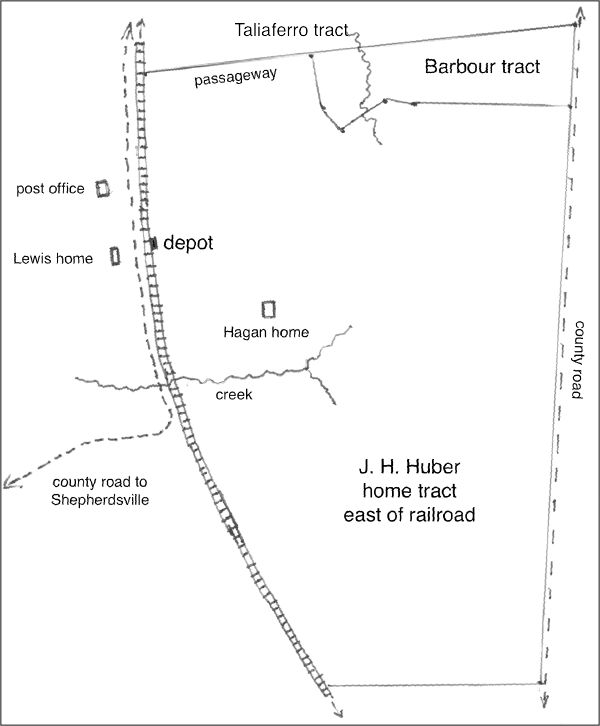 During this time John and Clara's family continued to grow with daughters Virginia and Mary Jane, and a son named Barrett. In the years to follow they would add three more daughters: Claire Jean, Mildred, and Patricia.
In June 1896, Clara Barbour's mother died, and after the estate was settled, Clara inherited her share and, through family arrangements, the shares of three of her brothers. This money would later play a part in the conflict.
With John steadily employed at the Water Company, and a growing family, they decided to put down firmer roots and buy the land they were renting. As we will see, in November 1899 it was arranged for Clara Barbour to purchase slightly more than ten acres of land from Henrietta Huber.
Then Mary Huber married Francis J. Hagan in May 1900, and her mother died in December of that year. Before her death, Henrietta deeded land to her daughter Mary and her husband in exchange for their agreement to care for and support her and her invalid daughter Jennie for the remainder of their lives. In her will, Henrietta left the rest of what she owned in Bullitt County to Francis and Mary Hagan.
The sketch shown here shows the location of several places relevant to our story. It is based on a plat made by the county surveyor in 1903. Note the location of the Lewis home and the post office relative to the depot. Barbour and Hagan were along the county road between the depot and the Lewis home when Barbour shot Hagan.
The spot marked as the Hagan home was where Francis and Mary Hagan lived before moving to Alabama. It was the former Huber residence where Mary lived prior to her marriage.
---
Copyright 2019 by Charles Hartley, Shepherdsville KY. All rights are reserved. No part of the content of this page may be included in any format in any place without the written permission of the copyright holder.