Division of Matthew Wilson's Land in 1856 - Part 3
After County Surveyor Casper Herps had completed the land division surveys, the three commissioners made their divisions of Matthew Wilson's estate amongst his heirs, as shown below.
---
Bullitt County Will Book F, Pages 7-9
To the Judge of the Bullitt County Court &c.
In pursuance of an order of the Bullitt County Court at its last May term appointing the undersigned as commissioners to appraise and allot the lands and negroes slaves belonging to the estate of the late Mathew Wilson, deceased, and allot the same to his widow and six children according to his last will and testament, we beg leave to make the following report, to wit. On the __ day of May last we attended on the premises with Upon Wilson, his executor, having the will of decedent present, Casper Herps, Surveyor of Bullitt County, and George C. Shanklin and George W. Saunders as chain carriers. We proceeded to survey and lay off to the said heirs the whole of the home farm, and the one on which Upton Wilson resides, it being part in Jefferson and part in Bullitt Counties, and divided the same into six lots according to the directions of the said will for the number of acres contained, and full particulars, plat of survey &c we refer you to the said surveyor's reports herewith returned to court, marked B.H. and S.W. and made part of our report. You will find the different tracts or lots numbered 1, 2, 3, 4, 5 and 6 on said reports.
No. 1 contains 87 acres, 1 quarter [rood] and 33 poles, which we allotted to Emma T. Wilson at the price of $2705.16. We gave or allotted to her also three negroes - Charlotte, 22 years old at the price of $300; Jane, 7 years old at $275, and Leta, 2 years old at $225 ($800), making in all charged and allotted to Emma $3505.16.
Lot No. 2 contains 87 acres, 1 quarter, 33 poles which by allotment goes to Mary V. Wilson at the price of $3053.16. She has also received two negroes - boy Henry, 12 or 13, at the rice of $600, and girl Luesa, 10 or 11 years old, at $450 ($1050). In all Mary thus received $4103.16.
Lot No. 3 contains 180 acres, 2 quarters, 10 poles of land which is willed by decedent to Mathew E. Wilson and is allotted to him and appraised by us to be worth $7222.50, subject to his mother's life estate. We also allotted to him one negro boy Thomas at the price of $275, said boy is 5 years old, making the amount of his receipts in land and negroes $7497.50.
Lot No. 4 contains 186 acres, 35 poles, which is the ohter and southern part or half of the middle of the farm, and is willed to John Fry Wilson. We fixed as a fair price or value for it to him the sum of $7449.25. He owes the estate #112, making his receipt for land and the debt amount to $7561.25, supposing this amount about his interest in the estate, we gave him none of the negroes.
Lot No. 5 contains 215 acres which is by the will Sarah E. Moreman's, which we valued to her at the price of $3820. She is charged in said will and admits having received of said decedent an advance of $2100. We allotted to her one negro boy "Will" 9 years old at the price of $450, making in all charged to Sarah $6370.
Lot No. 6 contains 364 acres, 12 poles, which is by the will given to Upton Wilson. As a fair price for it we valued it at the price of $6736 (it being $185 more than his father had agreed with him for it). We also allotted to him one negro boy Peter, 18 years old, at the price of $700, making his amount received in land and negroes $7436. The total valuation 10 in number was $4900.
We also allotted to Martha T. Wilson, wife and now widow of decedent, two negroes as her third of the whole lot: Jerry, man about 28 years old at $1000; woman named Winny, 29 years old at $625, making their value $1625, leaving the estate due her $8.33 to make $1633.33. One third of decedent's slaves. She received also all the other property loaned and bequeathed to her by the will.
In making our estimates on the different lots of land numbered 1, 2, 3, 4 we designed all the fencing running near and parallel with the division lines to be by the parties moved on the division lines as joint property, that is with Mary and Emma, and John and Mathew.
The total amount of the valuation hereby divided and allotted in land and negroes, including John's debt to the estate of $112, and advancing to Sarah of $2100, and the value of the two negroes to widow of $1625 is $38,106.40, including $8.33 due widow as above stated. The amounts of the sale of executor is about $2200, and amount of notes found on hand believed to be good $8600, is total $48,906.40 excluding some $200-$300 of uncertain debts. Also decedent's interest in a tract of land in Indiana opposite mouth of Salt River, supposed to be worth some $2000.
Dividing to each child now $7500. There is due to Upon $74; to Mary $3396; to Sarah $1130; to John owes $61; to Emma $3949; to Mathew $2.50; to Martha T. Wilson $8.33 - ($8671.67)
For list, names and appraisement of negroes see inventory of estate filed in court.
Having fully reported, we submit the same to the court this June the 13th 1856.
Very Respectfully, John Holsclaw, S. N. Brooks, Rufus K. Summers.
State of Kentucky, Bullitt County, Sct.
I Robert F. Samuels, clerk of the county court for said county, certify that on the 15th day of June 1856 the foregoing partition of the estate of Mathew Wilson, dec'd, was produced in open court, examined and approved of, and ordered to be recorded. Whereupon I have truly recorded the same and this certificate in my said office. (signed) R. F. Samuels, Clerk, by R. H. Lansdale, Deputy Clerk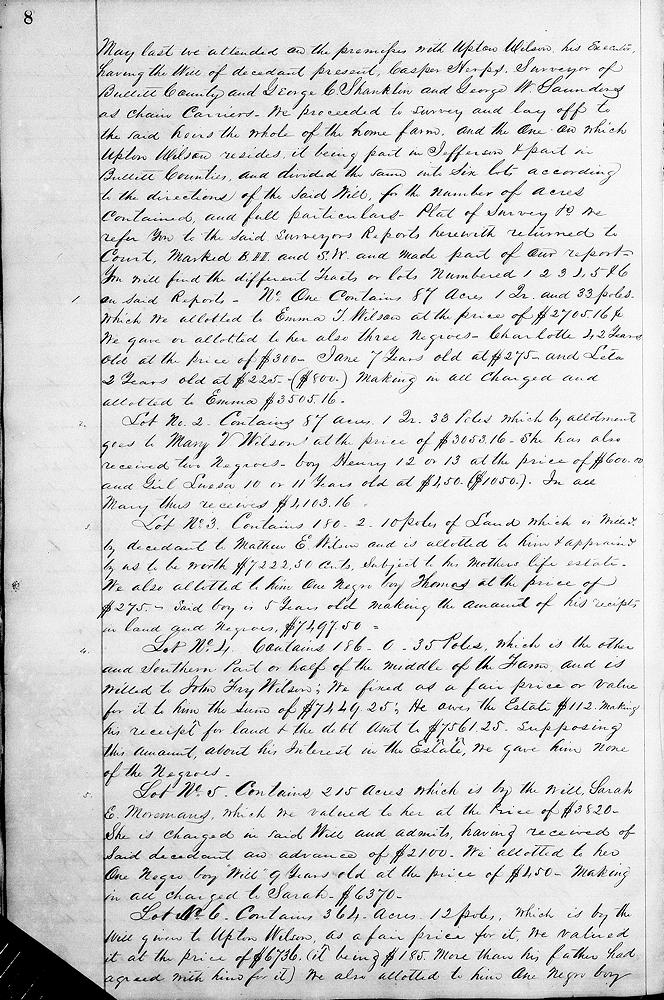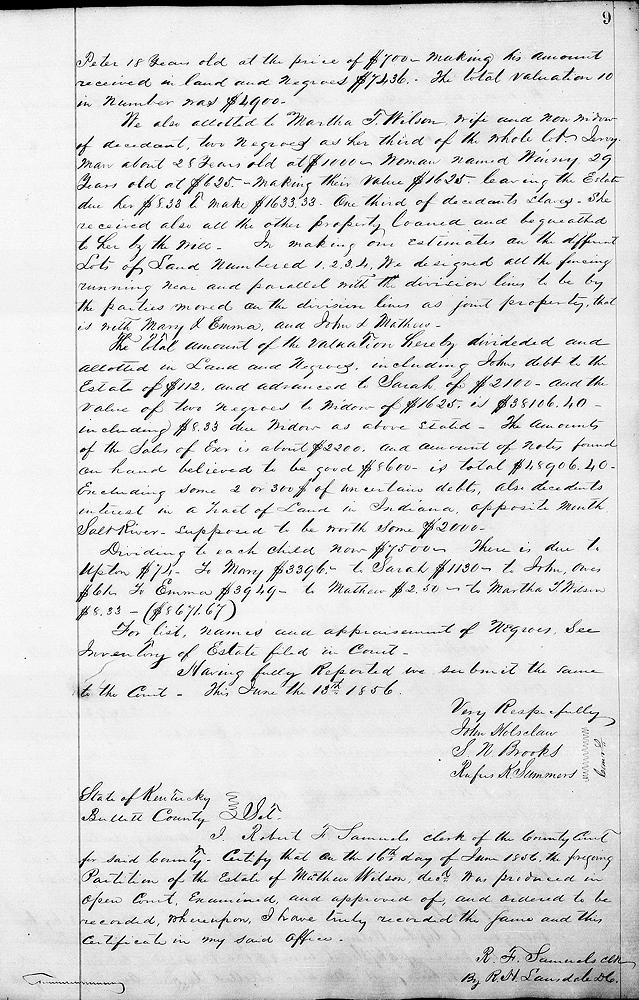 ---
If you, the reader, have an interest in any particular part of our county history, and wish to contribute to this effort, use the form on our Contact Us page to send us your comments about this, or any Bullitt County History page. We welcome your comments and suggestions. If you feel that we have misspoken at any point, please feel free to point this out to us.