Division of Matthew Wilson's Land in 1856 - Part 2
By the time of his death, Matthew Wilson had accumulated a significant amount of land in Bullitt County, including a tract along Pennsylvania Run that lay partly in Jefferson County, as shown in the plat drawing including further down this page.
In May 1856, his heirs filed a petition with the County Court to have Solomon N. Brooks, Rufus K. Summers and John Holsclaw appointed as commissioners to divide this land amongst the heirs according to the dictates of his will. These same men were also appointed to appraise the value of Wilson's slaves and his personal estate.
Casper Herps, the County Surveyor, was assigned to assist in this land division. His report for this tract, as recorded in Bullitt County Will Book F, pages 6-7, is transcribed below. It describes his son Upton's farm.
---
Surveyed for the heirs of Mathew Wilson, dec'd, a certain tract or parcel of land, part in Bullitt and part in Jefferson County, Kentucky, and on Pennsylvania Run, waters of Cedar Creek, Floyd's Fork, and being the same land on which Upton Wilson now lives, and bounded as follows. Beginning at a honey locust and ash, the ash gone, standing on an island of Pennsylvania Run, A on plat, thence S 59° E 21 poles to a stake, it being S 50° W 14 links from an ironwood marked as a corner formerly an ironwood, hackberry and sassafras, thence S 10°30' W crossing a branch near a spring and crossing a bend of Pennsylvania Run 55 1/2 poles to a white oak and scrub poplar on the side of a hill, thence S 84°8' W 67 poles, 5 links to a white oak, black oak and sugar tree stump at the foot of a hill about 4 poles from Pennsylvania Run, thence South 20°45' E crossing Pennsylvania Run at 36 poles in all 107 poles, 10 links to a flat stone marked S.B.W. on the edge of a glade, it being S 14° W 1 pole from a scrub white oak, thence S 5° W 49 3/4 poles to a stake near a dead triple sassafras, the water beech and ironwood gone, it being S 5° W 18 links from a sugar tree marked H. on the north side of a road, and corner to a 24 acre lot, thence N 81° 31' W 227 1/4 poles to a stake in G. L. Rogers' line, N 8° 15' E 84 4/5 poles to a stone, B on plat, a corner agreed on and planted by George L. Rogers and Upton Wilson, in order so as to straighten their line to D at which point said parties planted another stone, throwing aside their corners, and line C.E. in this agreement or swop said Wilson takes off from said Rogers I.B.C. 34 poles and said Rogers from said Wilson 74 poles, leaving a balance of 40 poles in favor of Wilson for said balance said Rogers agreed to pay at the rate of $30 per acre, thence from B. N 85 1/2° W 26 4/5 poles to D, thence N 20°50' W 129 1/2 poles to a stone and sweet gum, also corner to Rogers, thence N 89 1/2 E 120 poles 6 links to a stake in between a stone and two sweet gums, corner to Rogers, thence N 21° W 38 poles, 9 links to a stone in Standiford's line, thence with said line N 89 1/2° E 18 poles 5 links to a stone and large dead white oak, Standiford's corner and said to be in Moore's original line, thence S 73° E 194 poles 20 links to the beginning, containing 364 acres, 12 poles. This May the 19th 1856. Casper Herps, B.C. Surveyor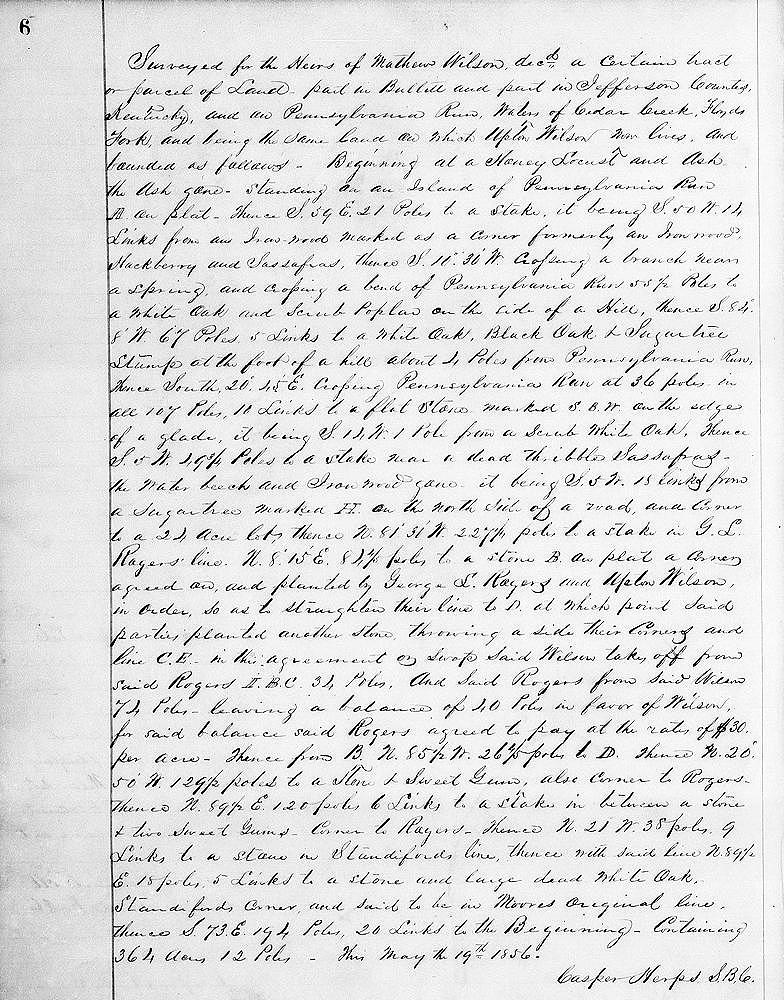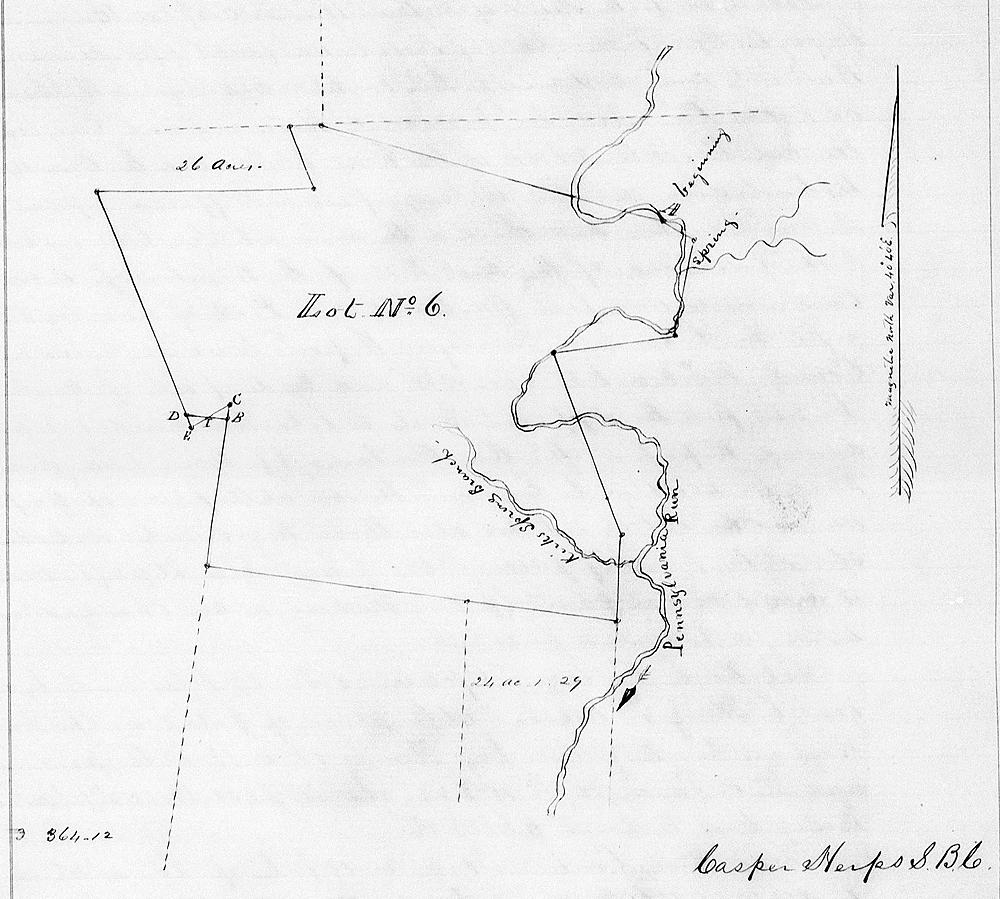 ---
If you, the reader, have an interest in any particular part of our county history, and wish to contribute to this effort, use the form on our Contact Us page to send us your comments about this, or any Bullitt County History page. We welcome your comments and suggestions. If you feel that we have misspoken at any point, please feel free to point this out to us.