Jacob Bowman's Will, Probated 1843
In April 1839, Jacob Bowman made out his will in which he was careful to delineate to what his widow would be entitled, as long as she remained his widow and did not remarry. He also made specific provisions for his youngest daughter Permelia B. Bowman whom he wished to be "well educated." Others were also mentioned, and special provision was made for the distribution of his land holdings in Indiana.
He did not however specify how he wished his holdings in Kentucky to be distributed, but instead left it in the hands of the court unless his heirs could come to an agreement amongst themselves. Since this involved a large estate with several thousand acres of land and numerous enslaved people, it would later take both the court and the heirs to sort things out after Jacob died in the spring of 1843, as detailed on another page.
We have transcribed his will below, with images of it to follow.
---
In the name of God, amen. I Jacob Bowman of Bullitt County and state of Kentucky, being of good health, sound mind and memory do make and declare this my last will and testament.
1st. I desire my body to be buried in a decent Christian-like manner.
2nd. I give and bequeath to my beloved wife Pamelia Bowman the following described tract of land, to wit, to begin at a large elm at the east end of the land which runs from Morrow's old place, so called, to my house, from thence run due south 50 poles to a stake, from thence run a straight line to the mouth of my spring branch where it empties into Long Lick Creek – commence again at the elm (the beginning) and run from thence north about 80 poles to the corner of myself and Crigler made in the deed of Thomas Speed to me as a corner of the tract of about 260 acres I purchased from said Speed running thence with the lines of said 260 acres Speed tract with Crigler & my lines northwardly passing Bostwick's old place, and ... with the Speed lines of his deed to me aforesaid until it strikes the old Cockran farm, corner made by Frye, then with the Cockran line to a large elm and beech - and to run from thence so far as to include fifty acres of the Nathan Cockran tract I purchased of him, passing through the Cockran apple orchard so as to leave one third of said orchard to Doyle and on to Henry S. Cockran's line, and to the corner of said Henry S. Cockran and myself and Doyle and then with my lines and said H. S. Cockran to the corner on Long Lick Creek, and down said creek to the aforesaid mouth of my spring branch including the home house and appurtenances and about 320 or 350 acres which said tract of land I give to my said wife so long as she remains my widow and unmarried and should she think proper to marry again then the land here named is to pass to and is hereby given and devised in fee to my daughter Permelia B. Bowman.
I also leave unto my said wife during her life, if she so long remain my widow, the following negroes, slaves, viz. Peter a man (the tanner), woman Lot and her two children Phil and girl child, also Hall called Anderson 18 or 20 years old, Frank a boy 14 or 15 years old, Mary (Molly's daughter) and Jane (Dinahs' daughter). The foregoing land and negroes I leave unto my wife as aforesaid to enable her as my widow to support and maintain herself and family and particularly to educate and raise my said daughter Permelia B. Bowman, and I direct she be well educated. The foregoing property land and negroes and their future increase I do hereby give, devise and bequeath unto my said daughter in fee simple subject to the limitation aforesaid; and it is further my will and I hereby ... direct that if and when my said daughter shall marry or come of age 21 years, that then my said wife shall have and take for life the one third of said negroes and land - and the other two thirds at the marriage or coming of age of my said daughter shall be assigned by the order of the court (unless agreed otherwise by the parties) to my said daughter - and should my siad wife at any time hereafter marry again then the aforesaid land and negroes are to pass in fee to my said daughter, and at the death of my said wife are to pass as aforesaid to my said daughter.
4th. In addition to the foregoing estate give to my said daughter I do hereby give and devise to said Permelia B. Bowman the following lot of land in the county of Clarke and state of Indiana on the Ohio River. I direct that said land be divided into five lots of equal length of lines on the back lines - beginning for the division at the south west corner in the back line and along the back line to the north west corner thus numbered 1, 2, 3, 4, & 5 beginning for No. 1 on the lower part of the tract, and so on through from the back line to the river by parallel lines the side lines from the back line to the river. In making this division the back line from the river is to be measured and then equally divided in 5 equal parts so as to make the length of each lot on the back line equal, and run the parallel lines to the river equidistant from each other, let the quantity of each lot be what it may - This tract is lot No. 5 in Clark, Grant and I do hereby give and divise to my said daughter Permelia B. Bowman lot No. 3 (three) in the division so to be made - to have and to hold to her and her heird forever. The lot in Clark, grant aforesaid contains about 600 acres more or less. The other lots 2 & 4 in the division here to be made are hereby devised to my two sons Jacob Bowman and George Bowman & to their heirs forever - the said George to have lot No. 2 and Jacob No. 4 as designated above.
To my daughter Mary Bowman, wife of Wilson Bowman, I give and devise the tract of 500 aces of land more or less in said state of Indiana on Silver Creek, which land is given her as equal in estimation by me now made with either of the lots on the river aforesaid - to have and to hold the same to her said Mary Bowman and to her heirs forever - the negroes I have heretofore given to my said daughter Mary viz [blank space] also negro Vina are hereby given to her and her heirs forever. Als should I die intestate as to the rest of my estate I direct that each of my children shall account for alny and all the estate received of me heretofore and by this will, and after accounting for a fair value of the same in proportion to my other estate when the same was received and is to be received by them, then to come in for a share of the rest of my estate equally - but should the part here given my said daughter Permelia B. Bowman exceed her full share in value of my estate she is not to account or surrender any of the estate here specifically devised to her - nor is said daughter Mary to do so. I appoint my two sons Jacob Bowman & George Bowman executors of this my last will and testament and with authority in them or the acting executors who may qualify or the survivor of them or in case of the refusal of both to qualify, then to my administrator(?) with this will annexed to make deed to any and all persons to whom I may have sold lands according to the tinor and effect of my bonds outstanding, if any, with plenery powers to arrange and adjust the same and receive deeds to any lands to all my heirs which I may have purchased and not received deeds for.
In testimony whereof I have set my hand and seal this tenth day of April 1839. (signed) Jacob Bowman
Signed, sealed, acknowledged and delivered by testators in our presence and in presence of one another who witnessed at his request - N. C. Summers, Wm R. Thompson, R. F. Samuels.
State of Kentucky
Bullitt County to wit
I Noah C. Summers, clerk of the county court for said county, certify that the foregoing last will and testament of Jacob Bowman deceased was this 20th day of March 1843 produced in open court of said county court and duly proved by the oaths of Noah C. Summers, William R. Thompson, and Robert F. Samuels, the three subscribing witnesses thereto, to be the true last will and testament of said decedent Jacob Bowman as the law requires - and as such fully proved was ordered by the court to be recorded - whereupon I have truly recorded the same and this certificate in my said office. Att. Noah C. Summers C.B.C.C.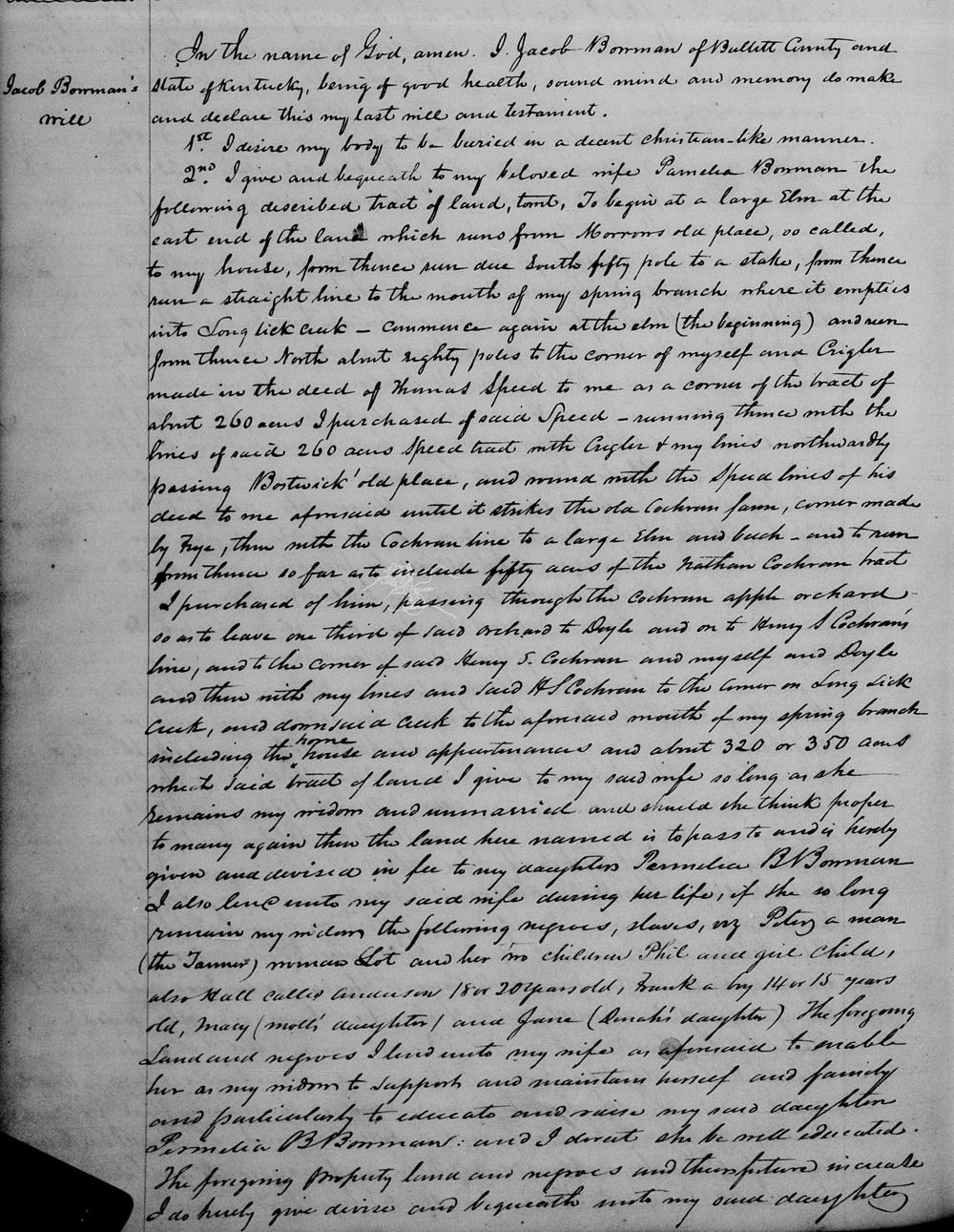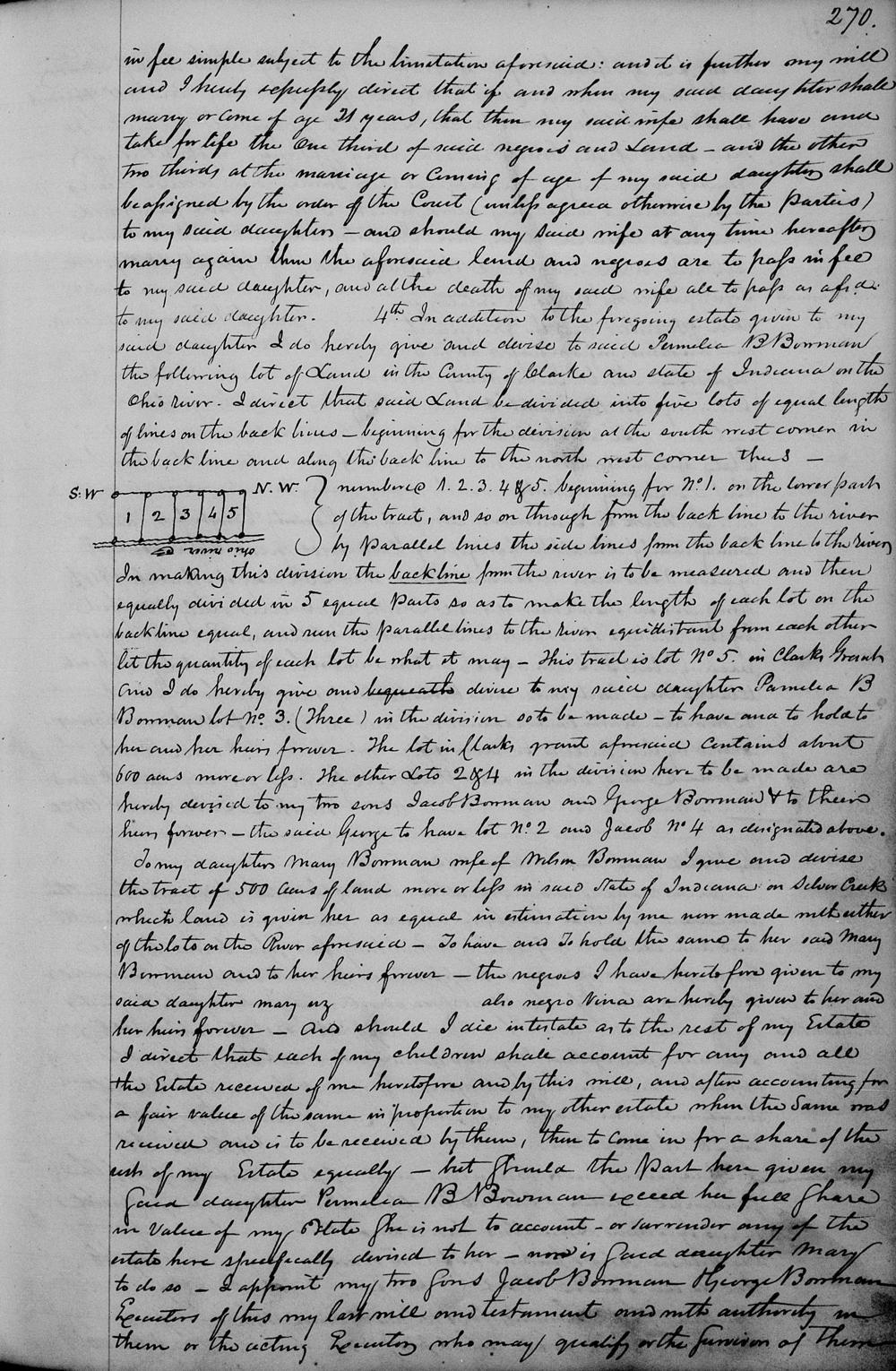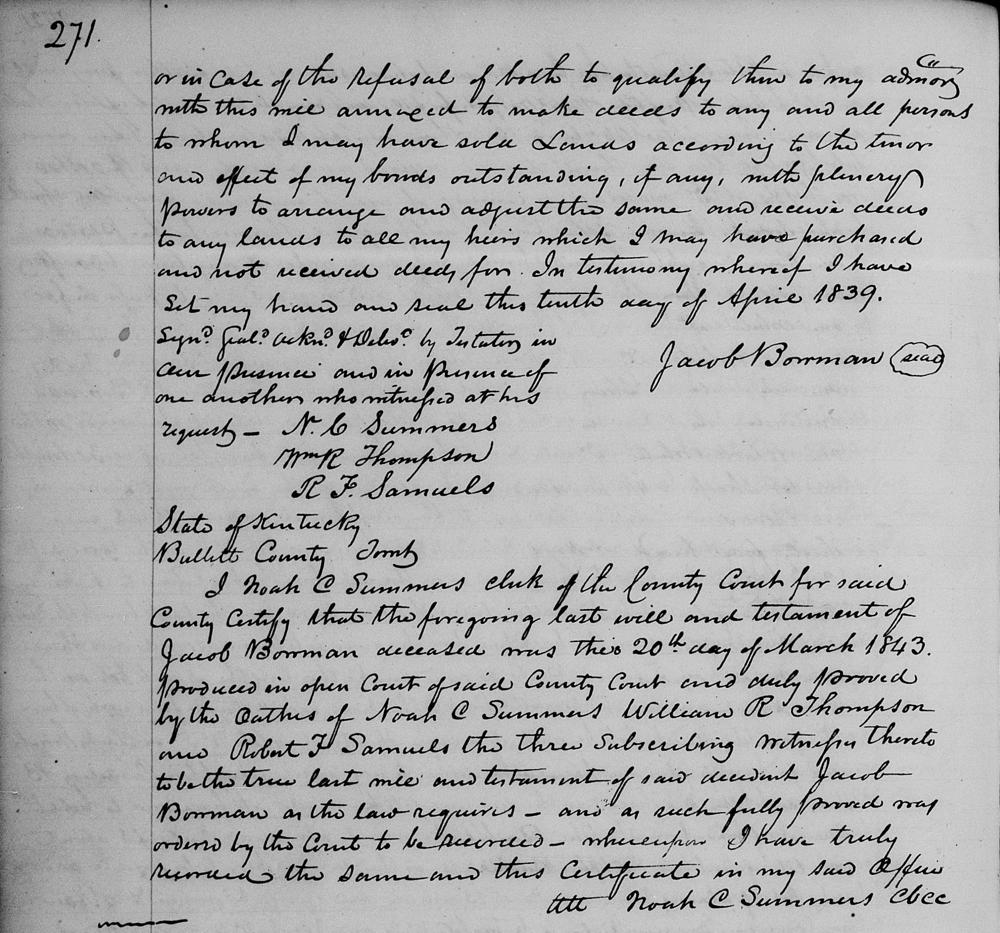 ---
If you, the reader, have an interest in any particular part of our county history, and wish to contribute to this effort, use the form on our Contact Us page to send us your comments about this, or any Bullitt County History page. We welcome your comments and suggestions. If you feel that we have misspoken at any point, please feel free to point this out to us.