Isaac Hornbeck's 1799 Will
In his will, Isaac Hornbeck identified his wife Elizabeth, and three sons, Samuel, John and Cornelius. A transcription of his will is provided below. It was recorded in the deed book. Note that his widow renounced this will and claimed her dower rights as shown below.
---
Bullitt County Deed Book A, Page 79
In the name of God, Amen. I Isaac Hornbeck of the County of Bullitt and State of Kentucky, being very sick in body but of perfect mind and memory, and calling to mind that it is appointed for all men once to die, do make and ordain this my last will and testament as followeth.
First of all I give and bequeath unto my loving wife Elizabeth my black horse and saddle.
Secondly I give and bequeath unto my son Samuel a large iron kettle; also one half of my old wagon and irons; also my two stills to be in equal partnership between Samuel and John; also two hundred acres of land solders rights to be divided equally between my sons Samuel and John.
Thirdly, give and bequeath unto my son Cornelius two hundred and fifty acres of land on west side of Brooks Run where Merrit and the widow Westfall now live.
Fourthly I give and bequeath unto my son John my home plantation of the land laying on the west side of Brooks Run willed to him by his brother Isaac.
Lastly I make and ordain my wife Elizabeth my executrix and my son John my executor.
(signed) Isaac Hornbeck
Signed, sealed and delivered in presence of us this nineteenth of February 1799. (signed) Sol Hornbeck, William Hicks.
At a court held for Bullitt County the 23rd day of April 1799.
This last will and testament of Isaac Hornbeck dec'd was exhibited to the court by Elizabeth Hornbeck, executrix, and John Hornbeck, executor, therein named, and was proved by the oaths of Solomon Hornbeck and William Hicks, witnesses thereto, and ordered to be recorded. And on the motion of the said Elizabeth Hornbeck and John Hornbeck, certificate granted them for obtaining a probate thereof in due form, they having made oath thereto and given bond and security according to law. Teste. Thomas Speed, Clerk.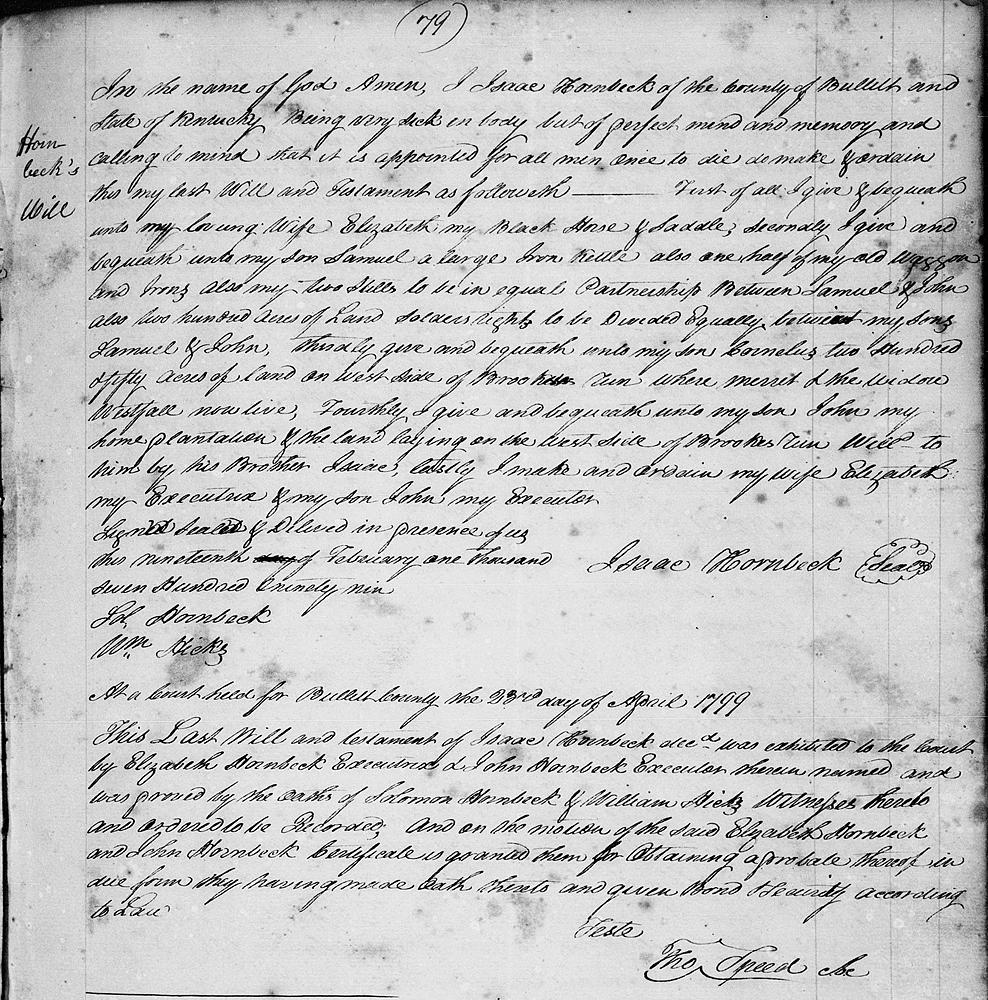 Bullitt County Deed Book A, Page 142
I Elizabeth Hornbeck, widow and relict of Isaac Hornbeck, deceased, being dissatisfied with the provision made for me by the last will and testament of the said Isaac Hornbeck dec'd, my late husband, do hereby renounce the same and all benefit accruing to me therefrom and shall claim my dower and other provisions made me by law, as witness my hand and seal this 8th day of January 1800. (signed) Elizabeth (her x mark) Hornbeck. Witnesses: Joseph Ridgway, Johnson Rawlings, Thomas Hatfield.
Bullitt County Sct. I Thomas Speed, clerk of the said county, do certify that this instrument of writing was proved before me on the 28th day of January 1800 by the oaths of Joseph Ridgeway, Johnson Rawlings and Thomas Hatfield to be the act and deed of Elizabeth Hornbeck, and that the same is recorded in my office. (signed) Thomas Speed.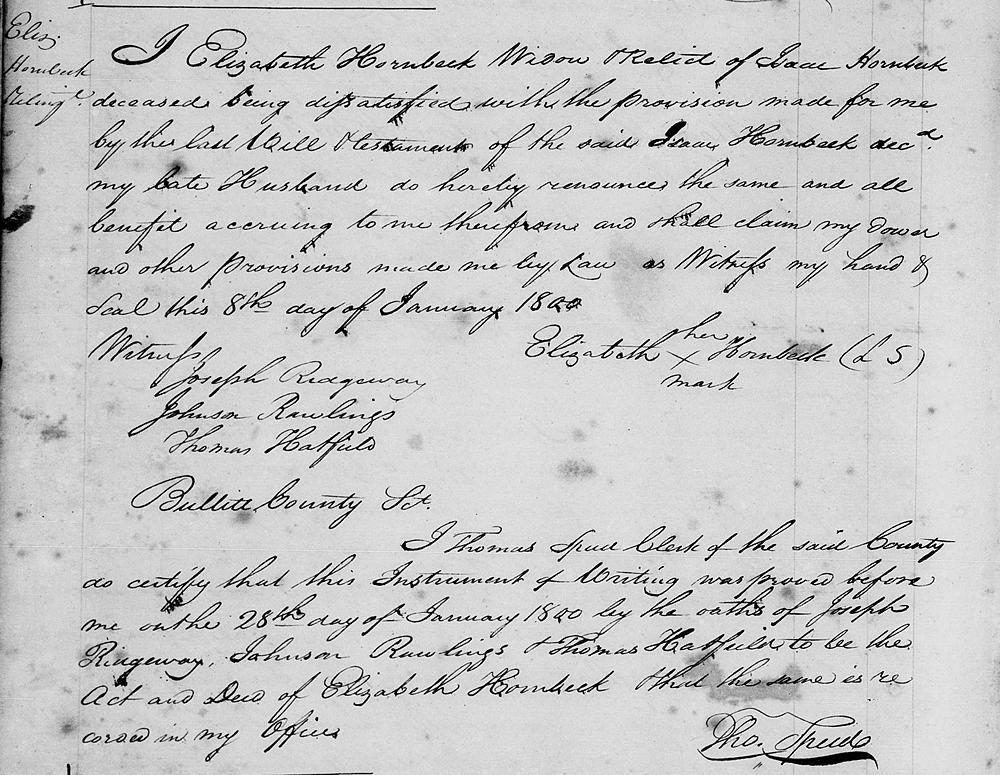 ---
If you, the reader, have an interest in any particular part of our county history, and wish to contribute to this effort, use the form on our Contact Us page to send us your comments about this, or any Bullitt County History page. We welcome your comments and suggestions. If you feel that we have misspoken at any point, please feel free to point this out to us.