Frederick & Benjamin Gatch to Jacob Shawler - 100 Acres
Frederick Gatch purchased this 100 acre tract along Cane Run in southern Bullitt County from Adam Shepherd in 1803. He and Benjamin Gatch sold it to Jacob Shawler in 1816. That deed is transcribed below, followed by an image of the deed.
---
Bullitt County Deed Book C, pages 280-281
This indenture made this 11th day of March and the year of our Lord 1816 between Frederick Gatch and Rachel his wife, and Benjamin Gatch and Elizabeth his wife of Bullitt County and state of Kentucky the one part and Jacob Shawler of the same county and state of the other part. Witnesseth that the said Frederick Gatch & Rachel his wife & Benjamin Gatch & Elizabeth his wife for and in consideration of the sum of two hundred and thirty dollars to them in hand paid by the said Jacob Shawler, the receipt whereof is hereby acknowledged, have granted, bargained & sold and by these presents do grant, bargain, sell, alien, & assign unto him the said Jacob Shawler and his heirs forever all their right, title, claim and interest of in and to a certain tract of land containing one hundred acres by survey, be the same more or less, lying & being in the said county of Bullitt on Cane Run and its waters, being a part of John Macker's upper five hundred acre survey and bounded as followeth, to wit. Beginning at two sweet gums on the North bank of Cane Run thence N 25 W 180 poles to a white oak and dogwood in Macker's line thence with said line S 45 W 94 poles to a chesnut oak and white oak, thence S 25 E 184 poles to a sugar tree and beech on the North bank of Cane Run, thence up said run and binding thereon to the beginning. The 500 acres of land of which this aforesaid 100 acres is a part was on the 20th day of July 1801 conveyed by John Macker to Adam Shepherd by deed duly recorded in the office of the Bardstown district court and which one hundred acres and which 100 acres was conveyed by the said Shepherd to the said Frederick Gatch by deed on the 29th day of April 1803 duly recorded in the office of the Bullitt County Court - reference being had to said deeds will more fully and at large appear - to have and to hold all and singular the premises aforesaid with all the appurtenances thereto belonging to his the aforesaid Jacob Shawler and his heirs to and for his and their only proper use, benefit & behoof forever; and the said Frederick Gatch and Rachel his wife & Benjamin Gatch & Elizabeth his wife for themselves & their heirs do covenant, promise and agree to and with the said Jacob Shawler that the land hereby conveyed now is ... hereafter shall remain free & clear of all and every manner of incumbrance whatsoever. In witness whereof the said Frederick Gatch & Rachel his wife & Benjamin Gatch and Elizabeth his wife have set their hands & seals the day and year just above mentioned. (signed) Frederick Gatch, Rachel Gatch, Benjamin (his X mark) Gatch, Eliza Gatch
Bullitt County Sct.
I James Halbert, clerk of the county court in and for the county aforesaid, do certify that on this day the previous deed was acknowledged by Frederick Gatch and Rachel his wife & Benjamin Gatch & Elizabeth his wife to be their several acts and deeds for the purposes therein mentioned. The said Rachel & Elizabeth being examined privily and apart from their husbands, relinquished their right of dower of in and to the same freely & voluntarily, whereupon I have truly recorded the same together with this certificate in my said office as required by law. Given under my hand this 12th day of March 1816. (signed) James Halbert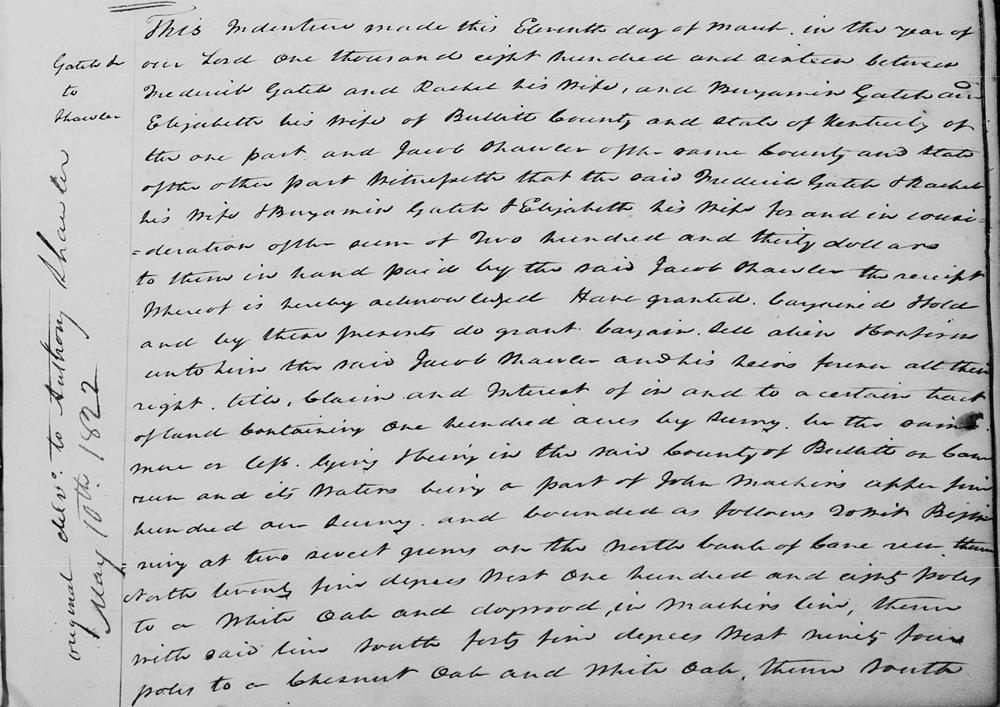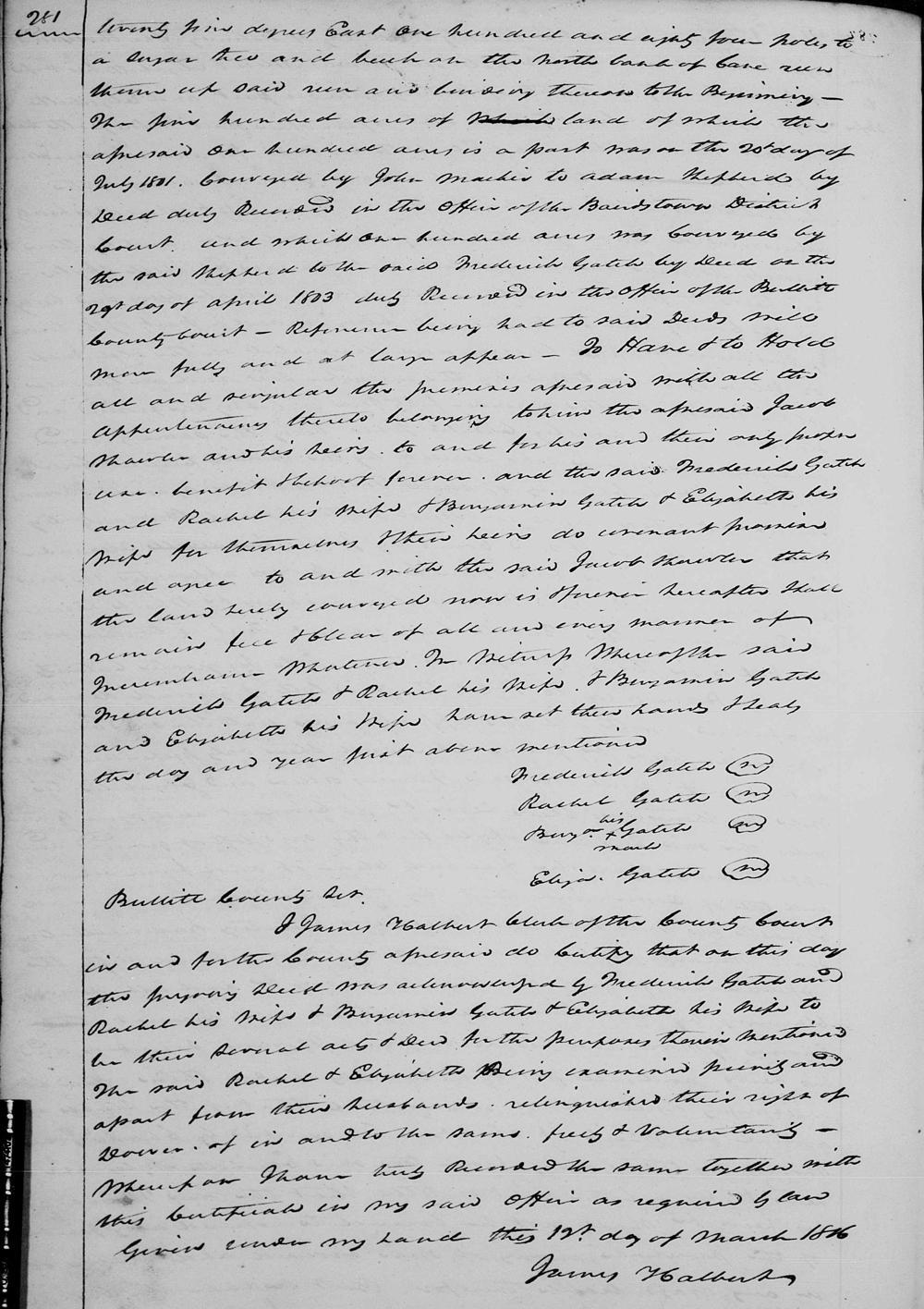 ---
If you, the reader, have an interest in any particular part of our county history, and wish to contribute to this effort, use the form on our Contact Us page to send us your comments about this, or any Bullitt County History page. We welcome your comments and suggestions. If you feel that we have misspoken at any point, please feel free to point this out to us.