Benjamin Frye to Henry Crist - 1000 Acres
Isaac Cox surveyed 1000 acres for Benjamin Frye on the north side of Long Lick Creek on 2 Nov 1785. In 1799, Frye completed the sale of this land to Henry Crist, as shown below.
---
Nelson County Deed Book 7, Page 444
This indenture made this 11th day of May 1799 between Benjamin Frye and the County of Nelson and Commonwealth of Kentucky of the one part and Henry Crist of Bullitt County and Commonwealth aforesaid. Witnesseth that the said Benjamin Frye for and in consideration of the sum of four hundred pounds currency to him in hand paid by the said Henry Crist, the receipt whereof is hereby acknowledged, have bargained and sold and by these presents doth bargain and sell, alien, confirm and set over unto the said Henry Crist and his heirs and assigns a certain tract of land containing one thousand acres granted to him by patent bearing date 13th day of May 1787, lying on the Long Lick Creek in Bullitt County together with all and singular the appurtenances thereunto belonging to have and to hold the said thousand acres of land with its appurtenacnes or so much thereof as have not already been conveyed bya prior conveyance to the said Henry Crist and to the only propre use and behoof of him the said Henry Crist and his heirs or assigns forever and the said Benjamin Frye for himself and his heirs doth warrant and forever defend unto the said Henry Crist and his heirs and assigns the said thousand acres or that part which is not conveyed as mentioned above from himself and his heirs or all other persons claiming or to claim whatever. In witness whereof the said Benjamin has hereunto set his hand and seal the day and date above mentioned. (signed) Benjamin Frye. Signed, sealed and delivered in the presence of Adam Shepherd, A. Hubbard, Charles Dorsey Sr.
Bardstown District Sct
To all whom it may concern, I Benjamin Grayson, clerk of the Supreme Court for the district aforesaid do hereby certify that on the eleventh day of May last, about two o'clock in he afternoon of the said day, this indenture was acknowledged and delivered by Benjamin Frye party thereto for the purposes therein expressed, and that I have recorded the same in my office as required by the laws of this state. Witness my hand this 8th day of June 1799. (signed) Ben Grayson.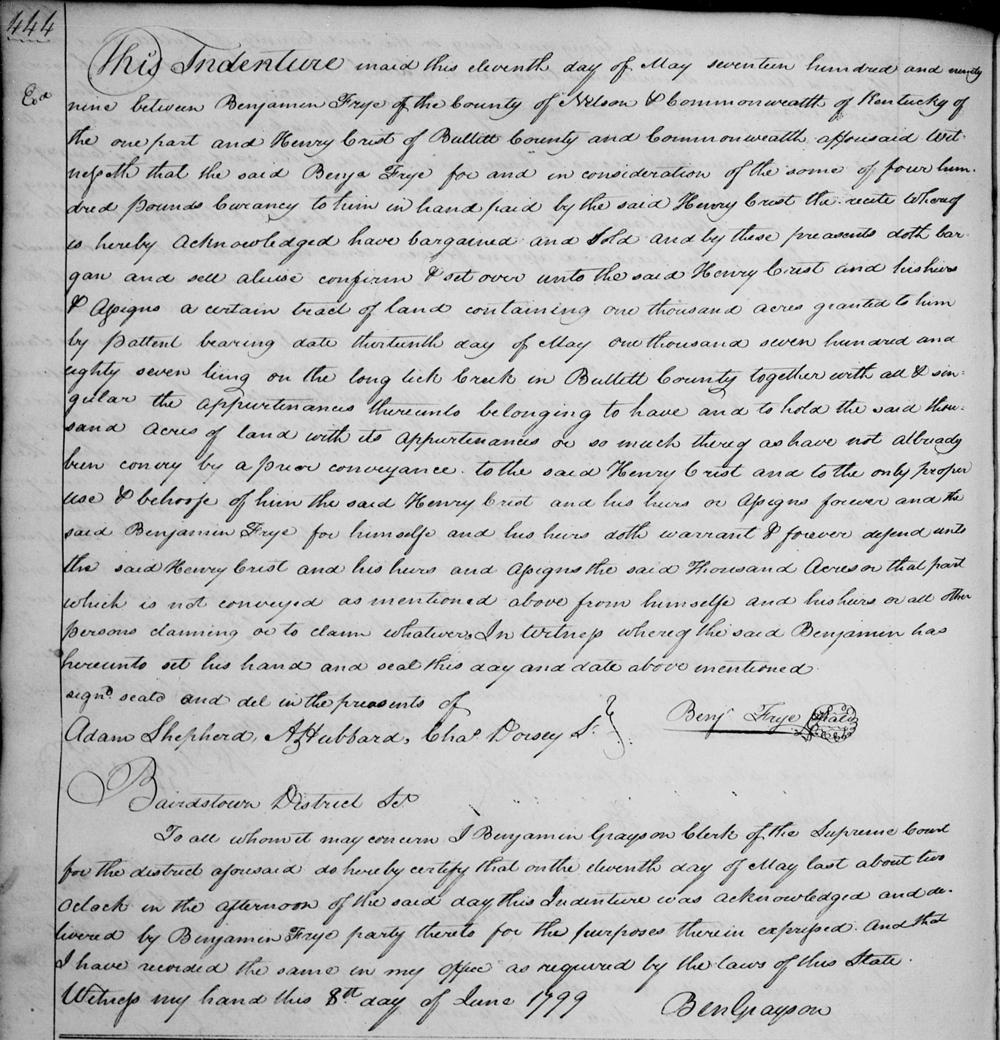 ---
If you, the reader, have an interest in any particular part of our county history, and wish to contribute to this effort, use the form on our Contact Us page to send us your comments about this, or any Bullitt County History page. We welcome your comments and suggestions. If you feel that we have misspoken at any point, please feel free to point this out to us.