William Fitzhugh to Richard Bibb, 5850 Acres
In 1802, William Fitzhugh completed the sale of a 5850 acre tract lying on the south side of Salt River downstream from Cox's Creek to Richard Bibb. It appears that Fitzhugh had contracted with George May to locate the tract in exchange of a half share in it. Then May sold his share to Bibb and Fitzhugh followed suit.
A transcription of this deed, and an image of it both appear below.
---
Bullitt County Deed Book A, pages 266-7
This indenture made this eighth day of June in the year of Christ one thousand eight hundred & two between William Fitzhugh of the County of Washington & State of Maryland of the one part and Richard Bibb of the County of Bullitt & State of Kentucky of the other part, witnesseth that whereas the said Fitzhugh did by his assignment bearing date the twenty ninth day of April 178four make George May interested in a tract of land entered, surveyed & patented in the name of the said Fitzhugh to the amount of one half of said tract of land which contains five thousand eight hundred and fifty acres lying on Salt River now in Bullitt County by patent bearing date the fourteenth day of November 178six of whereas the said Richard Bibb hath become interested in half the said tract of land of 5850 acres by purchase from the said George May & for and in consideration of the sum of one dollar to him the said Fitzhugh in hand paid before the sealing and delivery of these presents the receipt whereof is hereby acknowledged by the said Fitzhugh he the said Fitzhugh hath bargained and sold and by these presents doth bargain and sell unto the said Richard Bibb the aforesaid tract of land of 5850 acres more or less and bounded as followeth: Beginning at three beeches on the bank of the Salt River about five miles and a quarter below the mouth of Cox's Creek, running thence South 40° East 1300 poles to two white oaks on a small nole, thence North 80° East 630 poles to a walnut, white oak, hickory and sugar tree saplings near a small run in the edge of a glade, thence North 40° West 470 poles to a poplar, red oak and white oak, thence North 50° East 32 poles to a black oak, dogwood and two poplars, thence North 40° West 212 poles to three sugar trees, a red oak and ironwood, thence North 50° East 130 poles to a beech and dogwood, North 18° West 370 poles to a poplar, ash and sugar tree, South 60° West 110 poles to a white oak and hickory, North 10° West 165 poles to a sugar tree and walnut on the bank of Salt River corner to Clough and Waller Overton's survey of 117 acres, thence down the river and binding thereto to the beginning to have and to hold the said 5850 acres of land with all and singular the appurtenances thereunto belonging and in any wise appertaining unto the said Richard Bibb and his heirs forever to his and their only use and behoof and the said William Fitzhugh for himself & his heirs the said tract of land with the appurtenance unto the said Richard Bibb and his heirs shall and will warrant and forever defend from himself & his heirs and from all persons claiming under him or them. And further it is clearly understood by the parties to this indenture that if any part or the whole of the aforesaid tract of land shall be lost by interferring claims in that case the said Fitzhugh nor his heirs are to be liable to refund or make satisfaction for the same. In witness whereof the said Fitzhugh hath hereunto set his hand and seal the day & year first written. (signed) Wm. Fitzhugh
Bullitt County Sct I Thomas Speed, Clerk of the Court of the County of Bullitt do certify that on the 8th day of June 1802 the above foregoing indenture was acknowledge before me by the within named William Fitzhugh to be his voluntary act & deed & I also certify that the same with this certificate is recorded in my office. (signed) Tho. Speed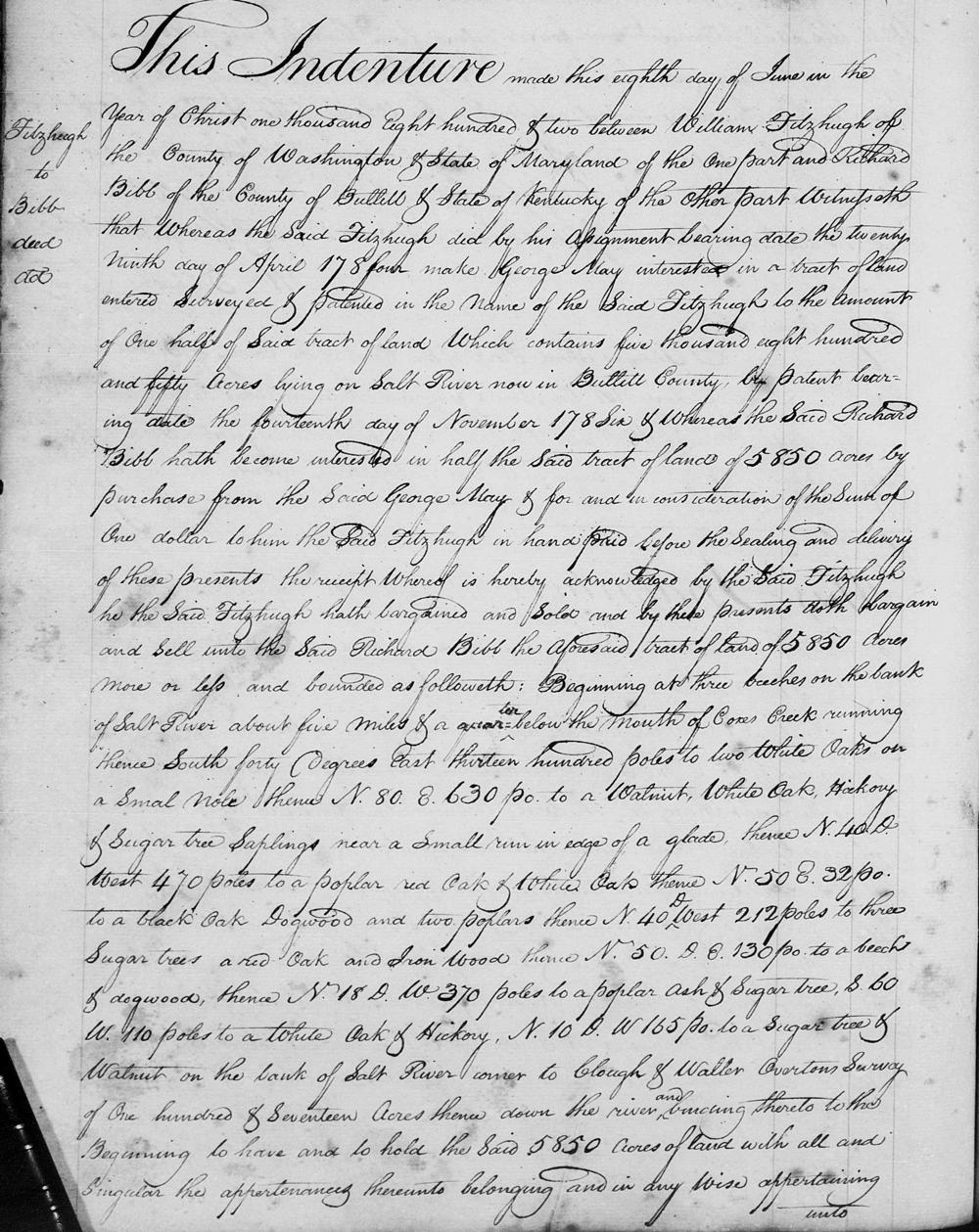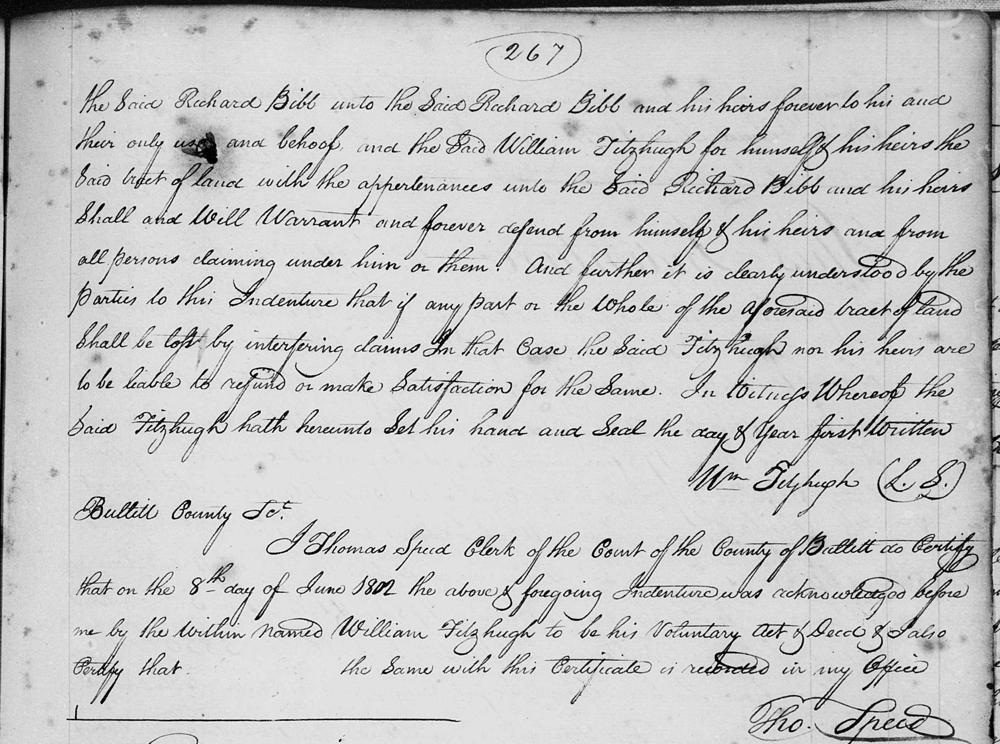 ---
If you, the reader, have an interest in any particular part of our county history, and wish to contribute to this effort, use the form on our Contact Us page to send us your comments about this, or any Bullitt County History page. We welcome your comments and suggestions. If you feel that we have misspoken at any point, please feel free to point this out to us.