John & Stacy Dowdall to Jesse Simmons - 125 Acres
On 25 Oct 1792, James Cox surveyed 500 acres for John Dowdall on the waters of Cedar Creek, a branch of Salt River. John and his wife sold 195 acres of this tract to James Yewell on 17 Nov 1796. They then sold 125 acres of it to Jesse Simmons on 30 Sep 1797, as shown below.
---
Bullitt County Deed Book A, pages 188-189
This indenture made this 30th day of September 1797 between John Dowdall and Stacy Dowdall his wife of Washington County of the one part and Jesse Simmons of Bullitt County of the other part, both of the state of Kentucky. Witnesseth that the said John and Stacy Dowdall his wife for and in consideration of the sum of thirty pounds to him in hand paid at and before the sealing delivery of these presents, the receipt whereof the said John and Stacy Dowdall doth hereby acknowledge, the said John and Stacy Dowdall hath granted, bargained and sold and by these presents doth grant, bargain, sell, alien and confirm unto the said Jesse Simmons and his heirs forever all their right, title and interest of, in and to a certain tract or parcel of land situate lying and being in Bullitt County on the waters of Cedar Creek to begin where the big road crosses the creek at a quaking ash, thence up with te meanderings of said creek S 49° E 50 poles, S 74° E 44 poles to a black and honey locust and iron wood, thence N 1° W for North 198 poles to a poplar and white oak with the lines of the original, thence S 89° W for West 160 poles with another line of the original to Cedar Creek on a large branch of Cedar Creek, thence up and binding on the several meanderings of said creek to the beginning, containing 125 acres more or less to have and to hold the above mentioned land with all its profits from him the said John and Stacy Dowdall, their heirs or assigns unto the above said Jesse Simmons, and his heirs or assigns, to their proper use and behoof and will forever defend the above said 125 acres of land to Jesse Simmons, his heirs or assigns, against me, my heirs or assigns and against all claims whatsoever that may or shall be set up will forever defend as witness our hands and seals this day and year above mentioned. (signed) John Dowdall, Stacy Dowdall Teste: Ben Stansbury, John W. Standiford, Ep. Standiford, Ag. Standiford
Washington Sct
Personally appeared before us two Justices of the Peace for the said county, the within named Stacy Dowdall and did freely and voluntarily relinquish her right of dower in and to the within mentioned tract of land to Jesse Simmons &c, and that she did not do it through fear, persuasion or threats of her said husband John Dowdall. Given under our hand this 31st day of October 1797. (signed) John Helm, Samuel Flournoy
Bullitt County Sct
I Thomas Speed, Clerk of the Monthly Court for Bullitt County do certify that on the 25th day of July 1800 this indenture was proved before me to be the act and deed of the within named John Dowdall & wife by the oaths of Benjamin Stansbury, James W. Standiford, and Aquilla Standiford and that the same is recorded in my office. Teste. Thomas Speed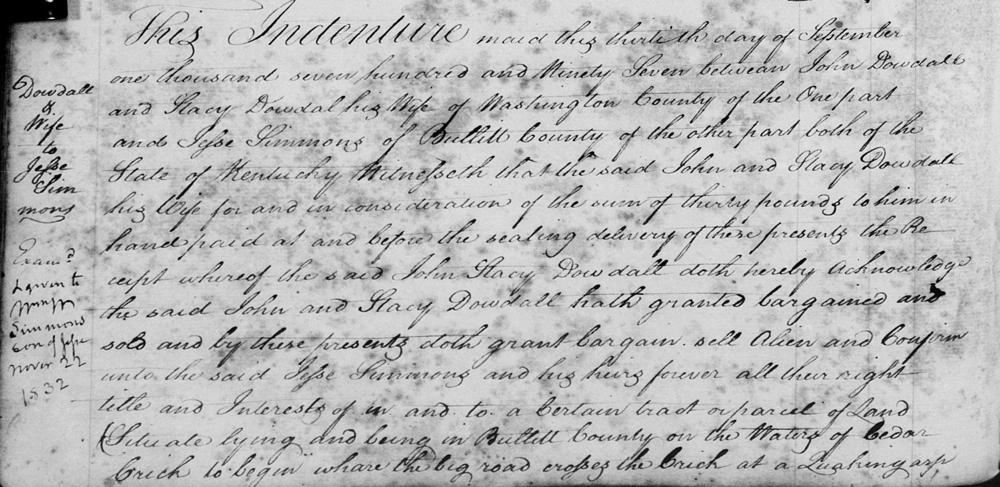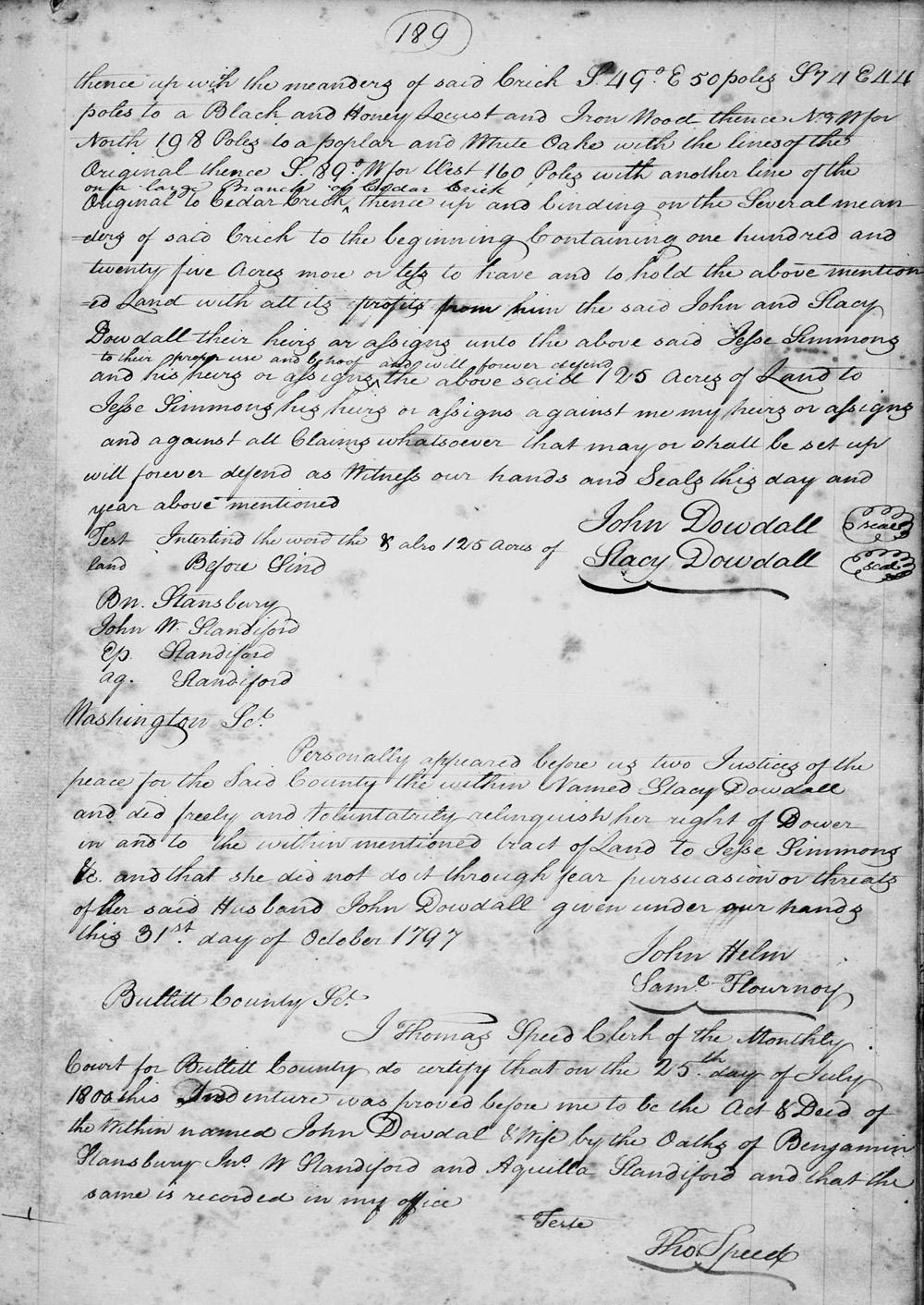 ---
If you, the reader, have an interest in any particular part of our county history, and wish to contribute to this effort, use the form on our Contact Us page to send us your comments about this, or any Bullitt County History page. We welcome your comments and suggestions. If you feel that we have misspoken at any point, please feel free to point this out to us.