James Dowdall to Henry Crist - 500 Acres
On 27 Oct 1797, James Shanks surveyed 500 acres for James Dowdall on the south side of Salt River, adjoining the river about four miles upstream from Salt River Garrison which was also called Brashear's Station. Then in March 1805, Dowdall sold the tract to Henry Crist, as shown below.
---
Bullitt County Deed Book B, page 12
This indenture made this ninth day of March 1805 between James Dowdall of Bullitt County and Henry Crist of the same place and both of the state of Kentucky. Witnesseth that the said James Dowdall for and in consideration of the sum of $400 currency to me in hand paid, the receipt whereof is hereby acknowledged, have bargained and sold and by these presents doth bargain and sell to the said Henry Crist a certain tract or parcel of land containing 500 acres by survey, lying and being in Bullitt County and on the south side of Salt River entered in the name of Thomas Dowdall but patented in James Dowdall's name. Beginning at a black walnut, hickory, two hoop ash and two elm trees on the bank of Salt River at the mouth of a drain and on the upper side thereof, thence up the river with its meanders 312 poles to three large beech trees standing on the bank of the river and at the lower side of a drain at the fording of the river, thence South 252 poles to two black walnuts and two hickories, thence West 290 poles to a stake in a marked line, thence North 317 poles to the beginning. To have and to hold the said tract of land with all its appurtenances thereunto belonging to the said Henry Crist, him, his heirs or assigns forever, to their only proper use & benefit and the said James Dowdall doth hereby covenant and agree that he will forever warrant and defend the before mentioned tract of land from himself and his heirs and from the heirs of Thomas Dowdall dec'd and from all manner of persons claiming by, through or under them but from no others unto the before mentioned Crist, his heirs or assigns. Whereas in testimony I have hereunto set my hand and seal this day and year first above written 1805. (signed) James Dowdall Teste: Wm Dowdall, Salley Crist, Elisabeth (her X mark) Lawton, Richard Layton.
Bullitt County to wit
To all whom it may concern: I Frederic William Spence Grayson, clerk of the county court of said county, do make known that on the 20th day of July last James Dowdall a party to this indenture personally before me at my office acknowledged the same to be his voluntary act and deed, and that I have recorded the said indenture in my said office as required by law. Witness my hand this fifteenth day of November 1805. (signed) Fred W. S. Grayson.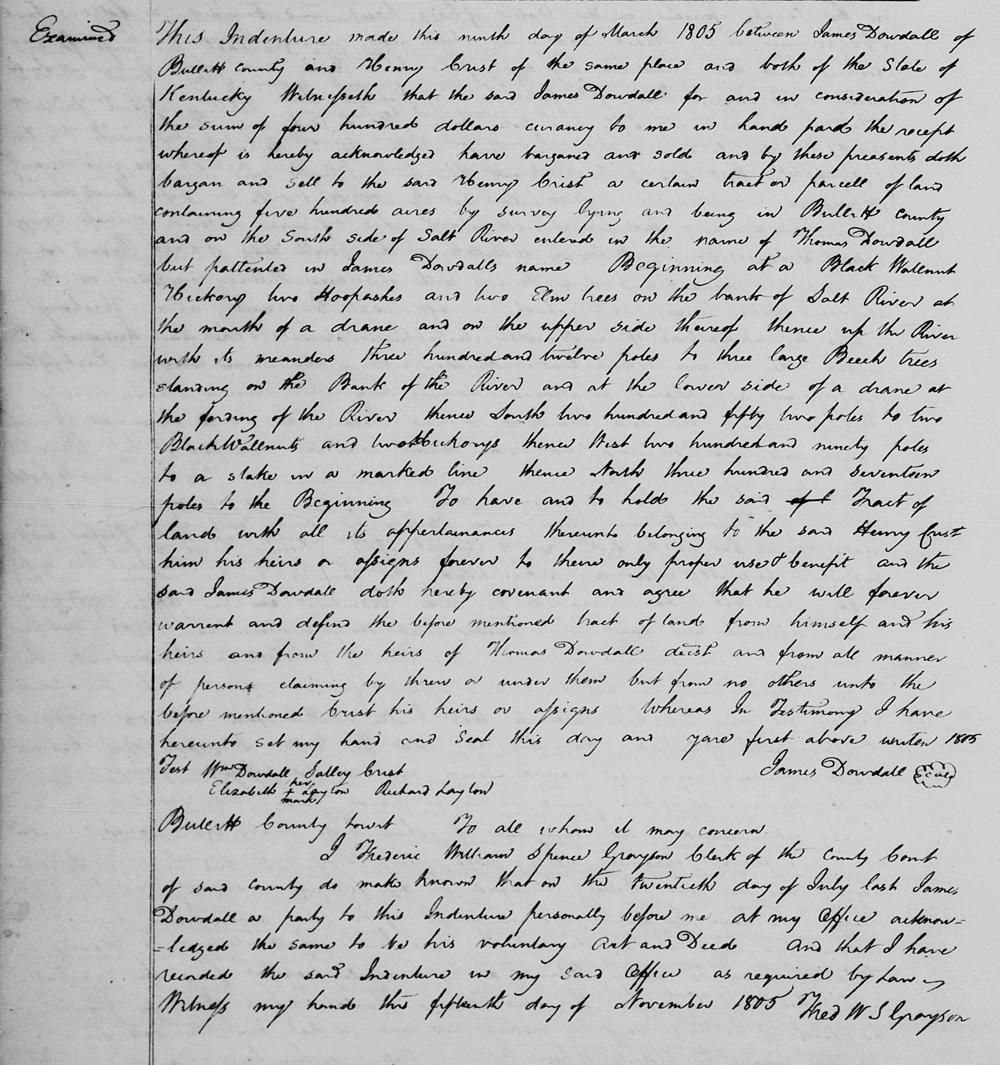 ---
If you, the reader, have an interest in any particular part of our county history, and wish to contribute to this effort, use the form on our Contact Us page to send us your comments about this, or any Bullitt County History page. We welcome your comments and suggestions. If you feel that we have misspoken at any point, please feel free to point this out to us.