David & Rachael Hall to John Paris
Richard Johnson sold his 400 acre settlement and 1000 acre preemption on McCullough Run to David Hall on 17 Nov 1788, as recorded in Jefferson County Deed Book #2 (see here for details), and now Hall distributed part of it to John Paris as part of an agreement among Clifton Hall, William Hall, David Paris, Edmond Stringer, Thomas Harris and himself at the time of the original purchase. The transcription of this deed is below, followed by an image of it.
---
Bullit County Deed Book B, pages 15-16
This indenture made this 9th day of September eighteen hundred and five between David Hall and Rachael Hall his wife of Bullitt County and Commonwealth of Kentucky of the one part and John Paris of the same county and Commonwealth of the other part, witnesseth that whereas Richard Johnson of the county of Louisa and Commonwealth of Virginia did on the seventeenth day of November 1788 convey to the above David Hall a certain tract of land in Bullitt County situate and lying on the waters of Salt River and called McCullocks preemption of 1400 acres, which land had been previously purchased jointly agreeable to stipulations between the parties (viz) David Hall, Clifton Hall, William Hall, David Paris, Edmond Stringer & Thomas Harris and for the convenience of those concerned, the said Johnson conveyed the land so purchased to the above David Hall by deed of warrantee. Now the said David Hall wishing to convey to said Stringer his moiety of said land agreeable to their stipulations. This indenture witnesseth that the said David Hall doth hereby convey, transfer, alien and set over unto John Paris at the request of Edmond Stringer a certain part of the above mentioned land bounded as followeth to wit; Beginning at the north east corner of the original survey at two sugartrees and running thence N 73° W 136 poles to a stake, corner to Blaxton Gentry and with his line S 5° E 34 poles to a white oak, another corner to said Gentry, thence S 40° E 12 poles to a black oak salping corner to Thomas Stringer and with his lines the two following courses and distances (viz) S 33° E 52 poles to a red bud and hickory, S 85° E 75 poles to a white oak in the original line, and with said line N 20° E 60 poles to the beginning containing fifty acres, be the same more or less, to have and to hold the said tract of land with its appurtenances thereunto belonging to the only proper use and benefit of him the said John Paris in lieu of Edmond Stringer, him his heirs, executors, administrators and assigns forever from me, my heirs and all manner of persons claiming under me, but from no others except so far as I may be enabled by virtue of the original conveyance, the virtue of which I will transfer when necessary without charge or cost to me or my heirs. In testimony whereof I hereunto set my hand, affix my seal this day and year first above written. (signed) David Hall, Rachael [her X mark] Hall.
Bullitt County Sct.
To all whom it may concern. I Fredric William Spence Grayson, clerk of the county court of said county do make known that on the ninth day of September 1805, David Hall and Rachael his wife a party to the within indenture personally before me acknowledged the same to be their voluntary act and deed, and the said Rachael being first examined by me privily, and apart from her said husband declared that she made her said acknowledgement of her own free will and accord without the persuasion or threat of her said husband or through fear of his displeasure and that she wished not to retract her said acknowledgement and that she consented said indenture might be recorded which was then by me shown and explained to her and that I have recorded the said indenture in my office as required by law.Witness my hand this 21st day of November 1805. (signed) Fred W. S. Grayson.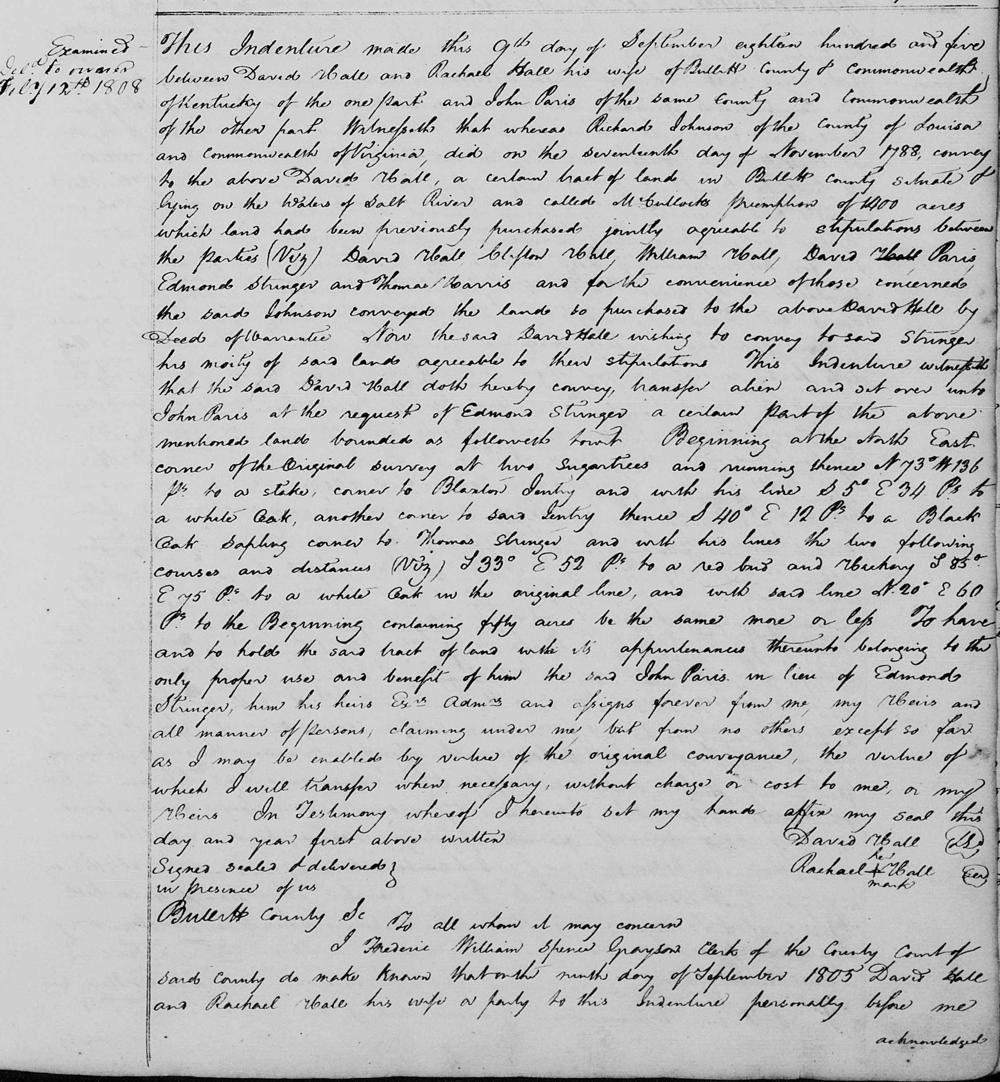 ---
If you, the reader, have an interest in any particular part of our county history, and wish to contribute to this effort, use the form on our Contact Us page to send us your comments about this, or any Bullitt County History page. We welcome your comments and suggestions. If you feel that we have misspoken at any point, please feel free to point this out to us.