Susannah Cox to James Crenshaw - 1798 Deed
This appears to be the first land owned in Bullitt County by a Crenshaw. On 8 Aug 1798, David Cox and his daughter Susannah Cox sold this tract of 315 acres to James Crenshaw for 42 pounds, current money. It lay on the south side of Salt River, 120 poles downstream from the mouth of Cox's Creek. A transcription is next, followed by an image of the deed.
Bullitt County Deed Book A, page 62
David & Susannah Cox to James Crenshaw
This indenture made this 8th day of August one thousand seven hundred and ninety eight between David Cox and his daughter Susanna Cox of the one part and James Crenshaw of the other part. Witnesseth that the said David Cox & Susanna Cox for and in consideration of the sum of forty two pounds current money to the said Susanna Cox in hand paid, the receipt whereof is hereby acknowledged, have bargained and sold and by these presents do bargain and sell unto the said James Crenshaw a certain tract o land containing three hundred and fifteen acres lying in Bullitt County on Salt River one hundred and twenty poles below the mouth of Coxes Creek and bounded as follows, viz. Beginning at a Beech and sugar tree running thence South eighty-seven degrees West two hundred and thirty poles to a poplar, ash, and sugar tree, thence South eighteen degrees East three hundred and seventy poles to a beech and dogwood North fifty degrees East one hundred and ninety six poles to a beech and small hickory sapling, North twenty degrees West one hundred and sixteen poles to two beech trees on the bank of Salt River, thence down the several courses thereof one hundred and forty poles to the Beginning. To have and to hold the aforesaid tract of land with its appurtenances to the said Crenshaw and his heirs forever to the only proper use and behoof of him the said Crenshaw and the said David Cox and Susanna Cox do covenant and agree to and with the said Crenshaw that they the said David and Susanna shall and will warrant and forever defend the aforesaid tract of land with appurtenances to the said Crenshaw and his heirs against themselves and their heirs and all persons claiming under them and every other person whatsoever in witness whereof they have hereunto set their hands and seals the day and date above written. (signed) David Cox, Susanna Cox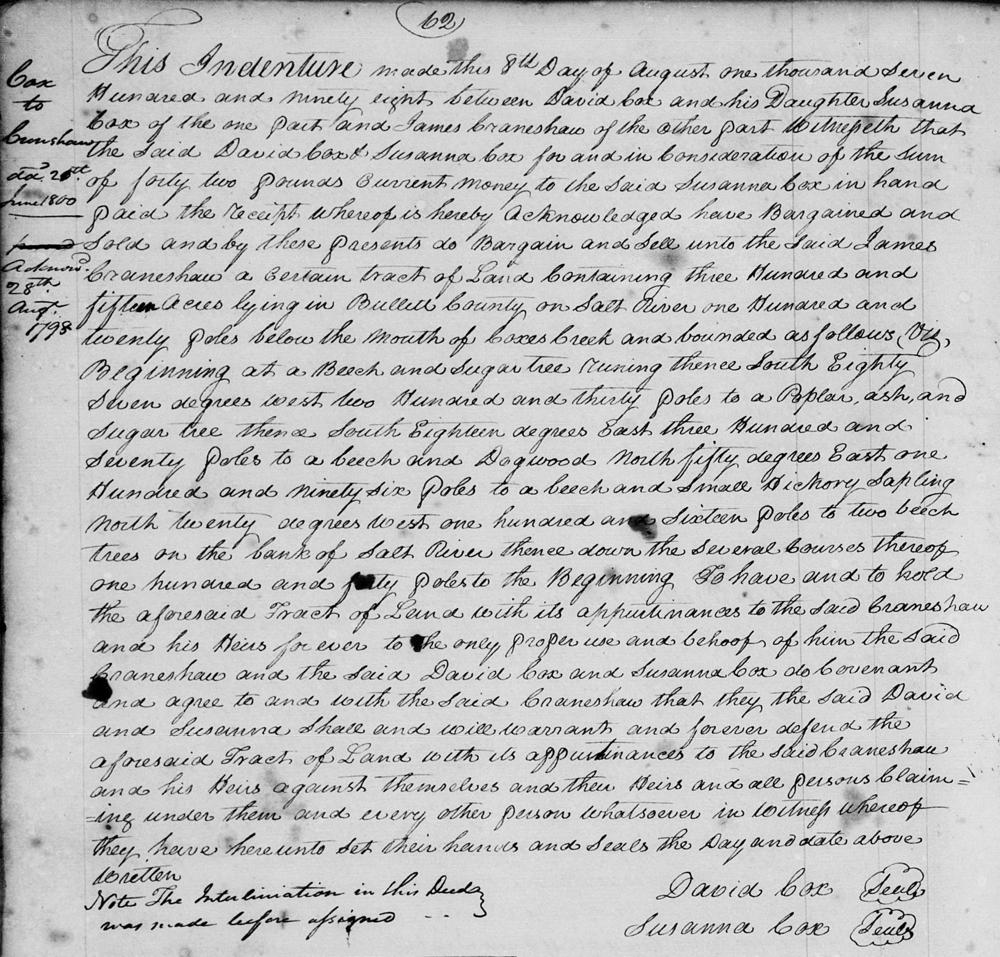 ---
If you, the reader, have an interest in any particular part of our county history, and wish to contribute to this effort, use the form on our Contact Us page to send us your comments about this, or any Bullitt County History page. We welcome your comments and suggestions. If you feel that we have misspoken at any point, please feel free to point this out to us.