John D. Colmesnil
Louisville Past and Present: Its Industrial History
As exhibited in the Life-labors of its Leading Men.
by M. Joblin & Co., 1875, page 217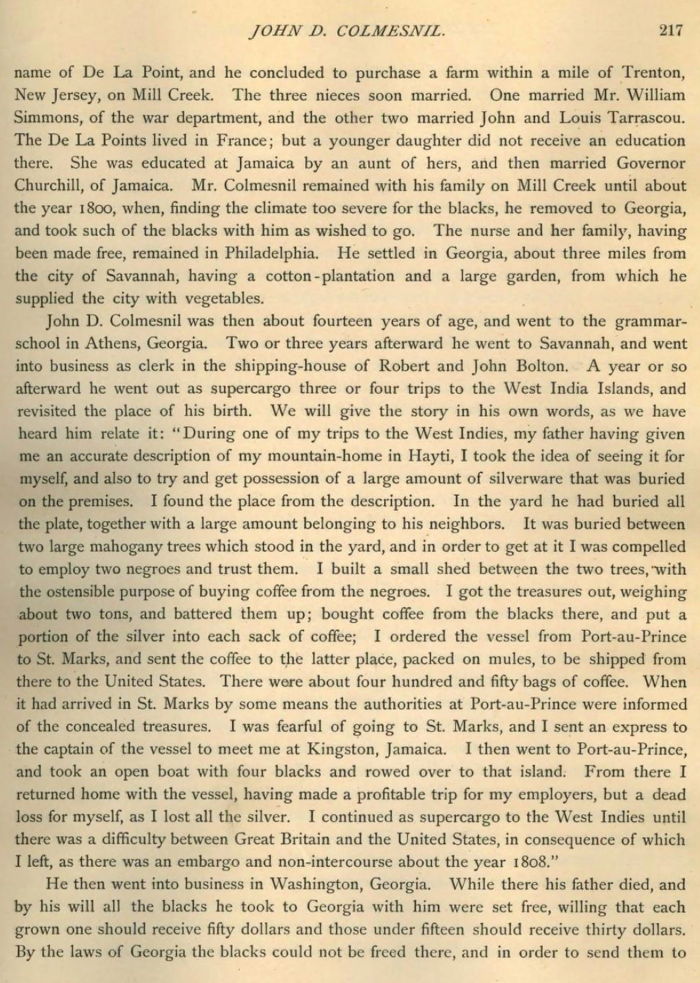 [previous page] ...name of De La Point, and he concluded to purchase a farm within a mile of Trenton, New Jersey, on Mill Creek. The three nieces soon married. One married Mr. William Simmons, of the war department, and the other two married John and Louis Tarrascou. The De La Points lived in France; but a younger daughter did not receive an education there. She was educated at Jamaica by an aunt of hers, and then married Governor Churchill, of Jamaica. Mr. Colmesnil remained with his family on Mill Creek until about the year 1800, when, finding the climate too severe for the blacks, he removed to Georgia, and took such of the blacks with him as wished to go. The nurse and her family, having been made free, remained in Philadelphia. He settled in Georgia, about three miles from the city of Savannah, having a cotton plantation and a large garden, from which he supplied the city with vegetables.
John D. Colmesnil was then about fourteen years of age, and went to the grammar school in Athens, Georgia. Two or three years afterward he went to Savannah, and went into business as clerk in the shipping-house of Robert and John Bolton. A year or so afterward he went out as supercargo [a merchant-ship officer who is in charge of the cargo and the commercial concerns of the voyage.] three or four trips to the West India Islands, and revisited the place of his birth. We will give the story in his own words, as we have heard him relate it: "During one of my trips to the West Indies, my father having given me an accurate description of my mountain-home in Hayti, I took the idea of seeing it for myself, and also to try and get possession of a large amount of silverware that was buried on the premises. I found the place from the description. In the yard he had buried all the plate, together with a large amount belonging to his neighbors. It was buried between two large mahogany trees which stood in the yard, and in order to get at it I was compelled to employ two negroes and trust them. I built a small shed between the two trees, "with the ostensible purpose of buying coffee from the negroes. I got the treasures out, weighing about two tons, and battered them up; bought coffee from the blacks there, and put a portion of the silver into each sack of coffee; I ordered the vessel from Port-au-Prince to St. Marks, and sent the coffee to the latter place, packed on mules, to be shipped from there to the United States. There were about four hundred and fifty bags of coffee. When it had arrived in St. Marks by some means the authorities at Port-au-Prince were informed of the concealed treasures. I was fearful of going to St. Marks, and I sent an express to the captain of the vessel to meet me at Kingston, Jamaica. I then went to Port-au-Prince, and took an open boat with four blacks and rowed over to that island. From there I returned home with the vessel, having made a profitable trip for my employers, but a dead loss for myself, as I lost all the silver. I continued as supercargo to the West Indies until there was a difficulty between Great Britain and the United States, in consequence of which I left, as there was an embargo and non-intercourse about the year 1808."
He then went into business in Washington, Georgia. While there his father died, and by his will all the blacks he took to Georgia with him were set free, willing that each grown one should receive fifty dollars and those under fifteen should receive thirty dollars. By the laws of Georgia the blacks could not be freed there, and in order to send them to ... [next page]
---
If you, the reader, have an interest in any particular part of our county history, and wish to contribute to this effort, use the form on our Contact Us page to send us your comments about this, or any Bullitt County History page. We welcome your comments and suggestions. If you feel that we have misspoken at any point, please feel free to point this out to us.