John D. Colmesnil
John D. Colmesnil was the proprietor of Paroquet Springs through much of its history. Before that, he was a on and off successful businessman in Louisville, and even earlier a bit of an adventurer. These pages contain the best description of his life that we have found.
---
Louisville Past and Present: Its Industrial History
As exhibited in the Life-labors of its Leading Men.
by M. Joblin & Co., 1875, page 216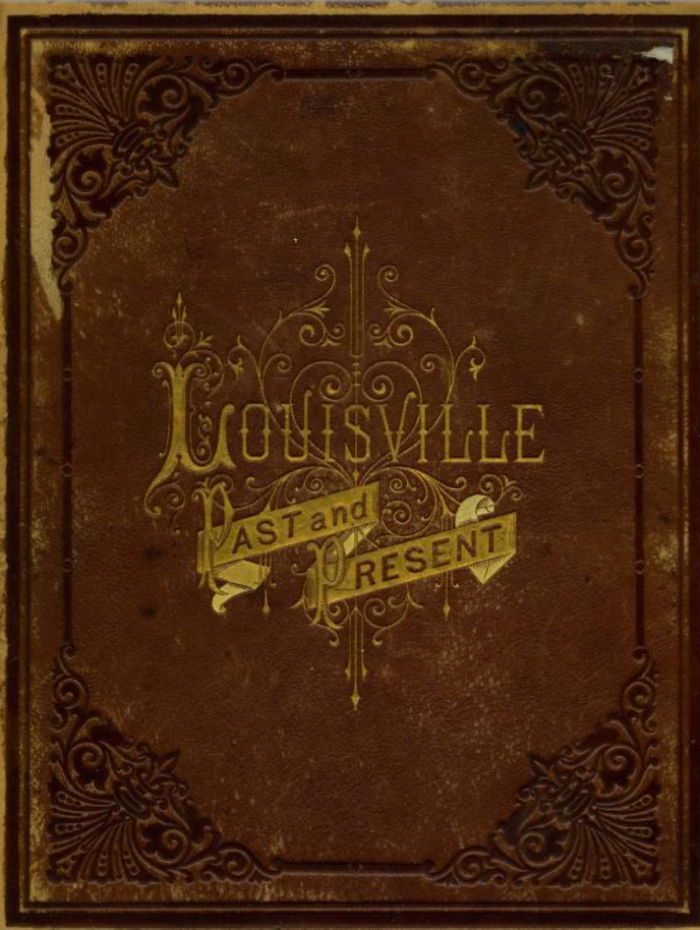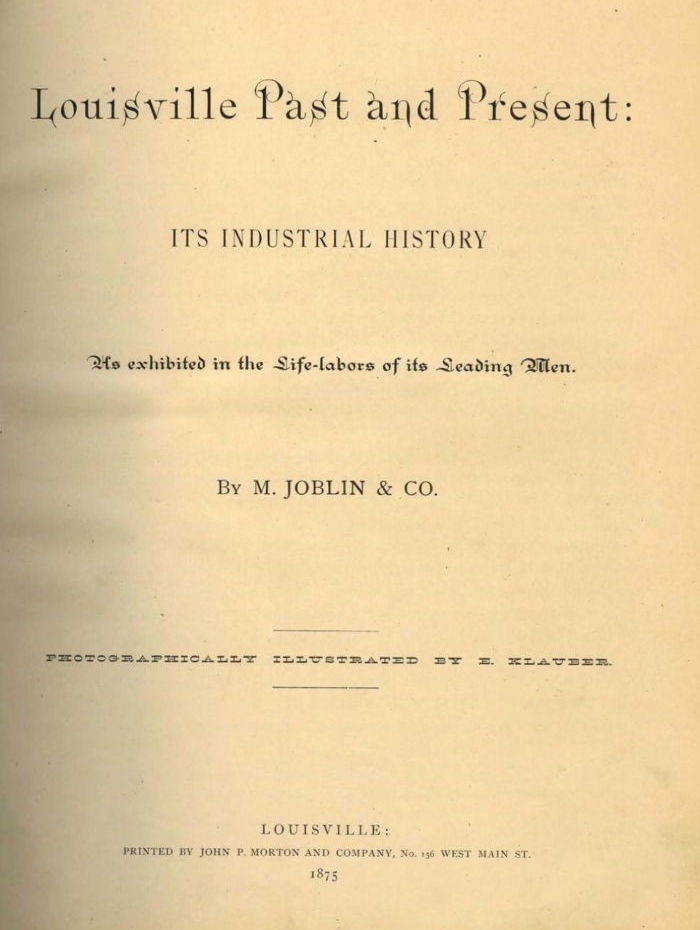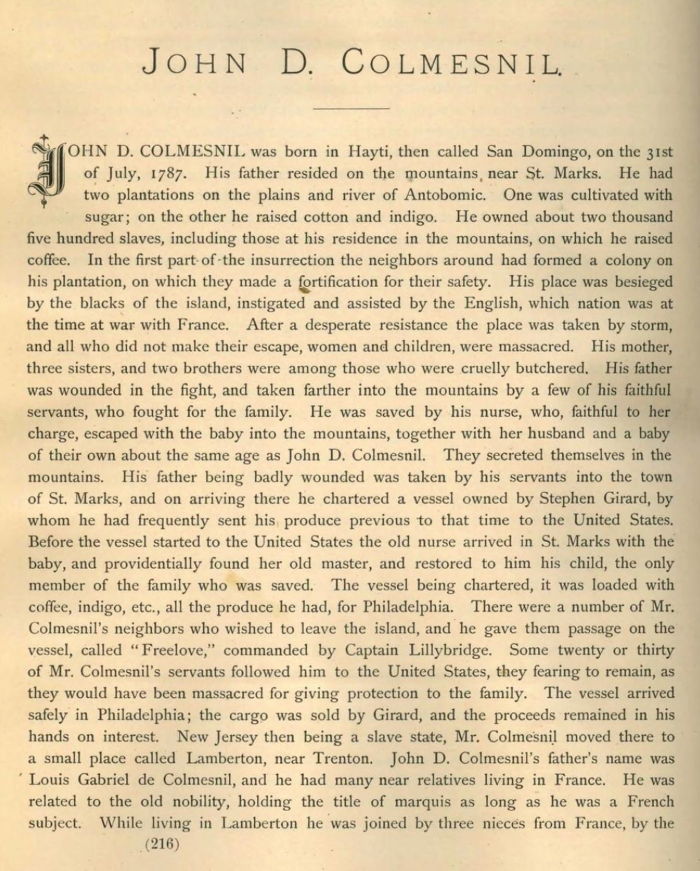 JOHN D. COLMESNIL was born in Hayti, then called San Domingo [Saint-Domingue], on the 31st of July, 1787. His father resided on the mountains, near St. Marks. He had two plantations on the plains and river of Antobomic [Artibonite]. One was cultivated with sugar; on the other he raised cotton and indigo. He owned about two thousand five hundred slaves, including those at his residence in the mountains, on which he raised coffee. In the first part of the insurrection the neighbors around had formed a colony on his plantation, on which they made a fortification for their safety. His place was besieged by the blacks of the island, instigated and assisted by the English, which nation was at the time at war with France. After a desperate resistance the place was taken by storm, and all who did not make their escape, women and children, were massacred. His mother, three sisters, and two brothers were among those who were cruelly butchered. His father was wounded in the fight, and taken farther into the mountains by a few of his faithful servants, who fought for the family. He was saved by his nurse, who, faithful to her charge, escaped with the baby into the mountains, together with her husband and a baby of their own about the same age as John D. Colmesnil. They secreted themselves in the mountains. His father being badly wounded was taken by his servants into the town of St. Marks [Saint-Marc], and on arriving there he chartered a vessel owned by Stephen Girard, by whom he had frequently sent his produce previous to that time to the United States. Before the vessel started to the United States the old nurse arrived in St. Marks with the baby, and providentially found her old master, and restored to him his child, the only member of the family who was saved. The vessel being chartered, it was loaded with coffee, indigo, etc., all the produce he had, for Philadelphia. There were a number of Mr. Colmesnil's neighbors who wished to leave the island, and he gave them passage on the vessel, called "Freelove," commanded by Captain Lillybridge. Some twenty or thirty of Mr. Colmesnil's servants followed him to the United States, they fearing to remain, as they would have been massacred for giving protection to the family. The vessel arrived safely in Philadelphia; the cargo was sold by Girard, and the proceeds remained in his hands on interest. New Jersey then being a slave state, Mr. Colmesnil moved there to a small place called Lamberton, near Trenton. John D. Colmesnil's father's name was Louis Gabriel de Colmesnil, and he had many near relatives living in France. He was related to the old nobility, holding the title of marquis as long as he was a French subject. While living in Lamberton he was joined by three nieces from France, by the ... [next page]
---
If you, the reader, have an interest in any particular part of our county history, and wish to contribute to this effort, use the form on our Contact Us page to send us your comments about this, or any Bullitt County History page. We welcome your comments and suggestions. If you feel that we have misspoken at any point, please feel free to point this out to us.