Charles Broughton Tracts
Charles Broughton claimed two separate tracts of land; the first, labeled with the letter "A" on the map below, which contained 250 acres and included the Long Lick salt works; and the second, labeled "B" on the map, which contained 500 acres and included the Dry Lick salt works. As described by John McDowell on another page, Broughton was one of several who claimed the Long Lick tract, and his claim, along with that of the others, ended up as part of land purchased by Henry Crist and Adam Shepherd.
The following survey was included as part of the paperwork in the Crist-Shepherd purchase. It is transcribed below the image.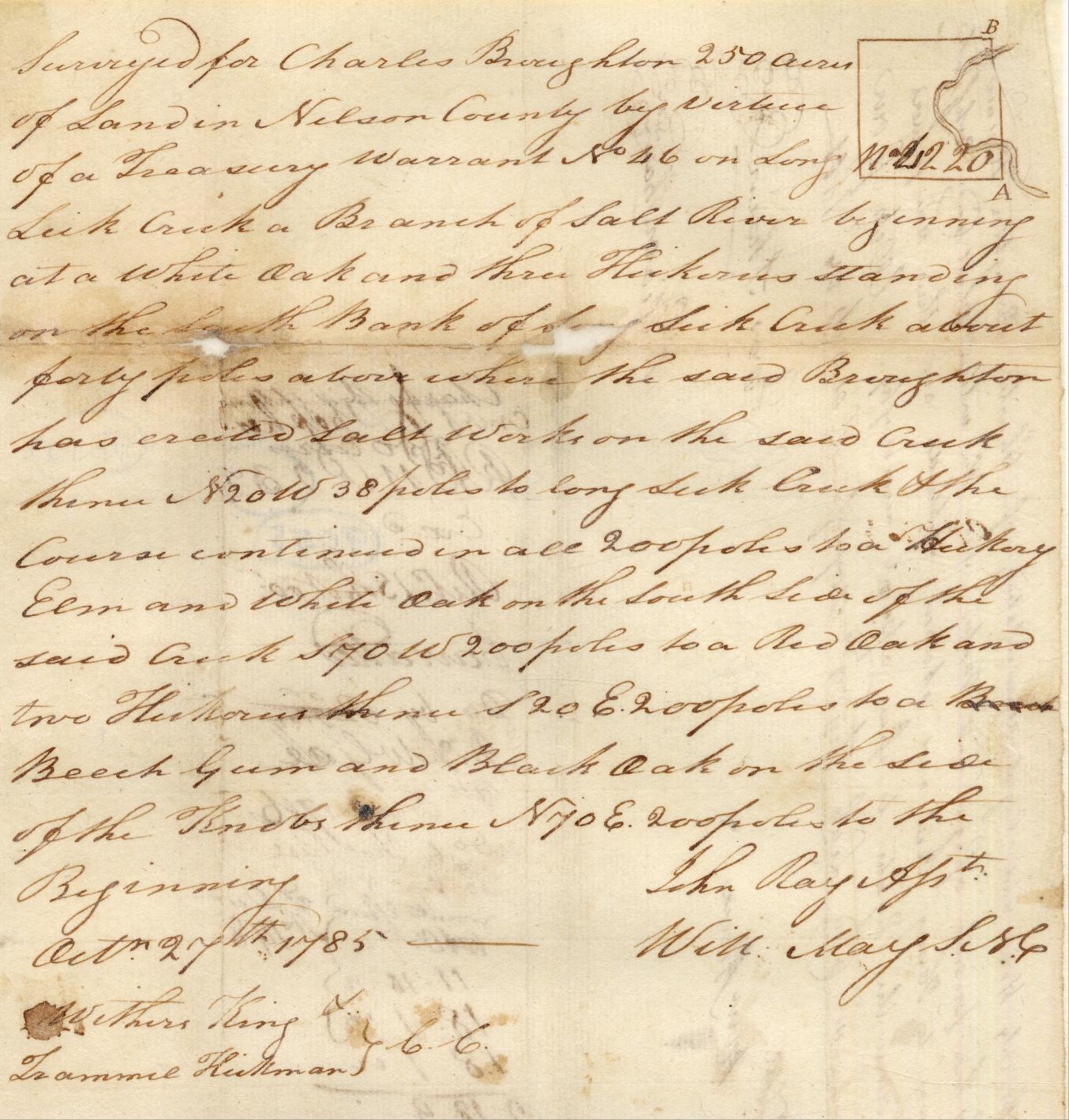 "Surveyed for Charles Broughton 250 acres of land in Nelson County by virtue of a Treasury warrant No. 46 on Long Lick Creek a Branch of Salt River beginning at a white oak and three Hickories standing on the South Bank of Long Lick Creek about forty poles above where the said Broughton has erected Salt Works on the said creek thence N 20 W 38 poles to Long Lick Creek & the course continued in all 200 poles to a Hickory Elm and white Oak on the South side of the said creek S 70 W 200 poles to a Red Oak and two Hickories thence S 20 E 200 poles to a Beech Gum and Black Oak on the side of the Knobs thence N 70 E 200 poles to the Beginning."
Broughton's second tract, which contained the Dry Lick, is described in the survey shown below. A transcription of it is given below the image.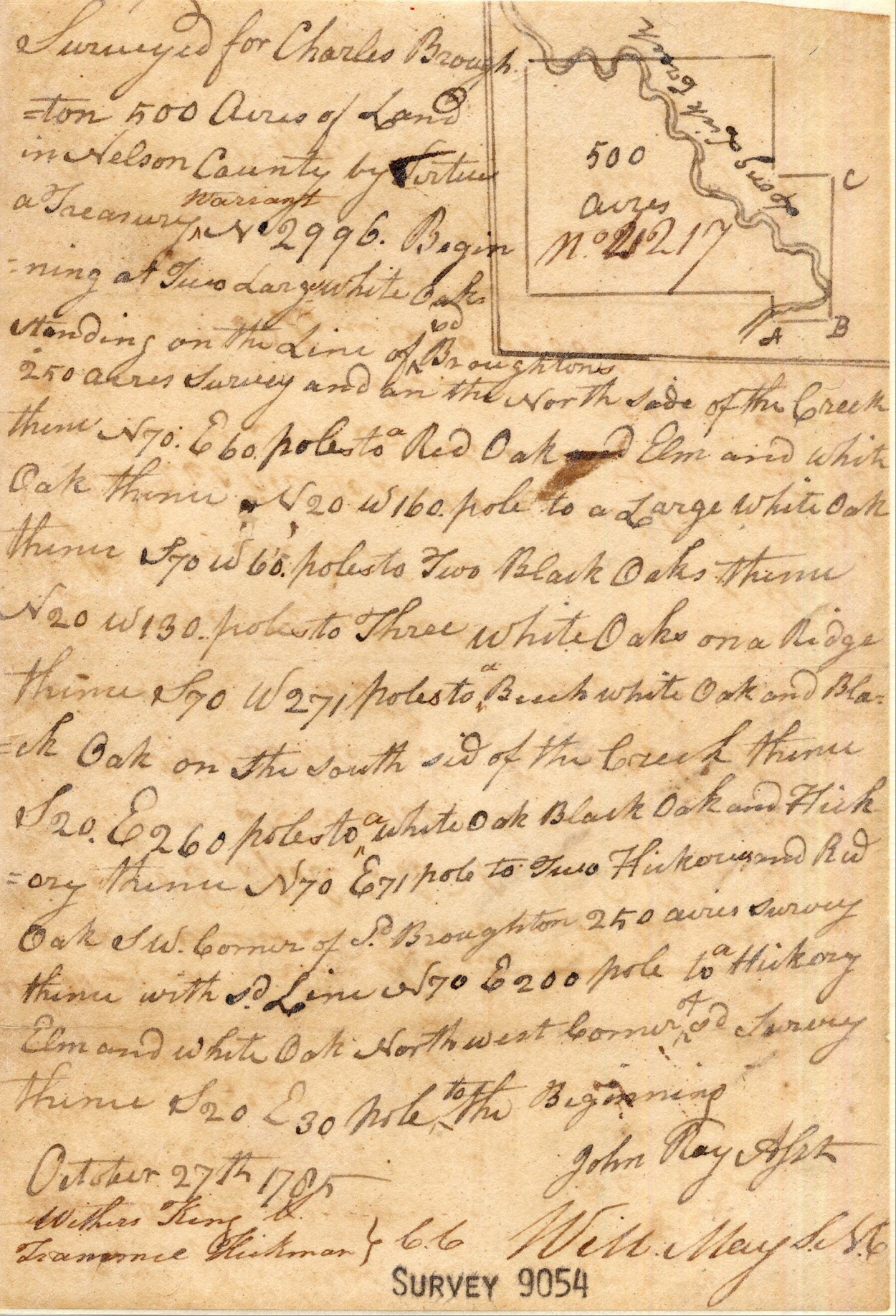 "Surveyed for Charles Broughton 500 acres of land in Nelson County by virtue a Treasury Warrant No. 2996. Beginning at two large white oaks standing on the line of said Broughtons 250 acre survey and on the North side of the Creek thence N 70 E 60 poles to a Red Oak and Elm and white Oak thence N 20 W 160 poles to a large white oak thence S 70 W 60 poles to two Black Oaks thence N 20 W 130 poles to three white Oaks on a ridge thence S 70 W 271 poles to a Beech white oak and Black Oak on the south side of the creek thence S 20 E 260 poles to a white oak black oak and hiclory thence N 70 E 71 poles to two Hickories and Red Oak S.W. corner of said Broughton 250 acres survey thence with said line N 70 E 200 pole to a Hickory Elm and white Oak Northwest corner of said survey thence S 20 E 30 pole to the Beginning."
Below is an image insert from Google showing the approximate location of these two tracts. Please note that the locations of borders are only rough estimates.
You can use the arrows in the upper left corner to move the image, or use the plus and minus signs to zoom in or out. You may also put the cursor on the map and drag the image to where you want it.
Keep in mind that these locations are approximations based on the available data and some guesswork.
Below is a section of the Shepherdsville 7.5 topographic map that approximately shows the same area as that above.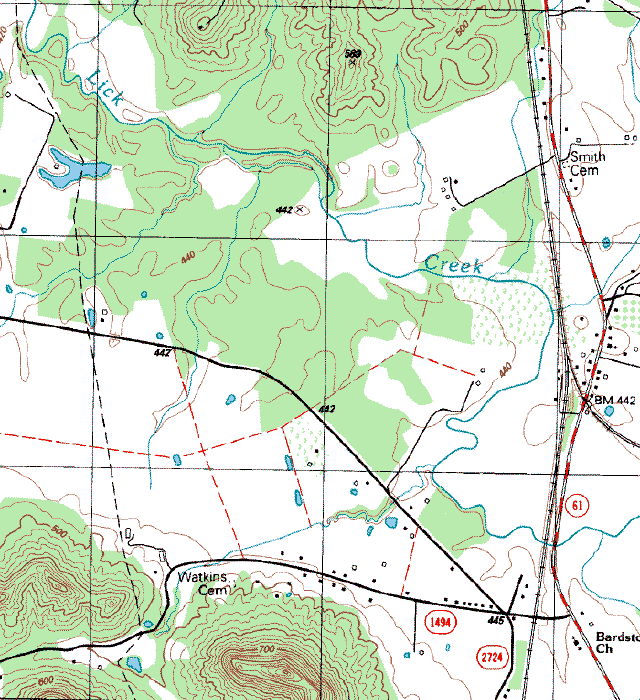 ---
If you, the reader, have an interest in any particular part of our county history, and wish to contribute to this effort, use the form on our Contact Us page to send us your comments about this, or any Bullitt County History page. We welcome your comments and suggestions. If you feel that we have misspoken at any point, please feel free to point this out to us.