Annotated Bullitt County 1850 Census
We continue the Bullitt County 1850 census written by Mrs. W. V. Mathis, Wallace A. McKay and W. C. Barrickman. Betty Darnell shared this in The Pioneer News on 13 Nov 1989.
These records have been briefly compared to images of the census pages, and occasional additions or corrections have been made. Those changes we consider significant are noted with red print. Also, the census dwelling house number and family number according to visitation has been added, like this: [1/1].
---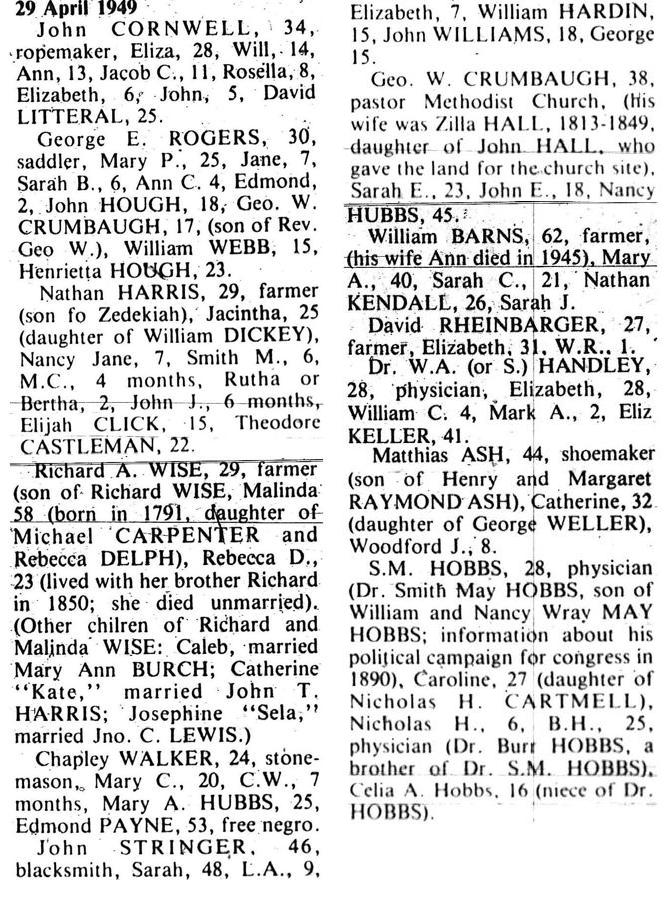 29 April 1949
[27/27] John CORNWELL, 34, ropemaker, Eliza, 28, Will, 14, Ann, 13, Jacob C., 11, Rosella, 8, Elizabeth, 6, John, 5, David LITTERAL, 25.
[28/28] George E. ROGERS, 30, saddler, Mary P., 25, Jane, 7, Sarah B., 6, Ann C. 4, Edmond, 2, John HOUGH, 18, Geo. W. CRUMBAUGH, 17, (son of Rev. Geo W.), William WEBB, 15, Henrietta HOUGH, 23.
[29/29] Nathan HARRIS, 29, farmer (son fo Zedekiah), Jacintha, 25 (daughter of William DICKEY), Nancy Jane, 7, Smith M., 6, M. C., 4 months, Rutha or Bertha, 2, John J., 6 months, Elijah CLICK, 15, Theodore CASTLEMAN, 22.
[30/30] Richard A. WISE, 29, farmer (son of Richard WISE), Malinda 58 (born in 1791, daughter of Michael CARPENTER and Rebecca DELPH), Rebecca D., 23 (lived with her brother Richard in 1850; she died unmarried). (Other chilren of Richard and Malinda WISE: Caleb, married Mary Ann BURCH; Catherine "Kate," married John T. HARRIS; Josephine "Sela;" married Jno. C. LEWIS.)
[31/31] Chapley WALKER, 24, stonemason, Mary C., 20, C. W., 7 months, Mary A. HUBBS, 25, Edmond PAYNE, 53, free black.
[32/32] John STRINGER, 46, blacksmith, Sarah, 48, William HARDIN, 15, blacksmith, L.A., 9, Elizabeth, 7, John WILLIAMS, 18 student, George 15 student.
[33/33] George W. CRUMBAUGH, 38, pastor Methodist Church, (his wife was Zilla HALL, 1813-1849, daughter of John HALL who gave the land for the church site), Sarah E., 23, John E., 18, farmer, Nancy HUBBS, 45.
[34/34] Williim BARNS, 62, farmer, (his wife Ann died in 1945:, Mary A., 40, Sarah C., 21, Nathan KENDALL, 26, Sarah J.
[35/35] Susan HAMILTON; see this page.
[36/36] David RHEINBARGER, 27, farmer, Elizabeth, 31, W. R. 1.
[37/37] S. M. HOBBS, 28, physician (Dr. Smith May HOBBS, son of William and Nancy Wray MAY HOBBS; information about his political campaign for congress in 1890), Caroline, 27 (daughter of Nicholas H. CARTMELL), Nicholas H., 6, , B. H., 25, physician (Dr. Burr HOBBS, a brother of Dr. S. M. HOBBS). Celia A. Hobbs. 16 (niece of Dr. HOBBS).
[38/38] Dr. W. A. (or S.) HUNDLEY, 28, physician, Elizabeth, 28, William C. 4, Mark A., 2, Eliz KELLER, 41.
[39/39] Matthias ASH, 44, shoemaker (son of Henry and Margaret RAYMOND ASH), Catherine, 32 (daughter of George WELLER), Woodford J., 8.
---
This project is presented here with the kind permission of Betty Darnell, and The Pioneer News.
If you, the reader, have an interest in any particular part of our county history, and wish to contribute to this effort, use the form on our Contact Us page to send us your comments about this, or any Bullitt County History page. We welcome your comments and suggestions. If you feel that we have misspoken at any point, please feel free to point this out to us.