Annotated Bullitt County 1850 Census
This is the secone column on the Bullitt County 1850 census written by Mrs. W. V. Mathis, Wallace A. McKay and W. C. Barrickman. Betty Darnell reproduced it in The Pioneer News on 13 Nov 1989.
These records have been briefly compared to images of the census pages, and occasional additions or corrections have been made. Those changes we consider significant are noted with red print. Also, the census dwelling house number and family number according to visitation has been added, like this: [1/1].
---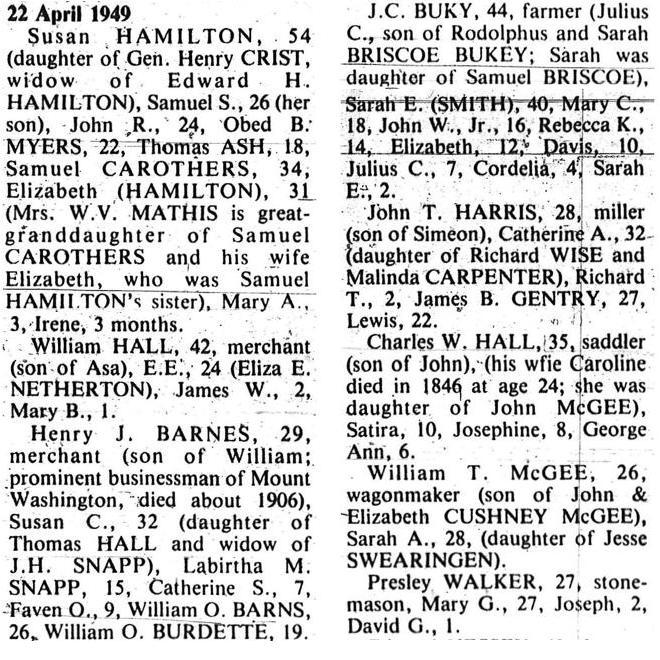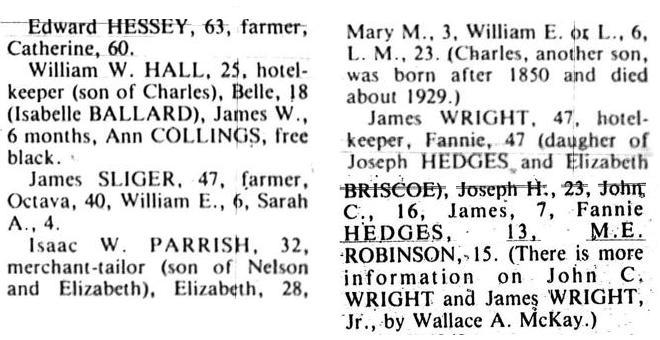 22 April 1949
Census Page 2 (continued)
This household belongs on census page 5. [35/35] Susan HAMILTON, 54 (daughter of Gen. Henry CRIST, widow of Edward H. HAMILTON), Samuel S., 26 (her son), John R., 24, Obed B, MYERS, 22, Thomas ASH; 18, Samuel CAROTHERS, 34; Elitabeth (HAMILTON), 31 (Mrs W.V. MATHIS is great-granddaughter of Samuel CAROTHERS and his wife Elizabeth, who was Samuel HAMILTON's sister), Mary A, 3, Irene, 3 months.
[14/14] William HALL, 42, merchant (son of Asa), E.E:, 24 (Eliza E. NETHERTON); James W., 2, Mary B., 1.
Household skipped. [15/15] Joseph HOUGH 34 merchant, Emily 25, Susan C. 5, Louisa F. 2, William A. 3 months
[16/16] Henry J. BARNES, 29, merchant (son of William; prominent businessman of Mount Washingion,died about 1906), Susan C., 32 (daughter of Thomas HALL and widow of J.H. SNAPP), Labirtha M. SNAPP, 15, Catherine S., 7, Faven O., 9, William O. BARNS, 26,. William O. BURDETTE, 19.
[17/17] J.C. BUKY, 44, farmer (Julius C., son of Rodolphus and Sarah BRISCOE BUKEY; Sarah was daughter of Samuel BRISCOE), Sarah E. (SMITH), 40, Mary C., 18, John W., Jr., 16, Rebecca K., 14, Elizabeth, 12, Davis, 10, Julius C., 7, Cordelia, 4, Sarah E., 2.
[18/18] John T. HARRIS, 28, miller (son of Simeon), Catherine A., 32- daughter of Richard WISE and Malinda CARPENTER), Richard T., 2, James B. GENTRY, 27, Lewis, 22.
[19/19] Charles W, HALL, 35, saddler (son of John), (his wife Caroline died in 1846 at age 24; she was daughter. of John McGEE), Satira, 10, Josephine, 8, George Ann, 6.
[20/20] William T. McGEE 26, wagonmaker (son of John & Elizabeth CUSHNEY McGEE), Sarah A., 28, (daughter of Jesse SWEARINGEN).
[21/21] Presley WALKER, 27, stone-mason, Mary G., 27, Joseph, 2, David G., 1.
[22/22] Edward HESSEY, 63, farmer, Catherine, 60.
[23/23] William W. HALL, 25, hotel-keeper (son of Charles), Belle, 18 (Isabelle BALLARD), James W., 6 months, Ann COLLINGS, free black.
[24/24] Thomas SLIGER, 47, farmer, Octava, 40, William E., 6, Sarah A., 4.
[25/25] Isaac W. PARRISH, 32, merchant-tailor (son of Nelson and Elizabeth), Elizabeth, 28, Mary M., 3, William E. or L., 6, L. M., 23, tailor. (Charles, another son, was born after 1850 and died about 1929.)
[26/26] James WRIGHT, 47, hotel-keeper, Fannie, 47 (daugher of Joseph HEDGES, and Elizabeth BRISCOE), Joseph H., 23, John C., 16, James, 7, Fannie HEDGES, 13, M. E. ROBINSON, 15. (There is more information on John C. WRIGHT and James WRIGHT, Jr., by Wallace A. McKay.)
---
This project is presented here with the kind permission of Betty Darnell, and The Pioneer News.
If you, the reader, have an interest in any particular part of our county history, and wish to contribute to this effort, use the form on our Contact Us page to send us your comments about this, or any Bullitt County History page. We welcome your comments and suggestions. If you feel that we have misspoken at any point, please feel free to point this out to us.