1929 Shepherdsville High School Yearbook - Page 8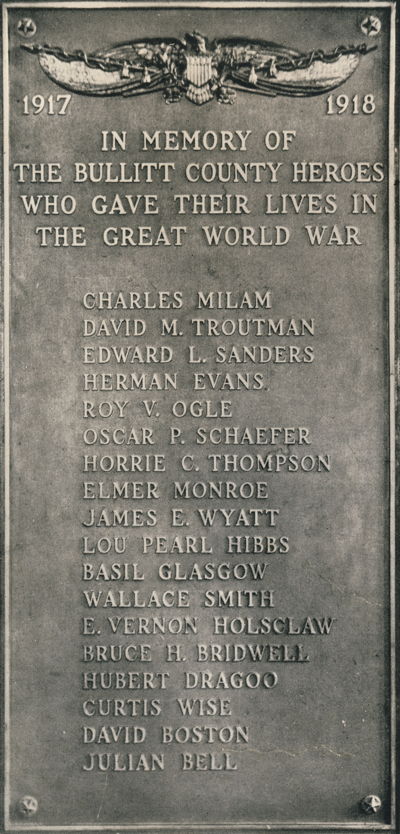 In October, 1924, at the dedication of the new Memorial Auditorium, this tablet, bearing the names of those from Bullitt County who made the supreme sacrifice during the World War, was unveiled and dedicated. This beautiful bronze tablet is hung on the east wall of the auditorium where it can be plainly seen from all parts of the room, and is a constant reminder to the pupils of S.H.S. of the bravery and heroism of their neighbors and friends, who died that they might live in safety and peace.
Charles Hartley wrote an article about the Memorial Plaque that you may read here.
The Bullitt County History Museum, a service of the Bullitt County Genealogical Society, is located in the county courthouse at 300 South Buckman Street (Highway 61) in Shepherdsville, Kentucky. The museum, along with its research room, is open 9 a.m. to 4 p.m. Monday, Tuesday, Wednesday and Friday; and from 9 a.m. to 6 p.m. on Thursday. Admission is free. The museum, as part of the Bullitt County Genealogical Society, is a 501(c)3 tax exempt organization and is classified as a 509(a)2 public charity. Contributions and bequests are deductible under section 2055, 2106, or 2522 of the Internal Revenue Code. Page last modified: 27 Jan 2021 . Page URL: bullittcountyhistory.org/1929annual/p8.html