Museum Newsletter - 31 August 2011
Friends of the Bullitt County History Museum
E-Newsletter
August 31, 2011 (Volume 7, Number 9)
Dear Friends,
Announcements...
>>Stories of the Old Stone Jail at next Genealogical Society Meeting September 17.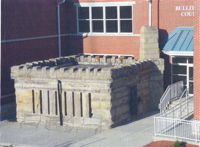 The next Bullitt County Genealogical Society meeting will host a very special speaker. Me!! [grin] Seriously, I will be giving a presentation about "The Old Stone Jail," our great old 1891 jail located very near our library meeting place. In fact, if all goes to plan, we'll make the short walk over to the jail as part of the presentation. Meeting starts at 10:00 a.m. at the Ridgway Memorial Public Library in Shepherdsville.
>>Museum Closed for Labor Day.
The courthouse, and therefore the museum, will be closed Monday September 5 for the Labor Day Holiday.
>>Quilt Show October 1 & 2.
The first-annual Bluegrass Quilt Festival is coming to Shepherdsville's Paroquet Springs Conference Centre October 1 & 2. I love quilts and will be a guest speaker. For details, go to www.bluegrassquiltfestival.com, or call JoAnn at 502-955-5203.
>>Lou. Gen. Society Book Fair.
The Louisville Genealogical Society will host its annual book fair and seminar on October 15 at Beargrass Christian Church. Call 502-422-0150 for details.
>>Portable Vietnam Wall coming through Shepherdsville Tuesday Sept. 6.
The Dignity portable Vietnam Wall replica will be escorted with an honor guard through Shepherdsville about 12:30 through 2:00 and people are asked to step out along the way and pay respect as it passes by. Starts at Love's Truck Stop, follows Cedar Grove Road to Highway 61, then through town on Buckman Street to Highway 44, and then back to Interstate 65 on its way to Louisville. Flags will be out; and expected 500 veteran motorcycle honor guard will be with the semitrailer trucks transporting the wall.
>>9/11 Memorial Event in Bullitt County Sunday September 11.
A silent parade will take place in a ten-year anniversary memorial to the 911 tragedy. The event starts at 2:00 that Sunday. The parade will be on Buckman Street in Shepherdsville starting at Publisher's Printing and ending at the city riverside park. The parade and speaker agenda will feature emergency services departments from all over the county as well as our Ft. Knox military friends. The speaker podium will be at Buckman and Third Streets. After the parade, the park will host several activities. Buckman Street will be closed during the parade. Contact Paulita Keith and Scott Miller for more info.
New Museum at West Point Kentucky.
I haven't made it there yet, but here's some great news from our friends at West Point, Kentucky: "We're pleased to announce that the West Point History Museum which started as a special attraction during the River Days Festival this year will remain open on a limited basis while an organization to make it permanent is being organized.
With the generous support and cooperation of the West Point City Council and volunteers, the museum will be open on Fridays and Saturdays from 2 PM to 5 PM. There is no admission fee at this time but donations are welcome. Group or family tours can be scheduled on days the museum is not open by appointment so please don't hesitate to call.
For more information or to schedule a group tour, contact Chris Lueken, 502-418-5045.
This from Connie Morris, Secretary, Fort Duffield Heritage Committee, Friends of Fort Duffield, 502-922-4574.
>>Trivia Questions Answered.
Last month, I challenged you with two trivia questions. Here are the questions and answers:
Question 1. When was the last time that there was a state Senator from Bullitt County, and who was it? (Hint: It's been a long time, and a county street is named after him.)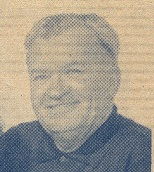 Answer: The last state senator elected from Bullitt County was James David "Jiggs" Buckman Jr. (Senator from 1962-1969, over forty years ago). "Main Street", in Shepherdsville, was renamed "Buckman Street" in thanks for his work to get that road and accompanying utilities and sewers, completely rebuilt. Mr. Buckman was also a key figure in getting the Kentucky Turnpike (now called Interstate 65) built in Bullitt County, along with many other benefits for our county. Mr. Buckman also held offices of State Attorney General and State Representative, among other high offices over the years.
Mr. Buckman died at age 84, and is buried in Hebron Cemetery. We have a collection of photos at the museum of him, and a fuller biography can be found in our book, "History Families, Bullitt County, Kentucky".
Question 2. Did you know there was a Kentucky Governor that was from Bullitt County? Who was it? (Hint: Both a Kentucky city and a Kentucky state university are named after him.)
Answer: James Turner Morehead was born near Shepherdsville in 1797. In 1831 he was elected as Lieutenant Governor of Kentucky. When Governor John Breathitt died in 1834, Morehead assumed that office, becoming the 12th Governor of Kentucky and the first native-born Kentuckian to hold the office. The city of Morehead, Kentucky was named after him, and thus Morehead University, which is based there. Find out more in The Kentucky Encyclopedia and at Wikipedia.
Activity...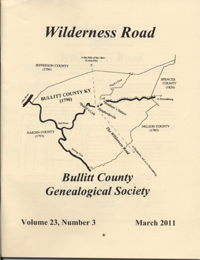 >>Working on possible new Wilderness Road cover page.
The publisher of our society quarterly newsletter, The Wilderness Road, would like us to have a new cover page. Indeed, our new publishing process allows us to have near photo quality black and white graphics. We want to keep the title, etc., and some form of the wilderness road map, but otherwise are open to ideas or proposals. We have used this same cover since its beginning in the 1970's so some of us are a bit hesitant to change without good reason, but we're willing!
>>Family Fair.
Our genealogical society had a fine Family Fair event at its August meeting. Photos of the event can be found here on our web site. Note that Society President Daniel Buxton is dressed in bib overalls, like his past relative once did as a political leader in Indiana. There were several great displays to see and information shared.
>>Volunteer shortages, but we made it.
It's been a tough month for our museum staffing. A number of us have been out due to sickness, classes, vacations, business, and other obligations, so we were sometimes strained to meet our pledge to always have the museum open whenever the courthouse is open and staff on hand ready to help. For about the first time in our nearly seven years of existence, we came up a bit short. The museum was always open, but our research room had to be closed for a couple of hours now and then.
That was mostly my fault as I missed a couple of times to call Volunteers to help in time. But we are nearly back to full strength now, and I'm so glad to see everyone back! Our great and dependable Volunteers are what make our museum such a joy to operate (as well as simply possible). By the way, we are always looking for more!
By the way, you might not know that several of our Volunteers spend many, many hours outside the museum doing outside research, attending seminars and going to other libraries and research facilities, and simply transcribing papers at home. I suspect they all spend at least as much time working for us outside the museum as in. We should all be so very proud of our Volunteers!
>>Web Site Additions.
Additions to our web site have grown since last time. To see what is new, visit our Latest Additions page.
For Your Information...
>>Vine Hill Cemetery or Clermont Cemetery?
Back in May, I reported on some heavy-duty work done by our Genealogical Society President Daniel Buxton documenting and photographing some 650 tombstones at what we called the "Clermont Cemetery." Daniel did a yeoman's job getting that massive job done, and Volunteer Brenda Rittman helped type it all up.
But we made a mistake with the name. One of our friends at Vine Hill Church, as well as the cemetery caretaker, pointed out to us that the correct name of the cemetery is actually "Vine Hill."
To our credit (or excuse) we called it Clermont because previous readings by others in the 1970's and again in the 1980's called it Clermont. With no name sign on the cemetery, we went with how it had been documented before.
We have made the appropriate correction, and, for clarity with records from older readings, will include both names in our records with an emphasis on "Vine Hill".
>>Our logo and location on new Chamber Map.
We're now on the map, quite literally. The Bullitt County Chamber of Commerce will soon announce its new digital web-based and interactive county map. And we are on it! Check out https://3dvideomap.com/index.html?name=bullittco_kentucky to see the map. Not only does it include our logo, location, directions, and info; it has many other Bullitt venues. That should be especially helpful to our Museum Friends who live out of county and come to visit.
>>"Chronicling America" resource.
Friend Jason Crenshaw tells us of another great old newspaper resource. It is a Library Of Congress web site that allows you to search newspapers from 1836-1922 from any state. You can search for keywords in the newspapers as well. Try https://chroniclingamerica.loc.gov/newspapers/?state=&ethnicity=&language=.
Finally...
When will the last Pine Tree fall?
About 30 years ago, Fred Wiche (local older folks will remember that well-known local horticulturalist and TV personality) recommended everyone in our area should plant White Pine trees as a great, fast-growing evergreen tree.
Well, turns out that particular advice wasn't particularly good.
Turns out that White Pines have some troubles in our area that causes them to start declining at about 30 years, and then die.
But back about 30 years ago we didn't know that and my wife and I planted about 100 seedlings, faithfully watering and mowing around them.
We trimmed and mowed and trimmed and mowed around the little plants. I say mowing "around". But all that trimming in an otherwise open field could get kind of troublesome. One time early on, in what my wife still swears was an innocent error, she "accidentally" mowed right down the middle of one row, taking out a good third of the trees. She still can't help grinning a little at the thought.
Over the years several more of the trees succumbed to mowers, dogs, or kids. But about fifteen managed to make it to maturity, now about 60 or so feet tall and maybe 20 inches in diameter.
Then came the thirty year wall.
One by one, over the past five years, a white pine would turn brown and die.
One by one, with a sigh of memory of raising these little seedlings to adults, I would take the tree down and clear it away.
This year I decided I was getting too old and stiff to cut down another tree. So when yet another "evergreen" tree started turning brown, I decided I'd hire it done.
Then I was given an estimate of $800 to cut down the tree and get rid of it. Hmm. I decided I might have one more "white pine tree funeral" in me and cut it down myself. I did OK, but it clearly took me longer to get rid of the aches and pains this year.
So, I wonder. When will the last pine tree fall?
There still remain only six of the original one hundred.
I'm still young, though not as young as before. But so are the white pines, really, especially in tree years.
Perhaps those last six will live forever. Perhaps not.
Perhaps I will be here to cut down the last dear old pine tree that I saw grow from a seedling.
Perhaps not. But one thing I know. Every year more that they live before they die, that $800 price is going to seem a bit better deal to these achy bones!
Thank you for being a Friend of the Bullitt County History Museum.
David Strange
Bullitt County History Museum
Executive Director
Museum Phone: 502-921-0161
E-Mail address: David.Strange@BullittCountyHistory.org