Museum Newsletter - 30 Mar 2012
Friends of the Bullitt County History Museum
E-Newsletter
March 29, 2012 (Volume 8, Number 3)
Dear Friends,
Lots of activity, my Friends, so let's get to it.
Announcements...
>>Genealogical Society meeting April 21.
Arlin Kramer is the supervisor over the dozens of old cemeteries at Fort Knox. He will be speaking to us about what one needs to know to have a successful visit to the cemeteries on Fort Knox property. As many of you know, Memorial Day is the only day of the year that civilians can visit the roughly 100 old family cemeteries on the military reservation. This meeting will be your opportunity to learn how to make the most use of the day.
The meeting is at its usual place, in the meeting room of the Ridgway Memorial Library in Shepherdsville, at 10:00 a.m. Refreshments will be served. These meetings are also great for sharing information and questions with the attendees. It's often amazing what can be learned! Come be with us.
>>Genealogy Day at Public Library April 28.
New to family history research? Having trouble finding that elusive ancestor? Need help organizing your records? The Bullitt County Public Library presents Genealogy Day. Morning session 9 a.m. to noon, with a follow-up deeper session from 1 p.m. to 4. For more information, or to register for this FREE program, visit the library web site.
>>Civil War Living History July 27-29.
It's been maybe three or four years since this was done in the county, but we're doing it again. To be held again at the Shepherdsville riverside park, plans so far include about fifty re-enactors, a full camp, Civil War-era band, "Governor & Mrs. Helm" (the Lindseys doing their famous portrayal of the then Governor of Kentucky), Leader re-enactors, and many more activities.
More details will be coming, but mark the date on your calendars. This year's event is to mark the 150th anniversary of three Civil War attacks on the railroad bridge at Shepherdsville. Re-enactor Tony Schlatter and the Second Kentucky Infantry Regiment re-enacting group are leading this event. Food and ice cream will be available.
>>New Stuart Sanders book on Civil War.
The new book, Perryville Under Fire: The Aftermath of Kentucky's Largest Civil War Battle, is now available from Amazon.com. This book highlights what soldiers, civilians, communities, and institutions endured once the fighting stopped. With 7,500 casualties sustained in less than five hours, veterans remarked that Perryville was the most intense battle that they ever experienced. As nearly every barn, home, shed, stable, business, school, and church became makeshift field hospitals, the burden of caring for this massive number of casualties fell upon Perryville's three hundred inhabitants and the residents of other nearby communities. Union doctors were woefully unprepared for the large number of casualties. A drought and lack of anesthesia accentuated the suffering. Delayed burials made the battlefield a horrific environment. As one soldier remarked, "The spectacle presented by the battlefield was enough to make angels weep."
Stuart W. Sanders is former executive director of the Perryville Battlefield Preservation Association. He has contributed essays to the books Kentuckians in Gray: Confederate Generals and Field Officers of the Bluegrass State, multiple volumes of Confederate Generals in the Western Theater, and the forthcoming Confederate Generals in the Trans-Mississippi. He has also written for Civil War Times Illustrated, America's Civil War, Military History Quarterly, Blue & Gray, Hallowed Ground, Encyclopedia Virginia, Kentucky Humanities, The Journal of America's Military Past, The Washington Times, Encyclopedia Virginia, Civil War History, and several other publications.
>>Donations.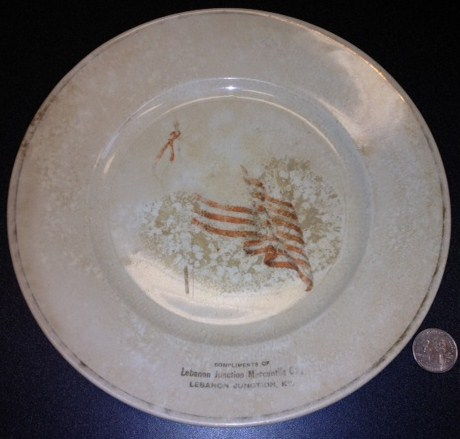 Old Plate
A great little plate was given to the museum recently. Rather worn, nevertheless it shows its label "Complements of the Lebanon Junction Mercantile" and a 48-star flag (so think back when the flag had 48 stars). The stars are faded but still showing in the right light.
Also several books were donated. One, John Carpenter's Kentucky Courthouses, is a treasure with its photos of old courthouses around the state. And another book, The History of Spencer County, by Mary Frances Brown, is now in our collection. Thank you everyone for your donations to our museum collection.
>>1940 Census available in April.
Researchers know that censuses are important tools in genealogical work, but there is a 72 year privacy law restricting access. Well, the 1940 Census is coming out in April and will be available on our museum computers. But indexing is yet to be completed and a state recruitment program is going on to find volunteers to help with the indexing work. Contact Betty Darnell for details or pick up a flyer at our museum.
Activity...
>>Answers to the 1912 Exam. We wrote last month about the 1912 Bullitt County Schools eighth grade exam. Well, you can now see the answers with some explanation on this page.
>>Bullitt County Genealogical Society & Museum Scrapbook.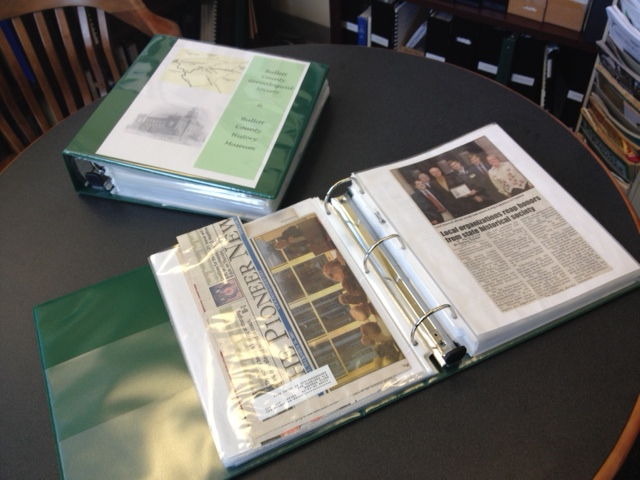 Scrapbooks
Volunteer Beverly Owen has organized our deteriorating piles of news clippings, etc. into two very nice scrap books that preserve many of the past activities of our society and museum. Very nicely done Beverly! Thank you!
>>Digitizing of old audio tapes.
Allison White and the Bullitt County Public Library system has taken on the project of preserving a large series of audio tapes to computer. These cassette tapes were mostly made in the 1970's, recording verbal history interviews with local people. But the tapes are deteriorating and the histories could soon be lost. Many thanks to the library folks for buying the equipment and taking on this long task. Just copying the tapes they have could take years.
By the way, you should be aware that most tapes are probably going bad by now. So if you have any in you home, you should be making some effort to copy them to digital format before your own history is lost forever.
>>Salt River Valley Newspaper on Microfilm.
The museum recently purchased microfilm copies of the Salt River Valley News that was published from 1949-1954. The microfilm is available for study at the museum research room.
>>1927 Letter about the 1917 Train Wreck restored and preserved.
In 1927, Eliza Craven, who survived the horrible Shepherdsville Train Wreck of 1917, took pencil in hand and wrote her remembrances of that day. Recently, a descendant gave us Eliza's original 28-page story, the paper now quickly crumbling to pieces. We managed to put the pieces back together pretty well and preserved the original, then scanned it to computer. Some parts of the story are harsh, but a most touching part to me is her story of how her young son had fought her so hard to not get on the train ... and then died in the wreck.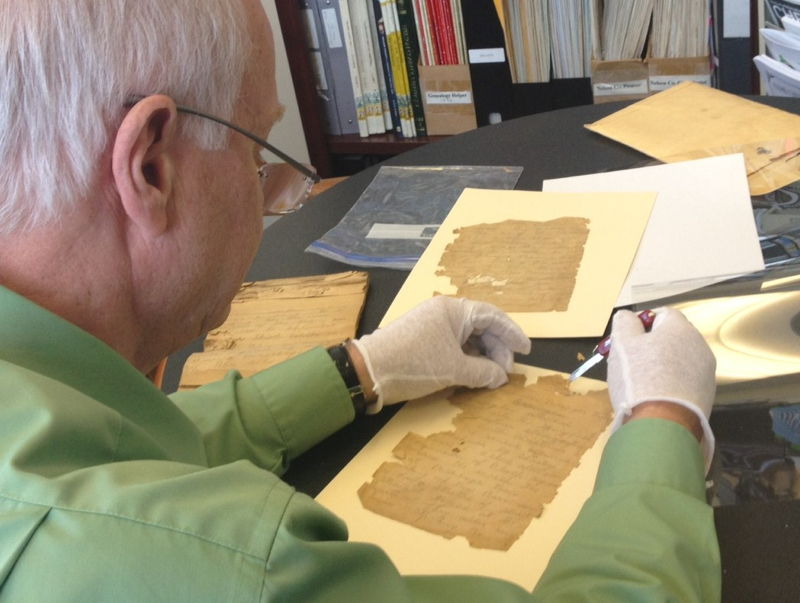 Eliza Craven's Notebook
Scans of the original pages can be found here. We will have a typed transcription on the web in the next week or so, so watch for that.
>>Cemetery listings work continues.
Volunteers Wilma Lemons and Brenda Rittman continue typing a list of burials in Bullitt County and where buried. The last time I checked, they had 150,000 names in the database.
>>CJ "Bullitt County Memories" Articles Continue.
Charles Hartley and I continue our weekly column in the Wednesday Neighborhoods section of the Courier-Journal newspaper.
Starting in April, we will be alternating weeks. This past week, Charlie wrote about Bell's Mill, the source of where Bells Mill Lane got its name. In the first Wednesday of April edition, I will be writing about a law proposed by a Bullitt County legislator in 1909 that would have restricted cars (those awful Devil Wagons!) to just three miles per hour, and I will also write about the 1925 construction of Bardstown Road, a road "built so well that a car could go as fast as forty miles per hour!"
>>Tours & Speaking.
The Museum has hosted Girl Scout groups and school groups on tours of our museum and our history. And I am leading sessions a couple of times for Chamber of Commerce "Leadership Bullitt County" classes. We also helped host a booth at Nichols Elementary School, and Charles Hartley spoke to groups at Cedar Grove Elementary.
>>Web Site Additions.
Additions to our web site have grown since last time. To see what is new, visit our Latest Additions page.
>>St. Aloysius Catholic Church 100th Anniversary.
"Saint A", in Shepherdsville, will be celebrating its 100th anniversary in September. As part of preparations for that, research is going on by the church members about its history. Donna Peak is looking for information and photos for that project. If you have anything on that, contact me and I'll get her in touch with you.
>>Telephone Display Coming to Museum (eventually!).
Kevin Mooney has kindly offered to loan the museum, for display, the original telephone exchange used in Pitts Point, along with a crank-type phone. That offer is stirring me to develop a long-term display about phones and communications, along with the local town history. The town of Pitts Point was taken away when Fort Knox Military Reservation came to be. In our small museum, the constant problem of acquiring displays is finding space to place them.
I don't really expect to have this display ready before 2013, because we are hoping this year to emphasize the anniversaries of the Civil War and the War of 1812. So, still in early development, I am thinking that I would like to show some of the evolution of telephones. I think I have an old dial phone coming. I might like a pay phone, and especially a "beige brick" cell phone (one of the early cell phones that looked a lot like a walky-talky), and of course photos of Bullitt Countians with phones. We'll see how it develops out, but I think we will end up with a really great display.
>>Do you make videos?
As many of you know, we have a video loop playing in one display room and an audio tape about Bullitt County history playing in another room.
Well, I would like to come up with a new 3-5 minute video to play continuously about Bullitt County. But for this one, I would like it to just show beautiful photos and movies about the nature of the county. Our water falls, streams, flowers, wildlife, caves, seasons, parks, family activities, etc. set to grand music. If done well enough, some of these videos could be a feature in the room, on a new large-screen HD TV; an introduction to the true beauty of Bullitt County.
We have many Museum Friends with great talent in this field. So I encourage you to create and provide us with nicely done presentations that we can play in our display rooms. Of course, recognition would be given.
For Your Information...
>>"Who Do You Think You Are" TV Show.
One of my favorite actresses is Helen Hunt. She was recently featured on the NBC TV genealogy series "Who Do You Think You Are?." Videos of the series can be found at https://www.nbc.com/who-do-you-think-you-are/video/helen-hunt/1392334/.
>>Oldest House in Bullitt County?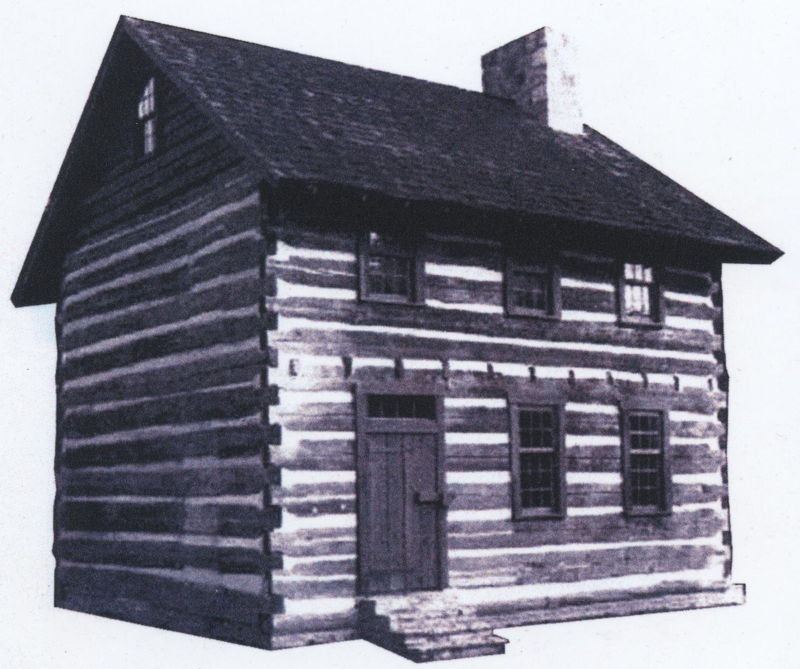 Pope Cabin Model Reproduction
I asked last month what is the oldest standing house in Bullitt County. So far, the Pope House, built in 1788, is the oldest that I know of. The house was built by Benjamin Pope, oldest son of Worden Pope, who served in the Revolutionary War. With that date of construction, it was at least one of the first houses built in Bullitt County outside of a fort.
The Pope House, shown here in a University of Kentucky estimation of its original appearance, is now almost completely surrounded by later additions, and is still quite interesting to tour. I have the privilege once a year to lead a Leadership group on a tour graciously hosted by owners and descendants Marilyn and Gary Lee.
If you know of an older Bullitt County building, please verify the age for me and let me know.
>>Finding text on a web page.
Some of our museum web pages are really long and packed with information. We have a good search engine that will lead you to the pages that have info you are looking for, but sometimes it is difficult to find the exact info on the page. In Windows computer systems, just press "ctrl f" and a small window will pop up that helps you search for particular text on the page.
Finally...
"Easter Sunday, April 5, 1942"
Easter has come to mean something special to me beyond its usual Christian importance.
By 1942, the long, terrible Great Depression was finally coming to an end. But the turmoil of those thirteen years were still taking their toll. Since the Crash of 1929, many people had lost everything they had. Some had barely managed to hold on to a little scrap of land and home.
The misery and worry of that time can probably not be understood by those of us who did not live through it.
Throughout those years, and through grinding poverty, my grandfather Walton Strange, his wife Mishie, and their several young children, struggled to survive and hold on to their little country farm. But by early 1942, even with light beginning to shine at the end of the tunnel, nothing more could be done. For lack of $400, my father, Melvin "Dawson" Strange, remembers his father being forced to lose the farm at auction. He remembers seeing the last family cow being led away from them, and the family loading up what little they had onto a small rented cattle truck and moving to Louisville in search of work and a worrisome new beginning. He remembers in Louisville sharing as living quarters with another family a worn out and abandoned old wooden firehouse left over from WWI Camp Taylor days.
I asked my Dad about it once.
"Easter Sunday, April 5, 1942." he said, with an odd, determined, set-jaw tone of voice and a look in his eye in which I could tell he was seeing it all like yesterday. It was not a voice and look of shame or complaint. Just determination that it would never happen again.
"Easter Sunday, April 5, 1942. We all loaded onto a rented cattle truck and headed to Louisville."
And thus in that simple yet deeply complicated phrase my future was set by a determined past.
As all of our futures have been influenced by the experiences of our ancestors.
My Grandfather, and then my Dad as he grew up and married and eventually had children including me, worked three jobs plus odd jobs for years pressing and sacrificing to get ahead and to make sure their families would never have to live through what they had lived through.
And they succeeded.
Thank God and Family, though there were tight times, I have never been really hungry, and I have a good life for myself and my family.
Easter Sunday, April 5, 1942.
History and remembrance comes in many forms.
Thank you for being a Friend of the Bullitt County History Museum.
David Strange
Bullitt County History Museum
Executive Director
Museum Phone: 502-921-0161
E-Mail address: David.Strange@BullittCountyHistory.org