Museum Newsletter - 30 June 2011
Friends of the Bullitt County History Museum
E-Newsletter
June 30, 2011 (Volume 7, Number 7)
Dear Friends,
Announcements...
>>Bullitt Genealogical Society Meeting Saturday July 16.
Daniel Buxton, Bullitt County Genealogical Society President, will demonstrate how to create books on the Family Treemaker 16 computer genealogy program. Normal meeting time and place, 10:00 a.m. at Ridgway Memorial Library in Shepherdsville at Second Street and the railroad tracks.
Check our calendar for future scheduled speakers.
>>Museum Closed July 4 Holiday.
The Bullitt County Courthouse, and therefor the museum, will be closed for the July 4th holiday.
>>Family Fair August 20.
Make plans now to attend the Bullitt County Genealogical Society Family Fair Day. Displays of family heirlooms, histories, photos, and other family memorabilia will be there and you can display items of yours as well. More on this in later newsletters, but plan for that date if you can, and come be with us! Reserve your free table before the limited space is filled. For more info, e-mail President Daniel Buxton. Deadline for table reservation is July 31.
>>A new Betty Darnell Book.
Prolific author, editor, and Museum Friend Betty Darnell has another new transcription book out. "Bullitt County, Kentucky, Will Book B 1823-1838" is now available. It can be purchased at the museum for $23 if I recall correctly.
Trivia Answer. The Couthouse clock and bell.
Last month I wrote, "Look at our great old 1900-vintage courthouse today and you might notice its bell tower with its fine old clock. But just how "old" is that old clock and the bell inside? You might be surprised at the answers. And the mystery."
Well, there's actually quite a lot to this clock and bell story.
For one thing, pay attention to the old photos of the courthouse and you will notice that there was no clock in the tower back then. Just a blank space. Even though the courthouse was built about 1900, a clock was not installed in the bell tower until the mid 1970's. Huge horn-shaped speakers were also installed in the tower at that time, that would play electric chime sounds in place of the bell. But I am told that some people in the neighborhood complained about the loudness, and the chimes were turned off.
By the 1990's the clock was having problems and was often not working at all. When the courthouse was partially replaced in 2004 and the front section refurbished, new clock works were installed and it's been working ever since....but with no chime. Music and chimes sound from the area today, but from the First Baptist Church tower next door.
Yet there is a real bell still hanging in the courthouse tower, as it has since the courthouse was built about 1900. I vaguely remember the bell being rung when I was a boy.
This bell is where a bit of a mystery comes in.
In 2003 and 2004 we received inquiries from a gentleman in Nottingham, United Kingdom, about our courthouse bell. It seems that in our original courthouse that had been built in 1800, the bell for that courthouse had been cast in Philadelphia and might have had some connection to the famous Liberty Bell. If so, our bell would be of particular historical importance, and it was hoped that maybe that bell had been transferred to the "new" courthouse in 1900.
And so, it was time for another of our museum adventures. I say "adventures" because the inside of the courthouse tower, especially where the bell hangs, remains in fairly poor structural condition, and is quite difficult to get into.
But that winter, when the bats, wasps, and pigeons would be gone, up a couple of us went to see what we could see. You could say we did not want to "have bats in our belfry." [grin]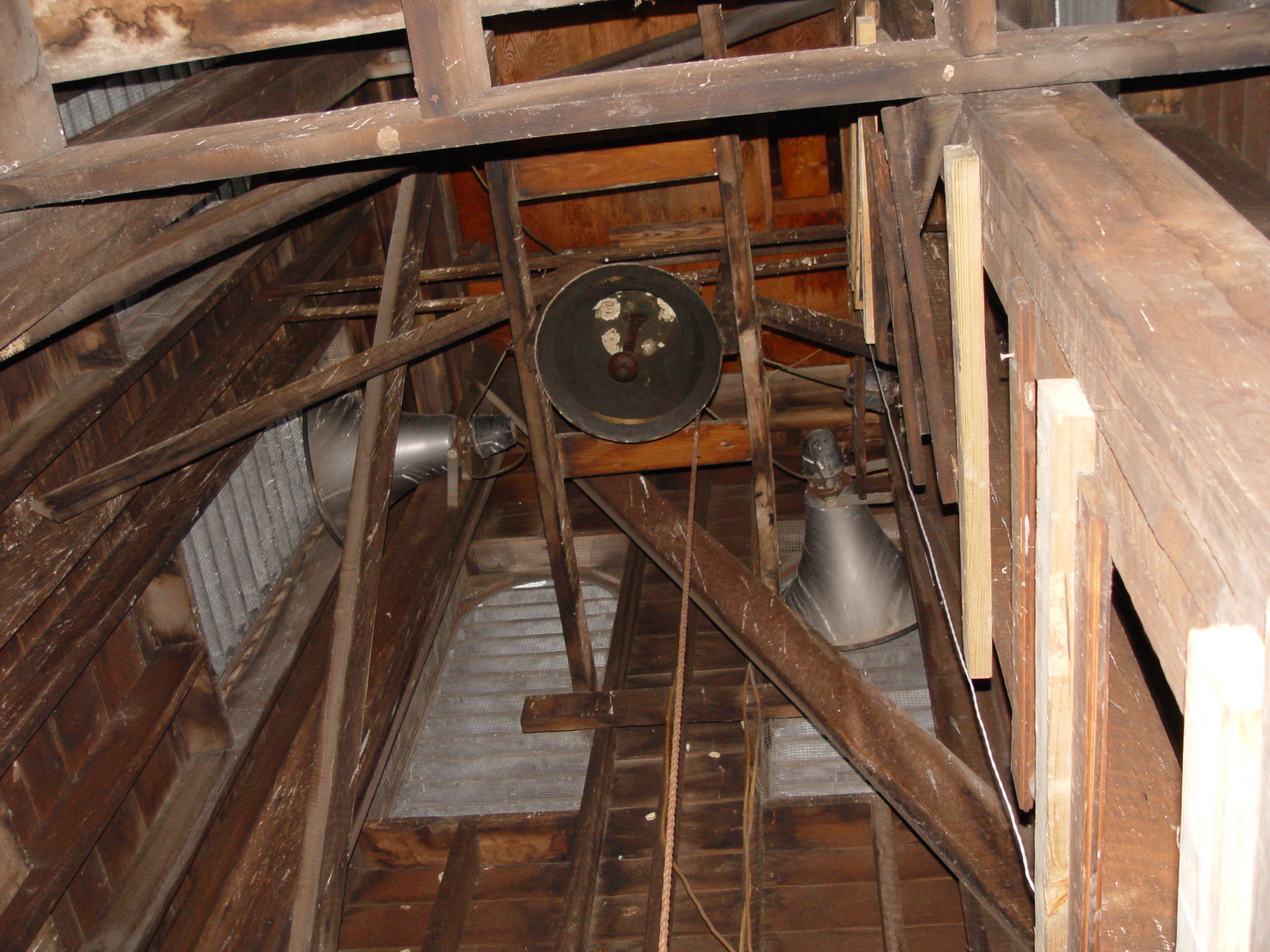 As you can see in the photos here of the inside of the tower, a bell is indeed still there, along with the megaphones that had been added many years later. The clock is actually up above the bell. I have no idea how the clock installer got up there. We took several photos of the bell for later study. All of us wanted to ring the bell, but thought better of it after studying the old wood supporting it, and the rusty condition of the hinges. The last thing we wanted to see was a bell falling down through the ceiling!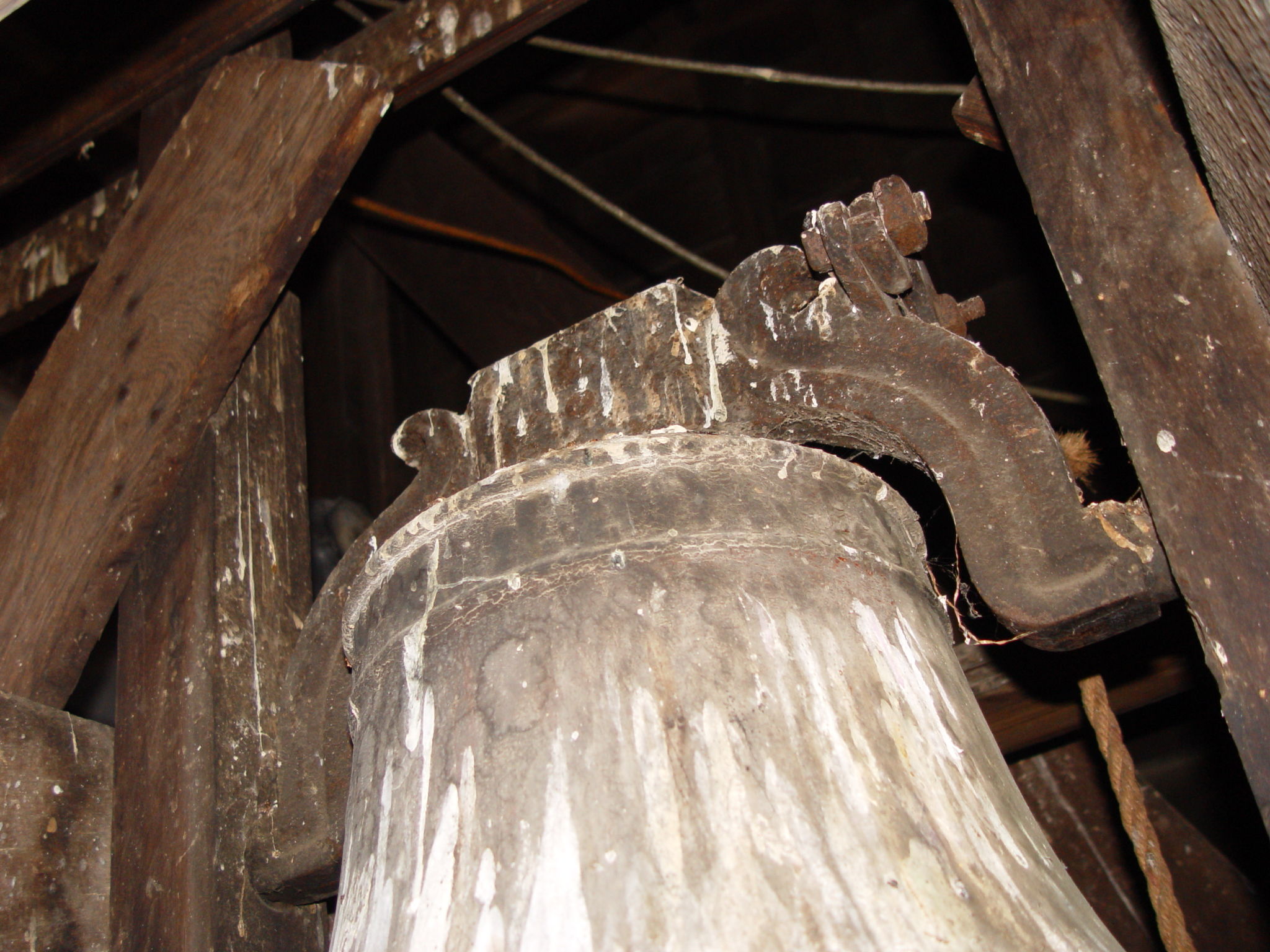 But the old bell turned out to be something of a disappointment. First, it is not very large; only about twenty inches in diameter. And second, the ring markings on the bell indicated that it was probably cast in 1900, not 1804 as was hoped. This bell was probably bought new when the 1900 courthouse was built.
So a mystery remains. What ever happened to the original 1804 Philadelphia bell? Maybe it is still hanging somewhere in Bullitt County. Maybe it has long since been sold as scrap or sets in someone's yard. But if it still exists, someone might have a small historical treasure in their hands. I know I would certainly love to have it!
One funny story on the current courthouse bell: When we opened the museum in 2004 in the courthouse, I started getting stories from older men saying something like, "You know they used to hang people to death over this staircase."
When I expressed doubt about that, the men would always be quite insistent that it was true.
Well, it's not true. But here is what was going on: Years ago, "court day" was quite an event in our rural county at the time. And fathers would often bring their sons to "see all the goings on". As I say, I remember the old bell being rung from time to time myself. The bell-ringing rope hung from the ceiling, out past the stair rail that still exists today on the second floor (the rope has now long been curled up inside the ceiling, out of sight). That rope had sort of a "hanging-noose" handle on the end of it, the better to grab hold of it. Turns out that a lot of Dads told a lot of sons, "Son, you see that rope? If you don't behave they'll hang you right there."
Ah Dads. Don't you just love 'em?
By the way, there was a shooting on that staircase, and maybe a ghost. But those stories will have to wait for another time.
Activity...
>>Volunteer Activity. Volunteer Bob Cline's health has kept him from the museum most of the time, but that hasn't kept him from doing great work for us! For several years, Bob has been taking genealogical information we have (or he finds) and placing it in a Family Tree Maker computer file. Bob's database recently surpassed 31,000 names (that's "Thirty-one Thousand"), complete with references and notes. That is a LOT of work and we certainly appreciate it. For now, Bob's database, which is still growing, can only be accessed at our museum.
Thanks Bob!
>>Transcription work and records.
Volunteer Wilma Lemons has been doing huge volumes of transcription work for us over the past several months. Not only has she been transcribing hundreds of old genealogy notes that were in hard-to-read script, she has been creating a database of Bullitt County cemeteries, including names, cemetery, birth, and death info. Wilma and Brenda Rittman have both been working on this, using cemetery-reading records and hundreds of tombstone photos that are the result of our cemetery task force's work over the past few years, documenting some 300 Bullitt County Cemeteries. Wilma alone has recorded over 17,000 individuals so far.
>>Computer progress continues.
It continues to be a struggle, but we move ever-closer to finish installing our new computer system. This week I managed to hook up and network our laser printer to all of the computers, did some other updates and setups, and installed our "Slides2PC" 35mm slide scanner so we can begin scanning our collection of a few thousand history slides.
>>Web Site Additions.
Additions to our web site have grown since last time. To see what is new, visit our Latest Additions page.
For Your Information...
>>In keeping with the bell tower theme above, here is a recent state story about Kentucky's replica Liberty Bell that was given to the state in 1950. It's now back on display in the garden at the Kentucky Historical Society's Thomas D. Clark Center for Kentucky History. Check out the other replicas across the nation at this site.
>>Also, check this site for a lot of good information about bells.
>>For you CocaCola collectors out there, I hear that the Schmidt CocaCola museum in Elizabethtown, Kentucky, has closed and is selling its collection.
>>Joe Hardesty, of the Louisville Public Library, spoke to the genealogical society this month. One of the things he told us about was the Kentuckiana Virtual Library, which includes access to the Kentuckiana Digital Library, which now includes the Louisville Courier-Journal newspaper from 1884 1909. There are many good research sources on-line there.
>>Joe also told us of the great genealogical resources at his own library.
Check all these great resources out when you have time.
Finally...
I usually use this "Finally..." section to satisfy my philosophical-wanderings thirst. But I have ran long on the previous sections so will spare you from that this month.
But that's OK. It's summer, the Fourth of July, and my 39th wedding anniversary to boot!
So lots of other things to do! Everyone have a great holiday weekend. And be safe with those fireworks!
Thank you for being a Friend of the Bullitt County History Museum.
David Strange
Bullitt County History Museum
Executive Director
Museum Phone: 502-921-0161
E-Mail address: David.Strange@BullittCountyHistory.org