Museum Newsletter - 30 Aug 2010
Friends of the Bullitt County History Museum
E-Newsletter
August 30, 2010 (Volume 6, Number 8)
Dear Friends,
Announcements...
>>Genealogical Society meeting September 18.
Earl Meyers will be the guest speaker this month. Mr. Meyers will be speaking on the Lincoln family line, and a little on the local family names of Crist and McGruder/Magruder.
Normal meeting time and place. Ridgway Memorial Library in Shepherdsville at 10:00 a.m. Everybody come!
>>Genealogical Society Officers elected.
As part of the August meeting of the Bullitt County Genealogical Society, officers for the coming year were elected. Current President, Barbara Bailey, chose to not run for office this year. Thank you, Barbara, for your several years of service as president, and your continuing many years with the society!
Officers elected for the 2010/2011 term are: Daniel Buxton, President; Sherry Lee, Vice President; Lynn Eddington, Treasurer; Shirley Miller, Corresponding Secretary; Wilma Lemons, Recording Secretary; Sam Hardy & David Strange, Trustees.
>>Museum closed for Labor Day holiday. The museum will be closed Monday, September 6, for the Labor Day holiday.
>>Croan House renewal.
Here's some great news! Back in 2008 (see past newsletters for November and December 2008) we did a couple of articles, and did some publicity, expressing our concern about the old Croan House (maybe also known as the Patterson House). We feared the fine old house would soon be demolished.
Well, I am ecstatically happy to report that some good, creative businessmen bought the house several months ago, invested quite a lot of money revitalizing it, and opened it for business this week. I was invited to tour it during an open house and it is just beautiful. They removed the drop ceilings to reopen the majestic tall rooms, added large crown molding and other amenities. Rewired and re-plumbed it. And added just fabulous furnishings.
The building will now be used by a sleep diagnostics practice known as DX2GO. In a fantastic reuse of the fine old house, the bedrooms are now actually bedrooms again, complete with restored fireplaces, but now with the purpose of doing sleep studies for such things as sleep apnea. Check out their web site and give them a little praise if you get the chance.
>>Pirates Cove & Motel opens.
There are many good motels in our area, but if you're coming to visit us from out of town, you might want to know about this one, especially if you have children. A completely remodeled and updated Comfort Inn motel has opened at the Brooks exit of Interstate 65. Besides nicely-styled rooms, the motel offers "Pirates Cove" indoor water park. For details check out their web site. And tell 'em Dave Strange sent you. [Link updated on 7 Apr 2016.]
Activity...
>> Donations.
Friend and Volunteer Betty Darnell has donated the three-volume set of books "Eastern Cemetery Records (Jefferson County)" and a booklet about the "Valley Cemetery" located on Highway 44 about one mile west of Taylorsville in Spencer County. Betty also gave us some information on the Patterson/Vaughn families.
Doris Owen donated "Who's Who in Louisville, 1926" & also one for 1974. These books also list some prominent Bullitt Countians of the times.
We also were given some surplus books from our public library including Hardin County & Meade County censuses, and Cemetery Inscriptions.
>> Visitors/researchers at the museum.
We continue to have very busy days at the museum. Seems like most every day, all day, we have visitors doing research. It's sometimes exhausting but always exciting! We had some folks in from Missouri researching the Coulter and Shields family names.
Anna Acosto visited us from California researching Stallings, McGaughey, and Hinderliter names. That was especially fun because that very same day our mail included a research request from Karen Mandel, of Indianapolis, Indiana, searching for the exact same people. We were not only able to help find some good information, but connected the ladies from California with the previously unknown friends/relatives from Indiana so they could share information and stories.
I love the way things like that happen in our little museum! Someone was recently commenting how impossible such things would have been just a few years ago, before the museum, with its research room and active volunteers, existed.
>>Web Site Additions.
Once again we have several additions to our web site. Follow this link to the page of Latest Additions.
For Your Information...
>> New Search Engine on our Web site.
Our web master, Charles Hartley, has been working to keep our site as easy as possible to use. One problem has been being able to easily search our huge and growing volume of information. A while back, the size of the site had forced us to split the site into two search packages, but that, of course, meant that readers might think they had searched the entire site, but actually might have not.
Charles has now installed a search engine called "FreeFind" that can again allow a search to check the entire site. One small drawback is that a few ads from FreeFind now show up at the top of the search results. Be aware of that, but otherwise you can now rest assured that a search on our site will indeed search everything we have on the site. Thanks Charles for all you do for us!
>> It's NOT Midgetville.
Some TV news reporting recently incorrectly referred to an area of western Bullitt County as "Midgetville". Correctly known as "Gospel Kingdom Campground" or "Gospel of the Kingdom Campground," it is a religious retreat at the "top of the hill" on Highway 44 West.
Somewhere along the way someone who saw the many very small cabins, apparently thought it was a community of little people, and gave it the perpetually troublesome nickname. The name hit the internet, and still floats around to this day in some circles. Local Courier-Journal newspaper reporter Emily Hagedorn wrote an excellent article on the true story of the campground. However, it appears that her article is no longer available online. [updated 27 Jul 2016]
>> FDR/Bullitt County Connection.
I recently learned this interesting connection between Bullitt County and Franklin Roosevelt: Shortly after the death of FDR, an effort began to memorialize the Warm Springs, Georgia, retreat where he often spent time. A walkway was proposed that would have the flags of every state, and a stone from every state.
Well, turns out that the stone from Kentucky came from right here in Bullitt County, from a small rock quarry at Bardstown Junction, on the corner of Chapeze Lane and Highway 61. I am told that some of the Trunnell family were great supporters of FDR and wanted to do something, so they made the effort to supply the Kentucky stone. Mary Lou Moser and Frances Louise Trunnel hand-delivered the stone to the site. As a result of our research, the Moser family has provided details of the story, and Elizabeth Moser Kirkman, of Seminole, Florida, sent us some nice photos of the event. I have attached one photo to this newsletter. It's of Mary Lou Moser and Frances Louise Trunnell with the stone at Warm Springs.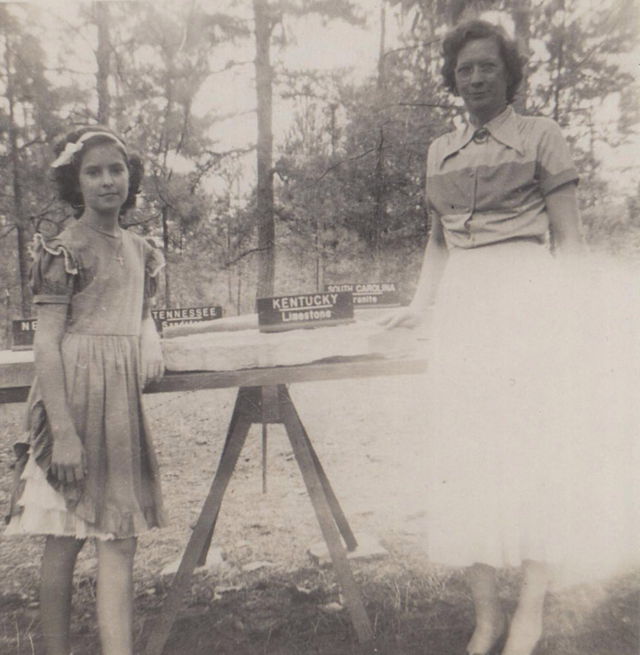 For info on the Georgia site, check this web page.
Finally...
Where Summer Goeth, Fall Soon Comes...
Well, I ate my last home-grown tomato of the year this week. So Summer must be about over, and Fall about to arrive.
It was a record hot summer here in Bullitt County, following a record cold summer last year.
But it's beautiful on the day I write this.
Pleasantly cool. A restful, peaceful calm envelopes my Peaceful Valley community.
As I did my early-morning walk, a nice, light mist was rising over the lake. The wind was calm. A young family of five white-tail deer (a young buck, a couple of does, and what looked like twin fawns) watched me at a distance as they tranquilly ate some apples that had fallen to the ground.
An anticipation of change fills the air.
I know Fall is still officially some time away, buts its clearly coming.
The Butternut and the Beech, the Willow and the Walnut are already giving up their leaves. The Maples are just starting to hint at the vibrant Fall colors that they will soon display.
And I know the oaks will follow, with their glowing, golden hues.
Life is good here in Bullitt County.
May it be as good with you.
Thank you for being a Friend of the Bullitt County History Museum.
David Strange
Bullitt County History Museum
Executive Director
Museum Phone: 502-921-0161
E-Mail address: David.Strange@BullittCountyHistory.org