Museum Newsletter - 29 Feb 2012
Friends of the Bullitt County History Museum
E-Newsletter
February 29, 2012 (Volume 8, Number 2)
Dear Friends,
Announcements...
>>Genealogical Society meeting March 17.
A female ancestor's identity is often hidden due to her legal status. Well known genealogist Deborah Lord Campisano will be speaking about "Missing Mothers? Tips and Techniques for Finding Female Ancestors" at our next Bullitt County Genealogical Society meeting. Learn some tips and techniques to solve loved ones' history mystery.
The meeting is at its usual place, in the meeting room of the Ridgway Memorial Library in Shepherdsville, at 10:00 a.m. Refreshments will be served. These meetings are also great for sharing information and questions with the attendees. It's often amazing what can be learned! Come be with us.
>>Latest "Wilderness Road" in the mail to members.
Is your membership up to date? One of the greatest of many assets of being a member of the Bullitt County Genealogical Society is the award winning quarterly produced by editor Betty Darnell. The March (Spring) edition of "The Wilderness Road" is now in the mail to members...but you must be a member. Reminder cards are being sent to our friends whose membership has expired. Please do renew you membership. And if you are not a member, please consider joining. The very low $15 annual dues gives you a lot! You can get a membership form on our web site here.
>>Civil War Living History July 27-29.
It's been maybe three or four years since this was done in the county, but we're doing it again. To be held again at the Shepherdsville riverside park, plans so far include about fifty re-enactors, a full camp, Civil War-era band, "Governor & Mrs. Helm" (the Lindseys doing their famous portrayal of the then Governor of Kentucky), and many more activities.
More details will be coming, but mark the date on your calendars. This year's event is to mark the 150th anniversary of three Civil War attacks on the railroad bridge at Shepherdsville. Re-enactor Tony Schlatter and the Second Kentucky Infantry Regiment re-enacting group are leading this event.
Activity...
>>Eighth Grade Examination for Bullitt County Schools, 1912.
My goodness this has caused quite a stir, and you have to take a look! Karen Smith, of Shepherdsville, gave the museum an original copy of a school exam for Bullitt County eighth graders from the year 1912. A full century ago. What's so great about an old school test? Several things. The first thing noticed is that it is a TOUGH test! Just look at the questions and see how many YOU can answer.
Second, think about the questions in context of the times. As the teacher tried to make the questions relevant, one square-footage math question talks about "kalsomining" walls. What's that, you might ask today; but back then it as common. White wash. A geography question asks for "the capitals of Turkey, Greece, Servia, Montenegro, Roumania". Why those countries? WWI was looming and that was the hotbed of what would very soon become that awful conflict in which 18 Bullitt County boys would die. By the way, the spellings of those countries are not typos. That is how they were spelled back then.
Name the three largest states? Don't include Alaska; it would be some 47 years later before that became a state.
We have the exam on our web site here but the Courier-Journal newspaper also recently published an article about it, including an opportunity to take the quiz and read the answers. You can find that here.
>>Answers to the 1912 Exam.
Speaking of which, the old 1912 exam did not include the answers, so we were asked to come up with them. With the help of several people, and the Internet (yet another thing different today than in 1912), over many hours we finally came up with a pretty good answer sheet. One of the issues was that the answers (especially political, government, and history) would sometimes be different in 1912 than in 2012. The answers that we came up with are available at the CJ article and on my FaceBook page. We'll probably add it to our web site soon, so be watching for it there as well.
>>Web Site Additions.
Additions to our web site have grown since last time. To see what is new, visit our Latest Additions page.
>>St. Aloysius Catholic Church 100th Anniversary.
"Saint A", in Shepherdsville, will be celebrating its 100th anniversary in September. As part of preparations for that, research is going on by the church members about its history. Donna Peak is looking for information and photos for that project. If you have anything on that, contact me and I'll get her in touch with you.
>>Leadership Bullitt County.
This once-a-year great local Chamber of Commerce program (I'm biased. I help teach some sections in it.) has begun. Museum Volunteer Jose Rosario is in the class of 22 this year. Society President Daniel Buxton completed the course last year. The program introduces students to many aspects of the county, from its history to its businesses to its government, and many points in between. This year includes an "Indiana Jones Day", in which the participants go through a cave, climb the Bernheim Forest fire tower, visit the Iron Furnace, and even ride go-karts at "Kart Country"!
>>Boy Scout University.
This one-day session, meant to help Boy Scouts earn their badges, is truly a sight that must be seen to be believed. I teach a four-hour class on "Citizenship in the Community". In one day, over 1200 Scouts and 200-plus Counselors roll through two schools. Held last Saturday, I believe this is the third-largest such event in the entire country,and it's right here in Bullitt County. Truly amazing. I couldn't say enough good things about the Scout leaders and other Volunteers that make this happen year after year.
>>Group Working to move/restore old Bowman Valley School.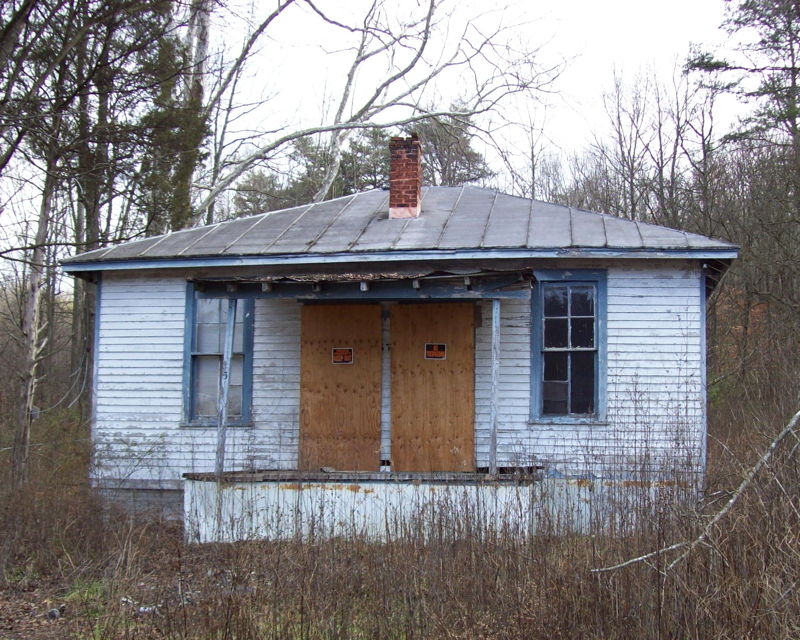 Tammy Ott and others are making progress on saving the old two-room Bowman Valley "Colored" Schoolhouse, the last such school house in the county. The hope is to move it next to the restored one-room Woodsdale Schoolhouse as sort of a "campus of history". The biggest hangup is the cost of moving the school of the new location roughly estimated to cost $20,000. The timing is urgent, however, since the old building is suffering vandalism at its current location. If you can be of any help saving this school, please let me know.
>>Researching Colored Schools and Churches.
Volunteer Daniel Buxton is continuing his research on Bullitt County colored schools and churches. If you have any info or photos on this subject, please get them to Daniel.
>>Cemetery Burial Database.
Volunteer Wilma Lemons continues her intensive work creating a database of all burials in Bullitt County. One goal, here, is to end up with one source in which we could enter a name and easily learn where the person is buried. But can you just imagine the work that entails? I think at last report, Wilma had over 114,000 name typed into the database. A truly impressive number, but a long way to go. Hang in there Wilma! Volunteer Brenda Rittman has now joined Wilma in the effort.
>>Book Donated.
Mark Douglas Browning has given the museum a draft of his new genealogy book, "The Descendants of John Muss & Elizabeth Ceise". Not only is this a fine work on the Muss family line, it looks to be a great model of how such a book should be written.
For Your Information...
>>Are You a Bicyclist? There are some specially-prepared bike routes in the Bullitt County area and in Kentucky. Check out bicycling.org for details.
Finally... "The Oldest House?"
The other parts of this newsletter has run a bit long this month, so I won't get too much into my usual philosophical wanderings here this time.
But one question pops up from time to time that maybe you can help me with.
What is the oldest house in Bullitt County?
I can think of a couple of possibilities. My first guess would be the Pope House, located behind the Zappos Distribution Center on Cedar Grove Road. Part of that house is still the log cabin, built in 1784. It was once a tavern and part of a ferry operation at the Salt River.
I have seen many old log buildings go away over the years and wondered how old they might have been. We actually put a rough date on one by finding some old Civil War newspapers that had been used as wallpaper. On another old cabin, we found carved in a log, behind more modern siding, the name of a farmer and a date it was built.
Do you have any suggestions of "The Oldest House in Bullitt County"?
Send me an e-mail or give me a call with your thoughts, and we'll try to publish what we learn in some future newsletter.
Thank you for being a Friend of the Bullitt County History Museum.
David Strange
Bullitt County History Museum
Executive Director
Museum Phone: 502-921-0161
E-Mail address: David.Strange@BullittCountyHistory.org