Museum Newsletter - 27 Feb 2010
Friends of the Bullitt County History Museum
E-Newsletter
February 27, 2010 (Volume 6, Number 2)
Dear Friends,
Announcements...
>>Zappos.com Donation.
Thanks to Museum Volunteer Bob Cline and Zappos.com employee (and museum Friend) Daryl Pierce, our computer replacement fund has grown by $3,000! In the presentation photo below are: (l to r) : Museum Director David Strange, Zappos Rep. Stefanie Walls, Bob Cline (volunteer in charge of raising funds for the computer project), Bob Fouts (who is also helping raise funds), Daryl Pierce, and Barbara Bailey, (President of the Bullitt County Genealogical Society, the parent organization of the museum). This puts us nearly halfway to our goal of updating our museum computers. Zappos.com is the premier on-line shoe sales company in the nation, with a huge distribution center and store in Shepherdsville on Cedar Grove Road. Many, many thanks to Zappos for the generous donation to the museum, and for their growing involvement in so many parts of our community!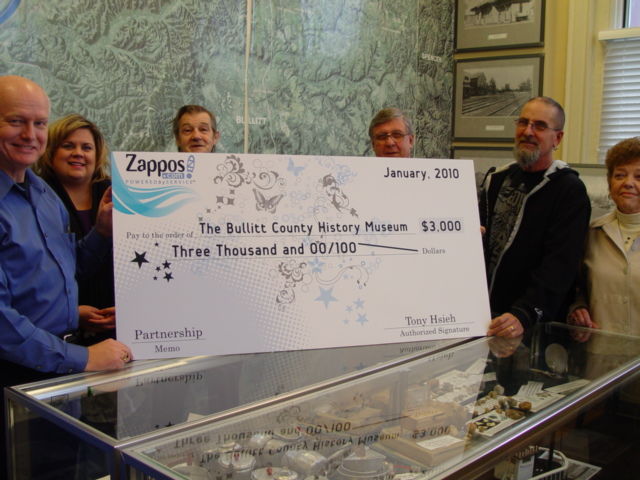 >>Genealogical Society meeting March 20.
Ever wonder what rights you might have to visit a cemetery on private land? What protections such cemeteries have from abuse or destruction? Bullitt County Attorney Walt Sholar will be the guest speaker at our March 20 meeting. He will be discussing cemetery laws and regulations. Normal meeting place and time, 10:00 a.m. at Ridgway Memorial Public Library in Shepherdsville.
>> Sugar Valley continued.
I wrote in last month's newsletter about Sugar Valley, the little community just south of Mt. Washington. Raymond Alcorn tells me that the schoolhouse closed in 1935. He says that Sugar Valley and nearby Smithville kind of blended together into one area and at one time was a more prosperous community than Mt. Washington. I suppose that was when the large mill was in its heyday. We'll try to write about Smithville another time.
Activity...
>>Web Site Additions.
Additions to our web site have grown since last time. To see what is new, visit our Latest Additions page.
>> New Volunteer Wilma Jean Lemons.
Wilma Jean Lemons has joined our group of volunteers at the museum. While she can't yet set regular hours to be with us, Wilma has already proved valuable in helping do research on Ancestry.com and other internet research, as well as using her powerful typing skills on some projects we are working on. For example, she is helping Volunteer Daniel Buxton create an index of our over 5,000 cemetery tombstone photos. Welcome Wilma!
>> Speaker system donated.
Genealogical Society member Lola Fischer donated a portable Karaoke machine to the museum. While I don't see us doing much karaoke [grin], the portable unit could be very useful as a small microphone/speaker system for presentations. Thanks Lola!
>> Civil War Diary.
The museum was recently given a copy of the Civil War diary of Major David M. Claggett, 25th Regiment Infantry, Ky. Co. C. While Maj. Claggett was not from Bullitt County as far as we know, his diary is quite revealing of military life of the time, and there is a passage in the diary about when the regiment passed through western Bullitt County.
For Your Information...
The Kentucky Historical Society (KHS) main campus, now named the Thomas D. Clark Center has changed operating hours.
New hours of operation are:
10 a.m. -- 4 p.m. Wednesdays
10 a.m. -- 8 p.m. Thursdays
10 a.m. -- 5 p.m. Fridays & Saturdays
Beginning March 1, KHS will be closed to the public on Sundays, Mondays and Tuesdays. However, KHS will continue to accommodate scheduled school group tours on Tuesdays and will also accommodate rental requests throughout the week. For more information on visiting, see www.history.ky.gov.
Finally...
What a Museum We Have!
I have been suspecting for a while that our little museum has been visited by nearly every state in the Union. Well, we're getting darn close! I looked through our sign in sheets that we have kept since we opened in 2004. Below is a map showing the states from which our visitors have come. And that's the ones we know about! (Most visitors don't sign the guest registry.) I count 33 states so far. To me this is just another sign of what some state officials once told me: that our museum is "the best front door of any county courthouse in the state". Oh, and by the way, we also hosted guests from Canada and Holland!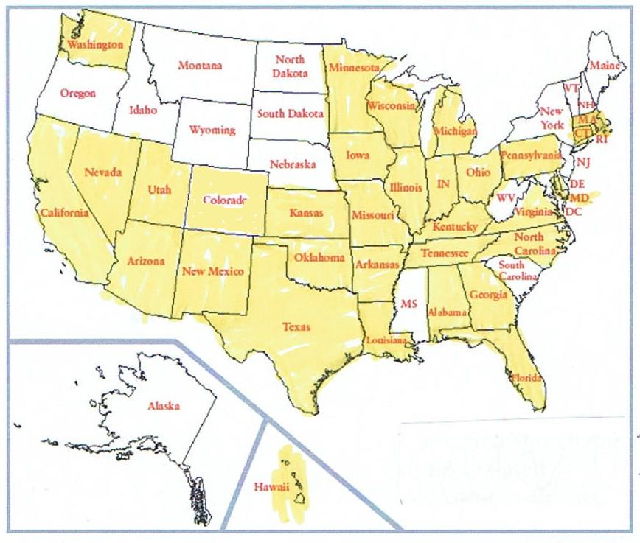 That's it for this time.
Thank you for being a Friend of the Bullitt County History Museum.
David Strange
Bullitt County History Museum
Executive Director
Museum Phone: 502-921-0161
E-Mail address: David.Strange@BullittCountyHistory.org