Museum Newsletter - 24 Oct 2005
Friends of the Bullitt County History Museum
E-Newsletter
October 24, 2005
Activity.
>> Lebanon Junction Festival.
The museum hosted another of its informative booths at the LJ festival September 30 and October 1. We were very well received. Many people were still unaware that we existed or just what we offered, but now more do know! We also sold several of the books about LJ, titled "Railroad Town", created by local historians Steve Masden and Burlyn Pike. The museum gets $5 of the $20 price for every one sold. If you might want one of his books, we have them at the museum, along with several other selections by local authors.
>> Chamber Event.
I had a quick booth at a Chamber of Commerce event. More people are becoming aware of us and what we are doing. We are getting very positive reviews of the work we are doing.
>> World War One / Veteran's Day Display.
400,000 killed or wounded. Over 1,000,000 sick or wounded evacuated to the rear. And that was just on the German side. British losses were proportional. And that was just 1915. World War One had just begun. The U.S. wouldn't officially enter the war for a couple of years. Still, when the U.S. went in, it went in with force, turning the tide of the war. Entering the war in 1917, the war was over in 1918. Yet in that short time, 4.6 million served in the U.S. military. 53,403 were killed in action (compare that to the nightly total given on the Iraqi war). 202,000 were wounded. 77,815 died of disease.
We have just completed setting up a really nice display about WWI as a tribute to Veterans. Veterans Day, November 11, began as Armistice Day, celebrating the end of "The War to End All Wars". The display, featuring a WWI uniform with gas mask, has allowed us to bring out a special tablet from storage. The 4' by 2' bronze tablet lists those brave Bullitt Countians who died in WWI. You MUST see this one sometime! For those of you who are too far away to visit, here is a photo.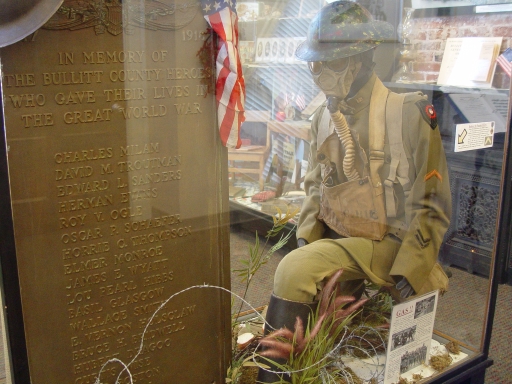 >> Toll Booth Display Unveiled
The museum had a really enjoyable event last Friday. Over sixty people attended the unveiling of our toll machine display. The state deputy secretary of transportation and several staff members came to present the machine and a signed-and-framed photo of a toll plaza. Toll booths were present on what is now Interstate 65 in Bullitt County from 1956 to 1975. Many of the guests attending the ceremony worked at the toll booths or at the old Glass House Restaurant that was in the plaza nearby. One brought an original beanpot server from the restaurant for us. Most shared great stories about their experiences "working the tolls".
The museum display features a working machine, modified to change light colors and beep when a coin is tossed in. A sign points out that change goes to the operation of the museum, and people seem to get a kick out of tossing in a coin or two. There are several photos and vintage newspaper clippings from the time.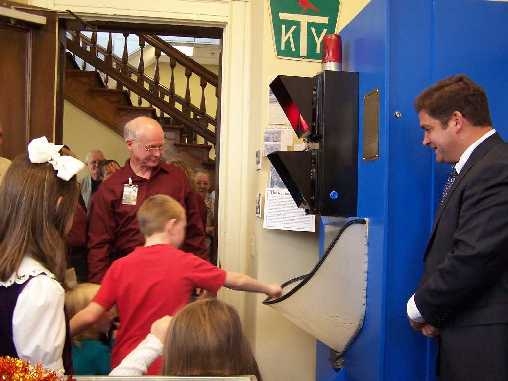 Nearly the entire display, including custom-made cabinet, was provided free of charge by the Department of Transportation. Not only is this a fun and fine example of fairly recent history, it is a lesson of what might be, as some people are considering placing toll machines on the new bridges coming to the Ohio River at Louisville. As part of the display reads: "It is difficult to understand what road to travel, if you do not know where you have been". This exhibit will be part of our "Rivers, Roads, and Railroads" permanent display.
>> New volunteers.
The museum lost a fantastic regular volunteer when Bob Druin moved away. He will be irreplaceable. But new volunteers Dub & Alice Armstrong have stepped up energetically, putting in a lot of time with us. For now, they will be covering a good portion of Mondays and have offered to fill in whenever needed. They have been spending time learning about what we have so that they will be able to help visitors and researchers.
Needed:
>> A blacksmith. A visitor came by the museum the other day who does blacksmith work in the area as a hobby. After he left, I thought of a project I need him for in the museum, but I had neglected to get his name. If you know of a blacksmith who might be willing to do a little project for the museum as part of the iron kettle display, please send him my way.
Another Great Resource:
The Kentucky Historical Society is placing a lot of its photos and audio on the internet. There's some pretty fascinating history there, such as a photo of Hebron Lane in Bullitt County when it was being built in the 1930's by Depression workers. Try it out at www.history.ky.gov.
As always, thank you all for being a Friend of Bullitt County History!
David Strange
Bullitt County History Museum
Executive Director
Museum Phone: 502-921-0161
E-Mail address: David.Strange@BullittCountyHistory.org