Museum Newsletter - 22 Jan 2010
Friends of the Bullitt County History Museum
E-Newsletter
January 22, 2010 (Volume 6, Number 1)
Dear Friends,
Announcements...
>>Mt. Washington Historical Society fund raiser.
The Mount Washington Historical Society will be having a Valentine luncheon fund raiser at Kettle Creek Restaurant, 1150 N. Bardstown Road in Mt. Washington on Sunday February 14 from 11:00 a.m. to 2:00 p.m. The menu will consist of fried chicken, fried pork chops, or grilled chicken breast, along with two sides, desert, and drink. Adults $12. Children 12 and under $8. Everyone come out and support these good folks and the work they do!
>>Genealogical Society meeting February 20.
Bullitt County Genealogical Society Vice-President Daniel Buxton will be the guest speaker at our February 20 meeting. He will be speaking on how to make custom reports in the genealogy computer program "Family Tree Maker 16". There will be a question and answer session following the presentation. Normal meeting place and time, 10:00 a.m. at Ridgway Memorial Public Library in Shepherdsville.
>> Sixth year of newsletter.
It's hard for me to believe, but this marks the sixth year of me producing this e-newsletter. My how time flies when we're having fun! So many Friends. So many stories. So many great experiences! There has never been a problem finding things to write about. Our local communities are so rich in fascinating history, that the hard part is usually trying to shorten the information into a reasonable newsletter length that is still accurate. For past newsletters, go to the "Newsletters" link at the top of this page.
>> Sugar Valley.
Such is the case with the story this time about Sugar Valley. That story, below, is so long this time that I am shortening the rest of this newsletter this time for overall length's sake. The Sugar Valley info is shakier than I normally like, so read carefully and please contact me with any other info you have about the area. I'll put it in the next newsletter.
Activity...
>> David Conn photos.
Local code enforcement officer David Conn brought some interesting photos for us at the museum the other day. Most of them are photos David took of our old courthouse just days before most of it was torn down in 2002. Some of you might not know our story about the circa 1900 courthouse that our museum is in. Most of the building was torn down in 2002 and replaced with new. Fortunately, county government kept the front, ornate section, restored it, and let us use that part as the county history museum. Dave's photos are a great record of the building just before all that change took place. Thanks Dave!
For Your Information...
Daniel Buxton wants everyone to know about a great new resource. The Hamilton County, Ohio Probate court has scanned all their records from 1791 to 1974 and made these documents available online. There are wills, marriage records, probate, estate records, death records, doctors certificates, and much more. If you need any research done in Hamilton county, Ohio, this is the site to see. Check out this site.
Finally... Sugar Valley
Few people now remember the little community of Sugar Valley in Bullitt County. And I confess to not actually knowing a lot about it myself. It seems much has been lost to memory and to the confusion of partially-recorded history. Indeed, it was almost forgotten entirely until the state came through widening a road some years ago, and an engineer, using an outdated map, went around trying to find a "Sugar Valley" that showed on that map.
I'll do my best here to tell you what I think I know about the little community. Corrections & additions are welcome.
Located about a mile south of Mt. Washington exactly where Hoagland Hill Road meets Highway 31E (Bardstown Road), sets a small private house, wedged between a raised 31E and Whitaker Run creek.
That house is said to have once been Sugar Valley Schoolhouse, and I presume the center of activity of the area.
A December 25, 1914, article in the Pioneer News newspaper states that Sugar Valley teacher, Miss Ollie Welch, had 32 students in "a good, roomy house, well painted" with good water, new blackboards, and a fine daily average. (See the photos of the schoolhouse then and as it looks today below).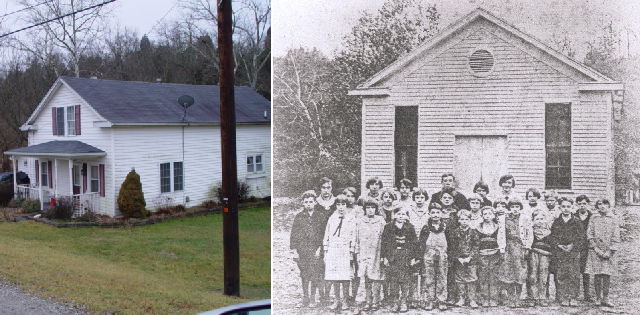 There might have been a distillery in the community in the 1800's, but I am not sure. There is a mention in the book "Lawyers & Lawmakers of Kentucky", edited by H. Levin in 1897, of the marriage of Joseph O'Neal and Lydia E. Wright, saying that Ms. Wright was the daughter of Joseph Wright, who "is a prominent merchant & distiller operating Sugar Valley Distillery in Bullitt County." And a publication on distilleries in Kentucky mentions a Sugar Valley Distillery beginning operations in 1806 and that David Franklin Brooks, of northern Bullitt County, operated the Sugar Valley distillery for twelve years. But Sugar Valley Distillery is also described as being located near Bloomfield in Nelson County. So at this point, I am not sure if all these facts are about the same community.
About 1834, Emma Wright Rivers, sister of Lydia mentioned above, wrote a story said to be remembering her life in Sugar Valley. This story, submitted by Anne R. Obannon, was published in the 1992 editions (Vol. 1-3) of "The Wilderness Road", our Bullitt County Genealogical Society quarterly newsletter.
That story tells many interesting tales. It tells of simple rural life and children playing hide & seek along the creek and hilly terrain. It tells of slaves and Civil War soldiers.
The Bardstown Road was a route traveled by thousands of soldiers in the Civil War, and Sugar Valley residents were witness and victim to much of it. Confederate soldiers traveled it in force on their way through Mt. Washington into Fern Creek, and back again as they retreated to what would become the battle of Perryville. Armed soldiers from both sides often stole everything from silverware, to pots & pans, to livestock at all hours of day and night, time after time. The families would often hide their valuables, and families would have to hide themselves in the woods or risk being killed themselves by the thieves.
Once, children were playing when the mother called out seriously, "Children, come into the house, the soldiers are coming."
Shortly, one of the family friends, a Confederate soldier named Jim Pratt, was seen galloping down the road, with Union soldiers hot on his heels, and firing rapidly. In the children's eyes, soldiers were just mean men trying to kill their friend. Pratt was wounded, but he recovered. If I recall correctly, we have a photo of Pratt, along with his discharge papers, at the museum.
Smallpox raged in the area during the war, and the local doctor went around inoculating residents. Due to a teasing relative, some of the children were afraid the inoculation would cause their arm to fall off, causing them to weep bitterly when the doctor showed up!
Despite war-time hardship, Sugar Valley residents could be generous. When the war was ending, a small group of ex-confederates, released prisoners of war who were starving and just trying to get home, stopped by one of the houses asking for food. The household greeted the ragtag group warmly and gave them comfort & rest from their misery, before the now-civilians headed on.
Today, Sugar Valley appears to be simply a couple of houses on the side of a busy road. The Bardstown Road has been straightened and raised so high that the old schoolhouse is now downhill from the road. It's now one of those places that the passerby would hardly notice as a community as he races on to some other destination.
But the people of Sugar Valley, like people everywhere, share a history that goes deep if examined closely enough.
Real people, living on land that has a history almost beyond memory.
Thank you for being a Friend of the Bullitt County History Museum.
David Strange
Bullitt County History Museum
Executive Director
Museum Phone: 502-921-0161
E-Mail address: David.Strange@BullittCountyHistory.org