Museum Newsletter - 08 May 2008
Friends of the Bullitt County History Museum E-Newsletter
May 8, 2008, (Volume 4, Number 4)
Dear Friends,
Announcements...
>> Genealogical Society Meeting Saturday, May 17, 10:00 a.m. Special Field Trip!
Our regular Bullitt County Genealogical Society meeting will be held Saturday, May 17, at 10:00 a.m. at Ridgway Memorial Library in Shepherdsville.
After a quick business meeting, everyone is invited for a personal tour of the Belmont Furnace. That old iron furnace operated in Bullitt County from the early 1800's up to about 1870, if I remember correctly. A Union army camp was stationed there during the Civil War. It is quite an imposing old structure and on private land, so I encourage you to take advantage of this rare opportunity to see the furnace up close and be guided by a very knowledgeable person.
The tour will also include some cemeteries (at least one a Civil War cemetery) on the grounds.
Be sure to dress appropriately for walking on somewhat rough and soft ground.
Activity...
>> Museum & Genealogical Society reaching out to the Public.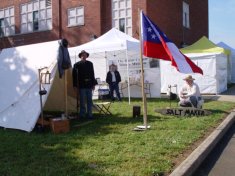 As always stated in our mission statement, we try to be "widely accessible to the general public." Part of that effort involves being part of festivals and other events where we can make people aware of our museum and our history. Through those events, we also gain a great deal by learning new things ourselves from those who stop by the booth. Two recent events are shown in the photos above. This past Thursday, the Museum hosted a booth at the I-65 rest stop just south of Shepherdsville. The weekend before that, we were in Mt. Washington at the Spring Festival. Don Elden joined us with a Civil War camp site, and the two of us, dressed in period attire, promoted his September 13 "Timeline" encampment that will include camps and activities from many periods of time, including Pioneer, WWI and WWII and others. Daniel Buxton helped us staff the museum booth, and he and Bob Cline pulled extra duty staffing the museum so we could have the booth at the rest stop all day.
>>Research Activity Picking Up.
It's getting to be that time of year again when the museum research room gets a lot of visitors and calls from out of state doing local historical and genealogical research. In fact, our research room is getting so busy that we often wish we had two people staffing the room at a time instead of one. Of course, that takes more volunteers. Please keep an eye out for good people that might make good volunteers, and send them our way!
>>Web Site Continues to grow!
As I often say, our museum web site is an awesome site with new things being added every week. Some of the most recent stuff is about the 1937 flood in Bullitt County. Several pages of information and photos have been added. Check it out.
We were recently shown a current photo of a house that was said to have been badly flooded in 1937. In looking through our photo archives, we actually found a photo of that same house at the peak of the flood, eight feet under water. Check that web page, and be sure to scroll all the way down the page for a nice aerial photo/map of the site! That will also give you a hint of something we might be doing with cemetery locations in the near future
For Your Information...
>>Speaking of the Great Flood of 1937.
The federal web site located here gives a detailed explanation of what caused the 1937 flood from a meteorologist's point of view. This is a pdf file. The parent url for this file is here.
Finally...
I was reviewing a 1947 Pioneer-News paper and came across a story you might like (and sympathize with, whichever side of the issue you are on). Writer Tom Cochran was reminiscing about years before that time in Shepherdsville and remembered a time when "Local Option" folks were slowing down intoxicating drink sales in the town. He wrote that drug stores came up with a loophole in the law and were trying to sell whiskey by prescription to get around the law, and quite a ruckus broke out among drug stores fighting over the licenses.
I quote: "for several years applications to the County Court for such licenses created amusing and exciting court room scenes. One of them was when an exasperated Judge announced from the bench he would adjourn his court long enough to whip one of the attorneys. Fortunately bystanders calmed the threat before it was accomplished."
In a day when our county still wrestles with wet/dry issues, I just thought you might like this bit of history.
Thank you for being a Friend of Bullitt County History.
David Strange
Bullitt County History Museum
Executive Director
Museum Phone: 502-921-0161
David.Strange@BullittCountyHistory.org
BullittCountyHistory.org