Museum Newsletter - 7 June 2007
Friends of the Bullitt County History Museum E-Newsletter
June 7, 2007 , (Volume 3, Number 7)
Announcements
>> Seminar on Cemetery/Tombstone preservation Saturday June 30 in Shepherdsville.
I am happy to report that there is growing interest in restoring and preserving our old cemeteries in Bullitt County. Unfortunately there are dozens, even hundreds, of neglected and nearly forgotten cemeteries in our area, as well as throughout the state. Some people are expressing interest in taking on one cemetery or another, but don't know quite where to start.
Since the restoration work last year on the Shepherdsville Pioneer Graveyard, we are getting requests on just how to go about restoring a cemetery (from legal access to the site, what the state will do, what law requires, to just how to clean or fix a broken tombstone).
The Bullitt County Genealogical Society will be hosting a special, free Saturday seminar on cemetery preservation and tombstone restoration.
Ann Johnson, who works for the Historical Confederation of Kentucky and the Kentucky History Museum as a specialist on cemetery preservation and grants, will be leading the seminar.
The date is Saturday, June 30.
The planned schedule is:
10:30 a.m. to Noon: Laws related to cemetery preservation; question and answer session.
Noon: Break for lunch on your own.
After lunch, meet at the nearby Shepherdsville Pioneer Graveyard for hands-on learning about tombstone care and restoration. (Dress appropriately for brief light work in a cemetery). We will stay at the cemetery as long as the class desires.
Meeting location is Ridgway Memorial Public Library, 127 North Walnut Street, in Shepherdsville. (Corner of Walnut and 2nd Streets).
For more information, contact the Bullitt County History Museum at 502-921-0161 or e-mail BullittCountyHistory@Windstream.net.
Reservations are not necessary, but please let us know if you are coming, so that we can plan accordingly and let you know of any changes.
The seminar is a free service of the Bullitt County Genealogical Society. Refreshments will be available at a small cost. Of course, donations to the society are always welcome.
This event will take place rain or shine.
>> Monthly Genealogical Society meeting June 21.
The regular meeting of the Bullitt County Genealogical Society will meet at 6:30 p.m. at the Ridgway Public Library in Shepherdsville June 21.
Bryan Bush, local author about the Civil War, will be the guest speaker. Everyone is welcome!.
>> Fourth of July Bullitt Blast. We'll be there again!
The annual Fourth of July "Bullitt Blast" will again be held this year at Shepherdsville's Parquet Springs Conference Centre. It's a really nice free event with some great fireworks at sunset. There are also a number of festival booths inside the air-conditioned conference centre. And the Bullitt County History Museum will be there with our own information booth.
>> Courthouse Benches.
Bullitt County has a nice new courthouse complex. (The old section is where our museum resides.) And the impressive new three-story Judicial Center opens this month next door. It's all quite nice, but many of us think it is also a bit sterile and uninviting. Some are nostalgic for the old "liars' benches" that used to set around all old courthouses.
So, county government has agreed to buy some nice wood sitting benches for inside our courthouse, and they formed a committee to seek donations to buy some really nice new iron benches for outside. These iron benches are a high-quality type that is in many of the best public parks. I was asked to serve on that committee to raise funds.
We have selected a beautiful bench style that is reminiscent of the old iron benches of yesteryear, yet strong enough to endure many years of public use. They will add a welcome and warm touch to the buildings and to our museum, with two of the benches to go next to the Old Stone Jail. Benches of this strength and quality are expensive though.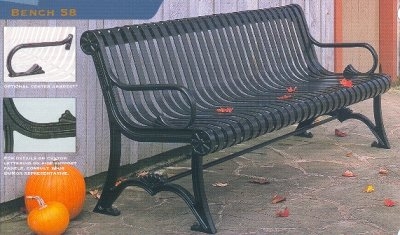 They will be ordered when enough money is raised.
If this idea is appealing to you, please help support the cause. Donation checks should be made out to "Bullitt County Fiscal Court", and delivered to me at the Bullitt County History Museum. There are far more important things to give to in this needy day and age, but please consider helping us make this nice improvement to the peoples' building and thus to our museum.
Museum Activity.
>> Wonderful New Salt Making Mural installed!!
Carole Jackson Powell is a successful mural artist with paintings in some of the finest houses and public buildings in the region.
I am very happy to report that Carole graciously painted a mural for us at the museum. The mural is a background for our ever-improving salt-making display. The eight foot by eight foot mural depicts a salt-maker standing near our huge iron kettle, in the process of loading a wagon with bags of salt.
I can not thank Carole Powell enough for this generous donation, which no-doubt represents many hours of work. I'll try to have a photo of it for you in the next newsletter.
Samples of Carole's work can be seen at her web site, www.dreamartworks.com.
>> Speaking of Salt, I Made Some!
I made my first salt the other day. Actually it took a couple of days. I boiled down about four gallons of natural salt water and got a good handful of nice white salt. I experimented with adding a bit of fat to the mix as suggested by the old texts. It did indeed help reduce foaming as expected. What was not expected was the turbidity of the water. I had expected the water to remain basically clear until the saturation point was reached, when the salt is supposed to suddenly fall to the bottom like snow. The unexpected problem was that I could not see into the boiling salty water, even though I was using a clear glass pot for the experiment. The water became so murky I couldn't tell when the salt began to fall. I just had to feel the bottom with a spoon until I started to feel the grains. If the water gets too hot at that time, the salt will glaze into a solid mass, so one has to be careful.
If I can get about 100 gallons or so of water in time, I hope to portray a salt maker at the August 4 Civil War encampment in Shepherdsville this year, complete with working iron kettle.
>> Eighty Students Visit Museum.
In our largest tour group yet, eighty students from Cedar Grove Elementary School visited the museum recently. They were split into three groups and all went well. Barbara Bailey and Judy Richardson helped give the tours. We are so excited that more and more school groups are starting to take advantage of what the museum has to offer!
>>Reading program at the Museum.
For the first time, the Museum hosted a session of a reading program called "FRED", Father's Reading Every Day. A small group of students and parents met at the museum/courthouse grand staircase, where Barbara Bailey read a selection about old one-room school houses, and I read about the Old Stone Jail. After the reading, we gave out small gifts and toured the old jail. I think the children liked it. I know the adults did!
>> New Books at Ridgway Library Genealogy Room.
At our request, the Ridgway Memorial Public Library, which is located less than a block from our museum, has added several new books to its genealogy collection. A series of new Nelson County marriage books (Vol. 7-9, 1876-1910) has been added. The book, Diary of Ira Galespie, which includes a Civil War soldier's description of a camp at the Belmont Furnace, has been purchased, as has a nice book recommended by Friend Bob Cline about the Preston family in the earliest days of Kentucky. That book actually provides great insight into pioneer life and mentions some of the very earliest settler migrations into Kentucky and the Bullitt County area.
>> New Book Donated to Museum.
Friend Bob Druin donated the book, City of Conflict, by Robert Emmett McDowell. The book is about Louisville during the Civil War. I have just completed reading the book and I learned a lot. The book will be used as a reference book at the museum.
>> 1917 Train Wreck Display Case is in.
We have written before about the 1917 Train Wreck and the efforts to create a special display. The custom fourteen-foot display case, paid for through donations, has been delivered. Betty Hartley is doing restoration work on the Lloyd Mattingly model. I hope to have the display ready for viewing in about a month, and will report to you on it at that time.
For Your Information...
>> Historian Charles Hartley developing a new Bullitt County History web site.
Charles Hartley, quite possibly our most knowledgeable Bullitt County historian, has long hosted a web site that I have mentioned here before. He is now developing a new site, which, if anything like his previous one, will become THE quick source on local history. Check it out at www.gensoup.org/bullittcohist/.
Also check www.rootsweb.ancestry.com/~Kybullitt.
>> WWII MIAs web site
When there is discussion about soldiers that are Missing In Action, it is usually about the many Vietnam-era soldiers that remain MIA. But a lot of people do not realize that 78,000 soldiers still remain MIA from World War II. A new web site sponsored by the Department of Defense list names and information on MIA soldiers from WWII, Korea, the Cold War, Vietnam, and the Gulf War. Check it out at www.dtic.mil/dpmo.
>> Kentucky Vital Statistics.
Friend and Volunteer Daniel Buxton recommends this site for information. Check out kyvitals.com/index.php.
Thank you for being a Friend of Bullitt County History.
David Strange
Bullitt County History Museum
Executive Director
Museum Phone: 502-921-0161
E-Mail address: David.Strange@BullittCountyHistory.org