Museum Newsletter - 5 May 2009
Friends of the Bullitt County History Museum E-Newsletter
May 4, 2009 (Volume 5, Number 6)
Dear Friends,
Announcements...
>>Genealogical Society Meeting this Saturday, May 16. You don't want to miss this meeting if you can help it! Kandie Adkinson, from the Kentucky Secretary of State's Land Office will be the guest speaker. Then, thanks to County Clerk Kevin Mooney, we will get to take a tour of the county records room. Bullitt County is one of the few Kentucky counties with existing records going back as far as the original land grants. There are a lot of treasures to be found in the various racks and boxes at the records room, and this is a rare opportunity to take a look at them on a Saturday. Meeting location is the Ridgway Memorial Library meeting room, Second and Walnut Streets in Shepherdsville, at 10:00 a.m. May 16.
>>Mt. Washington Spring Festival. We will have a booth at the Mt. Washington Spring Festival May 9 & 10. Come by and see us!
Activity...
>>Museum workers creating a list of our Bullitt County military KIAs and MIAs for Memorial Day.
With Memorial Day coming May 25th, Jose' Rosario and Judy Richardson at the Bullitt County History Museum have worked nearly 200 hours to compile a list recognizing those Bullitt Countians who have died (or are Missing in Action) in military service of our country over all the years.
Such a list has been surprisingly hard to build, (and surprising to me that one hasn't been created before) and we seek your help. Below is what we have so far, but we are sure there are still many errors and omissions, and the work is certainly not yet complete.
If you have any information that might help us fulfill this humble effort to honor our fallen heroes, please contact the Bullitt County History Museum at 921-0161, or e-mail Museum@BullittCountyHistory.org
For Those Who Sacrificed All...
Civil War: D. L. Brooks; Alexander Burton; James A. Hill Jr.; John Holsclaw; James Masden; Jesse McWilliams; Theodore Pearl; Lt. (Dr.); John William Rogers; F.B. Smith; John Smith; Allen A. Snellen; James Sweeney; Caleb Welch; Capt. S.B. Williams; Thomas Withers; William Younger
WW I: Julian Bell; David Boston; Bruce H. Bridwell; Hubert Allen Dragoo; Herman Evans; Basil Glasgow; Lou Pearl Hibbs; Everett Vernon Holsclaw; PVT John W. Lewis; PVT Charles Milam; CPL David Millard Troutman; Elmer F Monroe; CPL Roy V Ogle; PVT Lilburn Radcliff; PVT Edward L. Sanders; Sgt Oscar Paul Schaefer; Frank Smith; SGT Wallace L Smith; PVT Horrie C Thompson; PVT Curt T Wise; James E. Wyatt;
WW II: SSG Robert L. Abell; SGT Robert J. Beeler; SGT Johnny W. Bishop; PFC Luke R. Briscoe Jr.; SGT John E. Brown Jr.; PFC William N. Caulk; PFC Leo M. Clark; PFC Wilbur F. Clinton; 1LT Robert E. Crouch; PFC Bernie Druin; 3C, USNR Elmore Roscoe Easton; TM1 Paul O'Bryan Hayden; TSG James W. Jackson; SGT Malcolm W. Jenkins; PVT Charles R. Lee; PVT Leslie E. Logsdon; PVT Charles L. Mann; PFC William B. Merker; PVT Jarriet T Moore; TEC5 Willard C. Proctor; SSG Archy T. Raymond; PFC Commie L. Robinson; TEC5 William Dean Rouse; PVT Roy L. Rummage; PFC N. Steinlander Jr.; PFC William E. Thompson; 2LT Williard F. Wright; Charles H Montgomery
Korean Conflict: PVT Homer Ballou; CPL Charles C. Flener; PFC J. P. Hatcher; PFC Elmer C. MC Elvain; PFC Harry E. Phelps; PVT Robert Sipes
Vietnam War: SP/4 Thomas Lee Blatz; SSGT Harold Milton Brown Operation Iraqi Freedom: Corporal Thomas P. Echols; Sgt. Maj. Steven Faulkenburg; Spc. James E. Powell; SSG Gary L. Woods Bullitt Countians Who Died While in Service in Peacetime: SSG William Robert Brian; Died April 10, 1986
>>Memorial Display update.
As part of the coming Memorial Day, we are looking to upgrade our WWI memorial display to include VietNam, Korea, WWII, and Iraqi Freedom. The list of our county war casualties will be included, with a few items representing each conflict.
I think I will have a Huey Chopper Pilot helmet from VietNam, but I need something similar from the other conflicts. I would especially like a current camouflage helmet for Iraqi Freedom, and some similar momento representing WWII and Korea (perhaps a helmet and poncho for Korea?). If you can donate or loan such items, please give me a call. I want this done by Memorial Day weekend.
>>Lone Grave work complete.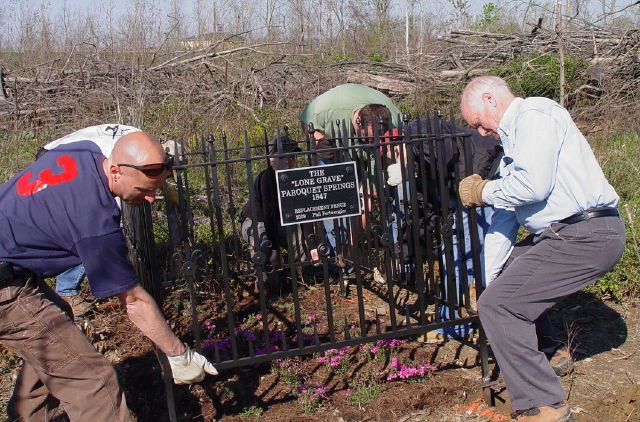 After about a year of working on the project, I am happy to say that the Lone Grave has finally been restored, including new craftsman-made (artisan Phil Fortwengler), solid iron art fence! (If you are not aware of the Lone Grave story, you can find it on our web site.) The fence was paid-for by the land owner on whose watch the original was destroyed, and the Genealogical Society paid for phlox ground-cover and mulch. I paid for the new plaque. I think it all looks quite nice. Hopefully, this fence will last another 160 years, like the original.
>>Donations.
Barbara Bailey & Shirley Miller have donated the book A Labor of Love, by the Kentucky Homemakers' Association. The book is a photo montage about a tapestry given to the state in 1980, that includes a square from each county. Shirley and Barbara donate the book to us in memory of their mother, Lillian Lamont.
>>Bullitt County flag added to web site.
As promised, a photo of our county flag, with an explanation of its symbolism, is now on our web site.
>>Web Site Additions.
As is the case almost every few days, several additions have been made to our web site. The more people who access our site, the more praise we seem to gain! There is so much content now that even we at the museum often use it as our first source of information.
>>Web Site photos.
Drawn from our archives, the web site's front page now features a different photo each day. Check it out!
For Your Information...
>>Ever wonder where any of Kentucky's 120 counties got their names? Check out www.kdla.ky.gov/Resources/Kycountyorigins.htm .
>>History factoid: Kentucky once ranked third in the nation in the number of slaves owned.
>>Camp Washington at Paroquet Springs.
Did you know there was a "Camp Washington" in Bullitt County during the Civil War? It was established at the Paroquet Springs Resort in October, 1861 with 100 Union "citizen soldiers". Later in 1861, six companies of soldiers were ordered there and it became a pretty major "mustering" station where new soldiers were brought into the ranks. The soldiers were rough on the property, tearing down some buildings and cutting down many of its beautiful trees. Check out www.trailsrus.com/morgan/Shepherdsville.html for more information.
Finally...
Algae and Old Concrete
I am proud to say, I grew up in a nice, newly-middle-income family. Thanks to the very hard work and sacrifice of my parents, by the time I was old enough to be aware of such things, our family had grown from the crushing poverty of Louisville's Remount area of the 1940's (with floors through which one could see the ground underneath), to a series of relatively new homes in southern Jefferson County and Bullitt County in the 1960's.
I remember noticing that, though my parents had first lived in ramshackle old houses (their first home together was literally an old chicken house), my brother and I had grown up in houses with new concrete.
New concrete. New home. Nothing really fancy, mind you, but a nice house in a nice new promising neighborhood with nice little sapling trees newly planted in all the yards.
But I remember as a very young man also noticing my grandmother's house in Danville, and the old, mossy, algae-laden sidewalk and steps.
To a lesser degree, I remember noticing the old concrete at the first house that my wife and I bought when I married.
And I distinctly remember wondering when I built the first house for my own family and poured the concrete for the foundation.
I wondered how long it would take for that new concrete to become moss and algae-laden like my grandmother's house.....and if I would ever live long enough to see that day... and what all would happen in that span of time.
(By the way, my wife and I also had our first child that same day, and a whole new life was beginning to unfold before me. Since that day, my wife, Bonnie, and I have been fortunate enough to do something I had always hoped to do. We have lived in that same house all these years, and now enjoy our little grandchildren playing in the same yard and the same hallways as our children once did.)
Well, I happened to think about old concrete again the other day and, what do you know!, there it was on my very own house!
What was once freshly-poured, new concrete had somehow become old right before my eyes.
Grey, algae-laden, mossy-edged wonderful old concrete.
Home. Home on a solid, weathered, experienced, enduring foundation.
God willing, I have a lot of life, and a lot of experiences, yet ahead of me.
As I turn fifty-six this year, I do so look forward to those experiences yet to come.
And I hope that I, though maybe a bit mossy and algae-laden myself, have developed, over time, a solid enough of a foundation within me to help support and endure whatever life might send my way.
Thank you for being a Friend of Bullitt County History.
David Strange
Bullitt County History Museum
Executive Director
Museum Phone: 502-921-0161
David.Strange@BullittCountyHistory.org
BullittCountyHistory.org