The Snowstorm of 1994
The following article by David Strange appeared in The Courier-Journal on 14 Dec 2014. It is archived here with additional information for your reading enjoyment.
---
As with many winter weather patterns in the Ohio Valley, on January 16, 1994 we were on the edge of either rain or snow. Some predicted several inches of snow; others predicted just a wintery mix of snow and rain.
We woke up the next day to a Kentuckiana record snowstorm. First came freezing rain, entombing everything in up to a half inch of ice. That was followed the same day with a record 16 inches of snow with more on the way. Then the temperature plunged to a record low minus 24 degrees, and stayed there.
And just as suddenly as it came, it stopped.
Our whole world just seemed to stop. Roads, businesses, everything. Water mains froze and burst. Electricity was out nearly everywhere. Everyone was told to just please stay home. In my little rural Peaceful Valley community, power was out for nearly two full weeks.
All of this was oddly fun at first, at least to several of us who did not have to go to work. We considered it a challenge; an adventure, an opportunity to stand up to Nature and live like the pioneers did. I had a good Fisher woodstove, and plenty of cured firewood, as did some of the others. A few of the neighbors quickly hit problems, though, that had not been considered. They had wood stoves that required electricity to run vent fans. No electricity; no fans; no stove; no heat; no home.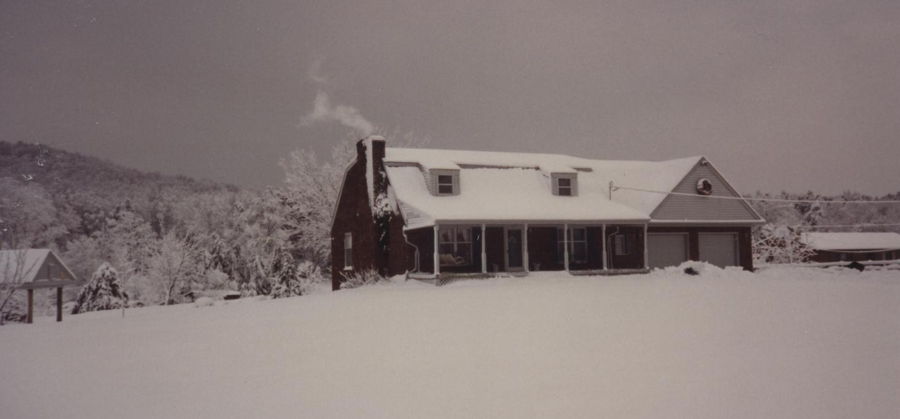 As the frigid days wore on, families began to evacuate to motels. Survivors still chuckle in the neighborhood about how one (or more) of the wives berated their husbands about "why on earth you ever brought the family out to such a wilderness!"
A few of us hardy and crazy souls stayed on. My wife and two teenage children stayed, as well as our neighbors, Karen and Larry Hart, and a few others.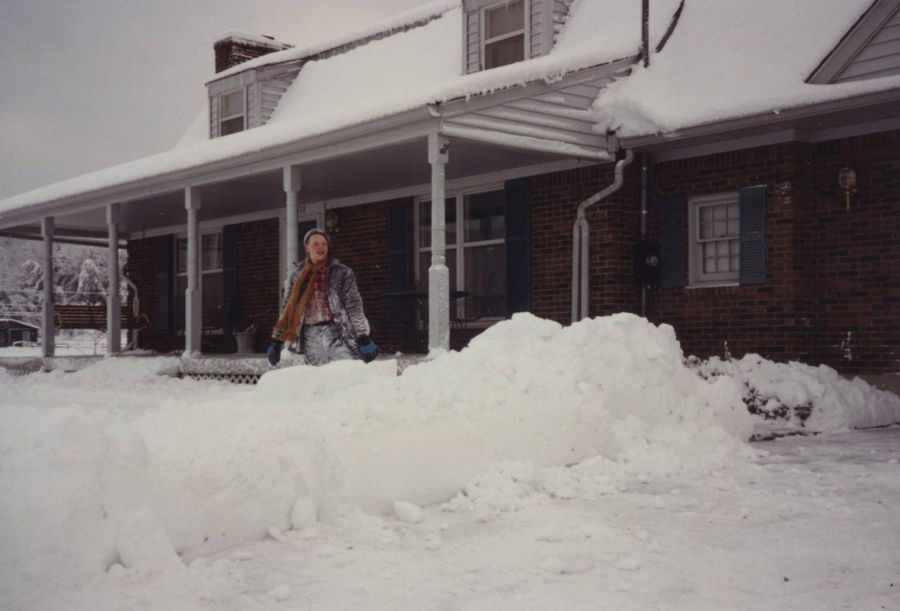 It was interesting to see how we adjusted to the "Pioneer" life. We didn't lose the food in the freezer; we simply moved the food out to our playhouse and let the sub-zero temperatures do the rest. Our woodstove, located in the basement, had surfaces on top for cooking, so Bonnie kept a pot of water steaming to melt snow for water and humidity, and kept food cooking in the iron skillet. With no electricity, there was no TV. There were no lights beyond relatively dim oil lamps and candles.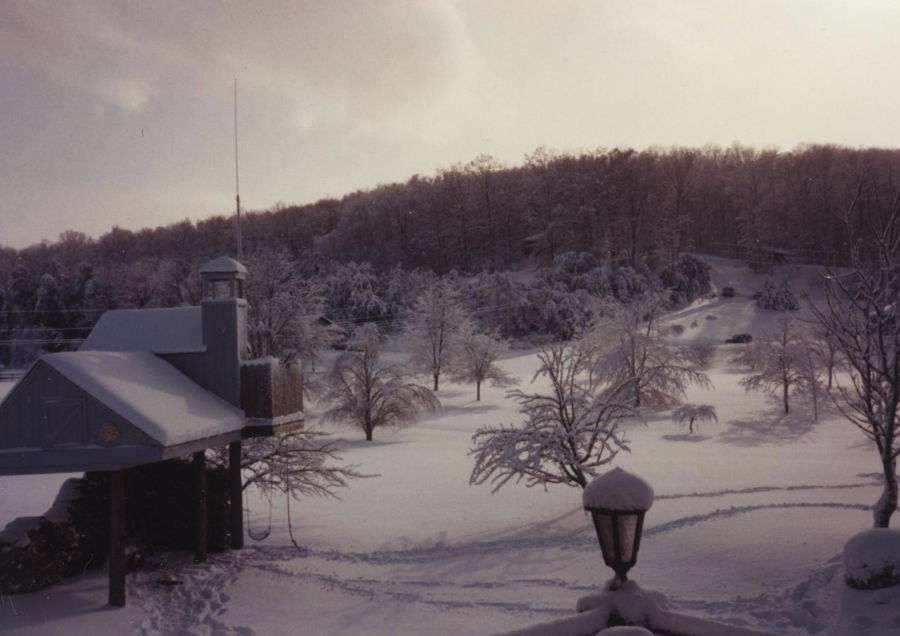 The thing that surprised me was how really quiet the world was when none of Man's devices were running. Outside, there was no longer the background hum of heat pumps, the hum of the power lines, or the noise of distant traffic. Everything was simply...still. It was so quiet that one could hear the snowflakes gently fall upon the ground. I remember the low groan of frozen trees creaking under their burden of ice, and an occasional limb cracking and falling in the far distance. If the wind kicked up, the dry, cold snow would blow like sand on a beach, making the slightest "sssss" sound as the grains skimmed low across the fields.
Of necessity, we all quickly adapted to living by the sun. When it got dark, one might as well give in to the night and go to bed. The nighttime neighborhood looked so strange with no light anywhere to be seen except the pinpoint of a candle in some distant window. When the sun rose, better get cracking and get the firewood ready for the day and do other chores while you can, before that deep darkness comes again. I noticed that the kids and I fell into a pleasant pattern of reading books and playing board games by the fire. Life just seemed to settle down to a slower, more natural pace.
As the days passed on, though, we retreated further and further into the heart of the house, finally staying down in our basement near the stove. The outer rooms and walls got colder and colder. Frost began developing on the windows and even the walls. Our sprawling house, built for modern living, was slowly freezing to death. I began to understand the advantage of a small, compact pioneer house.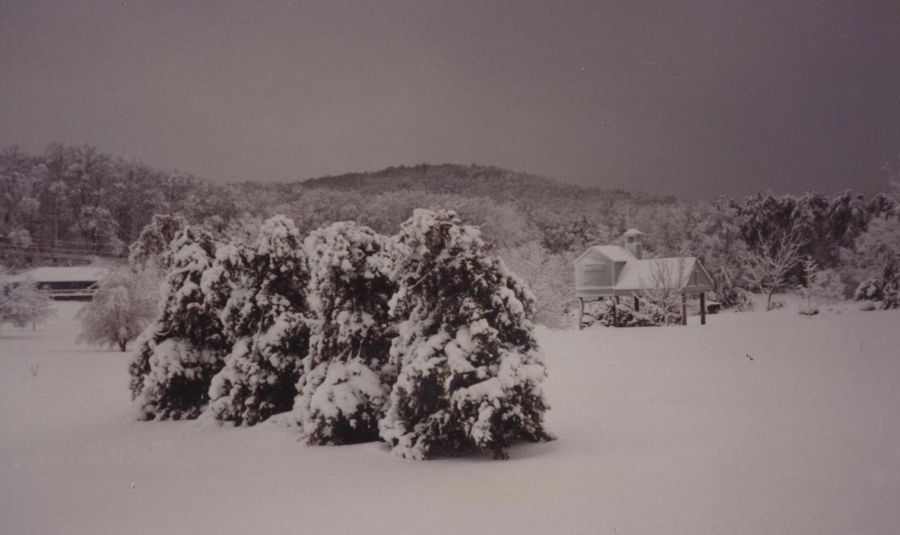 About a week into the freeze, neighbor Larry Hart and I were outside checking on how things were going. We looked each other in the eyes and agreed that "we've had enough fun." Several days later electricity was finally restored and we could get on with our modern lives, a little happier, perhaps, that we were not living in pioneer days after all.
I remember noticing a change in public attitude as well. Before the storm, there were often complaints about utility companies trimming tree branches around power lines. After the storm, in which so many power lines were broken by falling limbs, people almost praised utility workers when they came by to trim. I even remember one friend, who used to complain, happily calling out to the workers after the storm, "Cut 'em all down! Just let me have my electricity!"
The storm of 1994 has been marked as one of the top Kentuckiana snowstorms on record for both the snow (up to 24" in some areas) and the deep cold (as low as minus 37). It was perhaps even worse than the winter of 1777, in which the first pioneers in Bullitt County at Bullitts Lick were frozen out. That winter was so cold, that wild buffalo pushed against the log cabin walls, trying to get to the heat inside. More about that later.
---
Copyright 2014 by David Strange, Shepherdsville KY. All rights are reserved. No part of the content of this page may be included in any format in any place without the written permission of the copyright holder.
---