Bullitt Memories: Bernadeen Wheatley
The following article by David Strange was originally published on 17 May 2015. It is archived here for your reading enjoyment.
---
Agnes Bernadeen Wheatley was one of those restless and courageous young girls who wanted to move out into the world; who wanted adventure... and succeeded in it.
In the slow-paced world of 1920's farm-country Kentucky, however, there didn't seem to be much chance of that, especially for a female.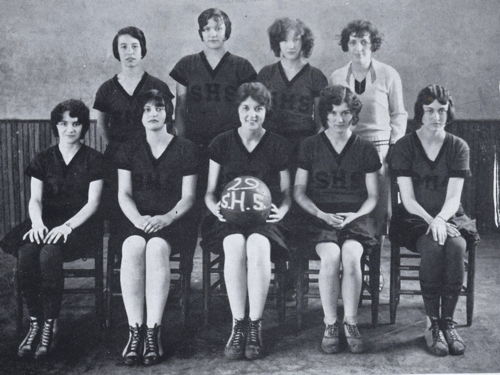 Bernadeen seated on far right, next to her sister.
Born in Elizabethtown, Kentucky, on April 12, 1914, "Bernie" grew up on a farm near Raymond Road and Highway 44 in western Bullitt County. The daughter of Joseph K. and Cathrine Huffman "Fladgie" Wheatley, Bernie was part of a fairly large family along with sisters Loraine Wheatley (Barger), Mary Wheatley (Morehead), Kathleen Wheatley (Reesor), and brother Russell Wheatley.
Life on the farm was simple, and required hard work, but was fairly prosperous. While the men worked the farm, Mother and the kids raised turkeys and sold eggs. Simple country living was just not what Bernie wanted.
At Shepherdsville High School, she and her sister Loraine played girls' basketball on an eight-girl team in 1929. That alone was more of an exploit than you might think. Though Bullitt County schools were pioneers in girls' sports at the time, Kentucky banned girls' basketball in 1932 and did not fully recognize it until a state law in 1974 required schools with men's sports to also have equivalent girls' sports. Bernie was good at basketball because she was relatively tall. I am told that her father was shocked at his daughter wearing shorts; even those funny bloomer shorts of girls' teams at the time.
Bernie graduated high school in 1931, and took advantage of the opportunity, entering the nurse program at St. Mary's & Elizabeth Hospital in Louisville. After graduation there, she first served as a private nurse and then worked at the old St. Joseph Infirmary, also in Louisville.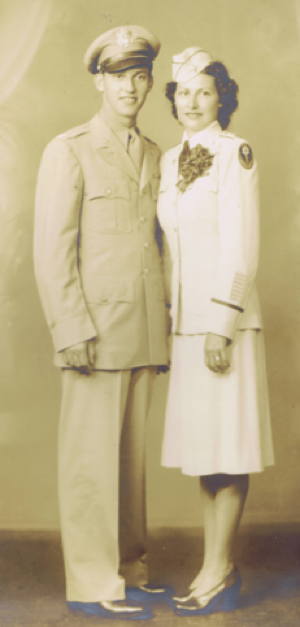 Marriage Photo
At about that time, disaster struck the family when the 1937 flood washed away nearly everything they had on the farm. The father managed to hitch up two horses to a wagon to get the family out just in time. Only the mules were saved when a neighbor took them up into the second floor of the house to get them above water. By the time the horses could be recovered nearly two weeks later, they had eaten wall paper and wood trim off the walls, and left a terrible mess in Fladgie's once proper home. Nearly all the other livestock drowned, and much of the farm was a loss. I imagine such a time can mark either the end, or the future of a person.
For Bernie, this is where this story gets interesting.
Bernie left St. Joseph to become a nurse at Ft. Knox. With World War II looming, she soon got the adventure she longed for. On April 10, 1941, eight months before the U.S. entered the war, 1st Lieutenant Agnes Bernadeen Wheatley entered the Army. She was with the first convoy of American troops to arrive in Northern Ireland in 1942, serving with the Tenth Station Hospital in Northern Ireland and Scotland. As the war raged, she was stationed in hospitals in England for nearly three years before obtaining a furlough to visit home. Brother, Russell, also joined the Army soon after and they hoped to meet; but it was not to be as Russell was moved to another assignment.
I think this young woman from rural America loved the world-scale adventure of it all. In fact, she also fell in love. On July 25, 1945, Bernie married Doctor Joseph R. Recupero, who was also stationed with the Tenth Station Hospital. He was Italian descent, from New York. Bernie's family remembers "Dr. Joe" as very kind. The family looked up to them both. They were fascinated by Joe's charm and his Italian/New York accent.
Everyone returned okay from the war. Clifford Reesor, the husband of Bernie's sister Kathleen, was an Army engineer and received a bronze star. Bernie was discharged December 12, 1945. After leaving the Army, she and Joe settled in Redwood, New York, where he opened a private practice in 1946 and she assisted him. They moved to Alexandria Bay from Redwood in 1957.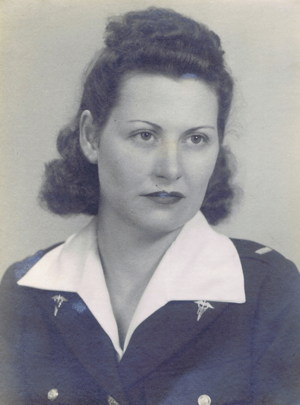 The couple sometimes came home to visit the family around Derby time when they could. They would send gifts from New York such as scarves, fruit, and magazines, which meant a lot to the young Bullitt County nieces. To receive something from New York was really a treat!
As it always does, time passed and everyone moved on with their own lives. The Recuperos had one child, Joseph, who visited the family in Bullitt County from time to time.
Dr. Joseph R. Recupero, also a specialist in anesthesia, died Nov 15, 1972.
Lt. Agnes Bernadeen "Bernie" Wheatley Recupero died at age 69 on August 6, 1983 in Alexandria Bay, New York. She had been in failing health for a year, suffering from cancer. Her body was buried at Barnes Settlement Cemetery of that place. Sister, Loraine, her old high school basketball buddy, and all her siblings are gone now as well.
Bernie had her adventurous life. Looking at her smile in fading photographs, and hearing from her nieces who so happily remember her, I think she enjoyed it.
My thanks go to Bernie's nieces, Ida C. Hodge and Darlene Perkins, who related these memories to me.
---
Copyright 2015 by David Strange, Shepherdsville KY. All rights are reserved. No part of the content of this page may be included in any format in any place without the written permission of the copyright holder.
---