William Casper Herps
The following article by David Strange appeared in The Courier-Journal on 3 Aug 2014. It is archived here with additional information for your reading enjoyment.
---
I recently wrote a little about the remarkable life of Casper Herps, who was Bullitt County Surveyor from 1854 to 1894.
Now let me tell you about his son, W.C., who was quite a man himself, and left us a bit of a mystery.
William Casper "W.C." Herps, born on May 27, 1868, was apparently quite the father's son, becoming a surveyor like his father. In 1894, after illness prevented his father from continuing in office, W.C. continued the family political legacy when he became County Surveyor. The elder Herps very much wanted to sign his son's County Surveyor bond papers, but was too ill to go to the courthouse.
But proud fathers always find a way.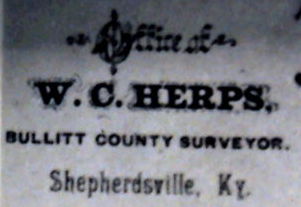 Great-grandson, Michael Herps, showed me a document in which Casper authorized E.E. McCormick to sign his name for him on the bond papers. So, on December 18th, 1894, W.C. Herps' papers were signed ...sort of... by his father. W.C., thus following his father, continued to hold that office for much of the rest of his life.
W.C. was a skilled surveyor, recognized even today for the accuracy of his drawings. Current County Surveyor, John St Clair, tells me that he has used the Herps surveys to resolve a number of modern-day property issues. Mr. St Clair says that they are remarkably accurate, especially considering the surveying instruments of the day.
W.C. became a Civil Engineer, performing duties such as design-work for local bridges of the time such as one across Pond Creek at the Bullitt/Jefferson County line, and writing a series of articles about road building in 1907. A 1925 letter says that he was also a licensed lawyer.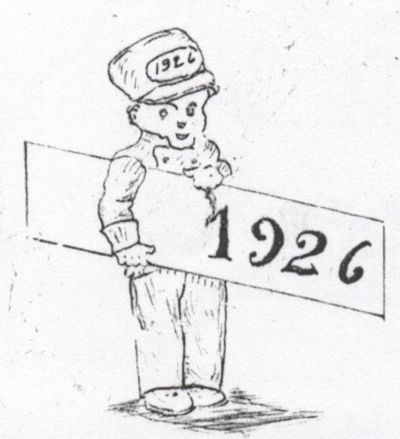 Sample Cartoon Character
But W. C. "Bill" Herps was also known for his wit. He often wrote for the local newspaper, The Bullitt News, (later to become The Pioneer News). In fact, he sometimes filled in for Editor J. W. Barrall when he was out of town. W.C. even drew cartoons for the paper.
W.C. was well-known, humorously enough, for his love of Coca-Cola, especially mixed with his own persimmon beer. He proclaimed that it should be recognized as the national drink.
A story about W.C. that relates to his nature goes this way, slightly edited: "While engaged in a sparring match with Jake Buky's cow, W. C. Herps was painfully gored in the right hand. The cow had attacked a child and Mr. Herps went to the child when the cow went for Mr. Herps. Finally the cow became so positive and vicious that Mr. Herps had to catch her by the horns. He took the cow by the horns and held her until he could get a chance to retire in good order, his face to the cow. Mr. Herps says cows should have their horns eliminated. The wound which the cow inflicted upon Mr. Herps is healing nice and does not in the least affect his ability to sleep or enjoy coca cola."
A family story tells of a man calling W.C. a liar. W.C promptly punched the man in the nose. While standing over the vanquished accuser, W.C. proclaimed, "I might be a liar, but you are not the one to say so!"
W.C and his first wife, Sarah Elizabeth Hayes, had one child, W.C. Jr., on June 22, 1900, the same year as W.C.'s father, Casper, passed away. Sadly, Sarah died when W.C. Jr. was still a teenager, on June 5, 1915. She succumbed to the same terrible Chronic Nephrites that had taken Casper, and that would eventually take W.C. as well.
W.C. married again on September 26, 1916, this time to Annie Pierce. But by the 1920s he was suffering from the disease, also called Bright's Disease, and died on July 21, 1926, at only 58 years old.
This is where a small mystery kicks in. W.C.'s obituary and death certificate say that he was buried at Hebron Cemetery in northern Bullitt County, in a section reserved for his first wife's family. But there is no tombstone. As far as Michael Herps, grandson of W.C., can determine, there never has been one. That just seems so odd for a man apparently so well loved and respected. We know by his obituary that the pallbearers for his burial were from some of the top families of the county, and yet no one saw that his grave was marked.
That kind of history's little mysteries intrigues me.
Annie Pierce Herps, W.C.'s second wife, lived long after him. She died in 1953, and is buried at the St. Louis Cemetery in Louisville. W.C. Jr. worked in the evolving automobile industry and moved to Michigan for a while. The Herps family is scattered now, as are most families over time. But several still live in the Bullitt County area; living, as do we all, their own remarkable lives.
---
Copyright 2014 by David Strange, Shepherdsville KY. All rights are reserved. No part of the content of this page may be included in any format in any place without the written permission of the copyright holder.
---