Remembering to Vote!
The following article by Charles Hartley was published on 3 Jul 2016.
---
Tomorrow, 240 years ago, a group of men, representing the American colonies, pledged their lives, fortunes, and honor to a declaration of independence from British rule. In that declaration they declared, "We hold these truths to be self-evident, that all men are created equal, that they are endowed by their Creator with certain unalienable Rights, that among these are Life, Liberty and the pursuit of Happiness.—That to secure these rights, Governments are instituted among Men, deriving their just powers from the consent of the governed."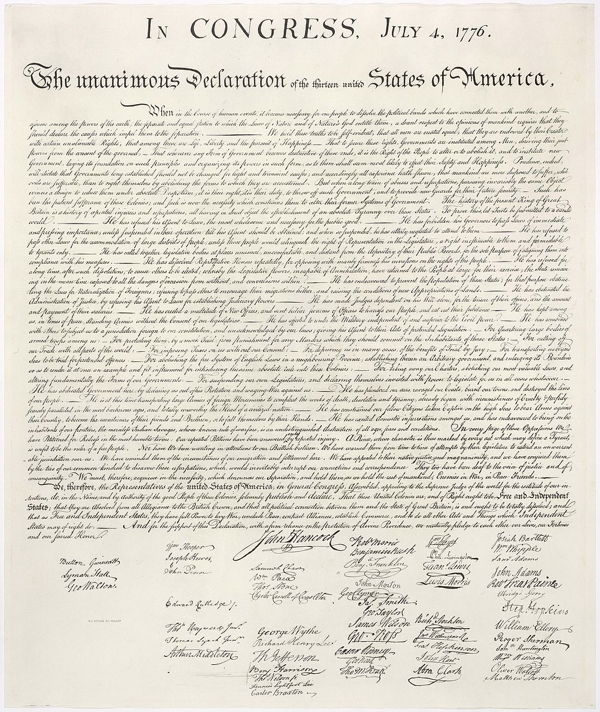 Yet, many of the common soldiers called to fight for these principles would be denied a voice in that government. Those allowed to vote in the earliest elections included, for the most part, only white males who owned property, less than a tenth of the population.
At its creation, Kentucky extended voting rights to all adult white males, eliminating the property requirement. However, because the U.S. Constitution left enfranchisement in the hands of the states, other states were slower to eliminate the property requirement, with North Carolina being the last in 1856.
Another restriction present in our early history was based on religious qualifications. In some places, Jews, Quakers, and Catholics were denied the vote. In others, Baptists were restricted as well. These restrictions were some of the earliest to go.
The process of voting has also undergone changes. For example, in 1847 an election for town trustees was held in Mt. Washington in Bullitt County. There were ten candidates for the five positions, and 21 voters. Thanks to an entry in an old deed book (yes, that's right, a deed book) we know all their names and exactly how they declared their choices.
You see, each voter stood up in front of all the others and declared aloud his choices. As he did so, the clerk, Nathaniel P. Saunders, duly recorded his votes.
Jonathan D. S. Peacock was the first to cast his vote, and he declared for Linton Snapp, William Hardman, Charles Hall, F. Johnson, and H. J. Barnes. Following Mr. Peacock in casting their votes were Jacob N. Boswell, John Lewis, William Smith, Linton Snapp, Henry J. Barnes, John J. Brown, Bernardon Peter, John Q. A. Hall, Julius C. Buky, Samuel S. Hamilton, Peyton Burdett, John Showalter, William Seston, Austin Hall, Smith M. Hobbs, David Wilson, Isaac N. Parrish, James Wright, Matthias Ash, and John Stringer.
It's interesting to note that, while Mr. Peacock declined to vote for himself, he was one of the five chosen as trustees. The others elected were Peyton Burdett, William Hardman, Charles Hall, and William B. Hamilton.
The secret ballot, an official ballot printed at public expense that listed the names of the candidates and was distributed at the polling place and marked in secret, became popular in the late 1880's.
In 1888, in Kentucky, a state still voting the oral ballot, the legislature attempted the secret ballot reform in Louisville. After the voting that year, an observer wrote, "The election last Tuesday was the first municipal election I have ever known which was not bought outright." Kentucky would not abandon the oral ballot until 1891.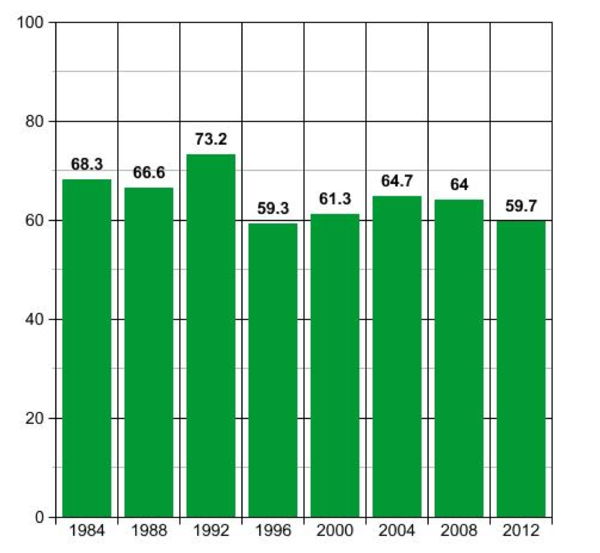 Percents Voting in Presidential Election Years.
Following the Civil War, the 13th, 14th, and 15th Amendments to the Constitution granted freedmen full rights of citizenship, and was supposed to prevent any state from denying the right to vote to any male citizen based on race. However, in the decades to follow various restrictions were applied to prevent or discourage African-Americans from voting, particularly in the old South. These included poll taxes, and literacy tests that were unfairly administered. Violence and various forms of retribution including the loss of jobs were also used to control who could vote.
It would not be until the Voting Act of 1965 that restrictions like these were mostly eliminated.
Another major advancement occurred with the ratification of the 19th Amendment, giving women the right to vote in time to participate in the Presidential election of 1920. It had taken more than seven decades to achieve this breakthrough, starting with the Seneca Falls Convention in 1848, the first major women's rights convention held in America.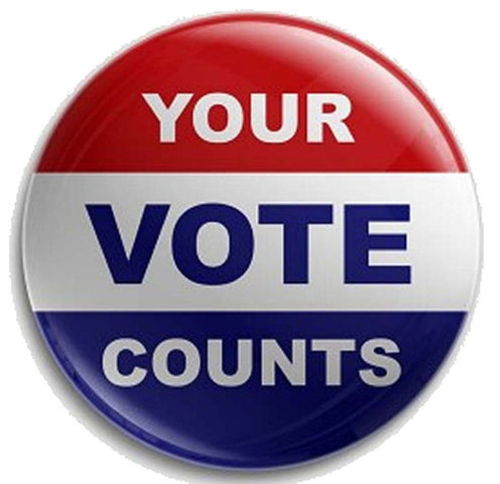 The 26th Amendment, ratified in 1971, required all states to set a voting age no higher than eighteen. Kentucky had already done that in 1955, once again being on the cutting edge of change.
Issues continue to surface regarding who can or cannot vote; issues like requiring photo IDs, denying convicted felons who have served their time, limiting methods of registering, etc. But by and large, in my opinion, the greatest issue is voter apathy.
Over the last eight presidential election years, less than 65% of registered Kentucky voters have bothered to go to the polls on election day. In the best of those years, 1992, one in four registered voters skipped the election.
So, as you get ready to grill the burgers and shoot off the fireworks on this 240th anniversary of our Declaration of Independence, please take a moment to remind yourself of how important it is to cast your vote this coming November.
---
Copyright 2016 by Charles Hartley, Shepherdsville KY. All rights are reserved. No part of the content of this page may be included in any format in any place without the written permission of the copyright holder.
---