Bullitt County's Traffic Lights
The following article by David Strange was originally published on 3 Apr 2016.
---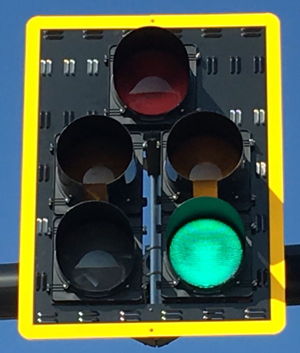 I vaguely remember a time when there were only three traffic lights in all of Bullitt County. Charlie Long tells me that the first was a simple red-only flashing stop light in Shepherdsville at Highway 44 and Highway 61 in the heart of town. Shortly after that came a similar light in Mt. Washington at 44 and the old Bardstown Road that flashed red in one direction and yellow in the other. Steve Masden tells me that the yellow flashing light in Lebanon Junction has been there since at least the mid-1950's.
Ah, but how times have changed.
When I was a child in the 1950's and 60's, the population of Bullitt County was a sleepy 15,000. Today it is a bustling, industrious county of nearly 80,000.
But for some reason, I have a vivid childhood memory of sitting in the back of my Dad's 1958 black Chevy station wagon and watching that single flashing red light hanging in the center of Shepherdsville. I think of it often as I drive along the busy roads of today.
On a whim, sometime in the 1990's if I recall correctly, I drove around the county and counted all the traffic signals then in place. If memory serves, I counted 86 individual signals at about a dozen locations. I did that again this month and counted 300 signals at 34 locations.
Three Hundred. What a change in old Bullitt County. 300 lights, not counting railroad signals or school lights, with more lights coming. That need is especially understandable on roads such as Highway 44 which carries over 100,000 cars a day on a road not much wider in places than when it was gravel.
Bob Cline tells me that early versions of traffic lights were designed with a simple two-bulb arrangement, with a red lens at the top in one direction and green in the other, and the reverse below that. One light bulb at the top would come on, lighting both a red and a green, and then switch to the lower bulb, that did the opposite. But people who were color-blind could not see which was which, so traffic lights evolved into the red-on-top, red-yellow-green standard that is familiar to us all today.
By the way, did you know that Garrett Morgan, who invented the three-position traffic signal, was from Paris, Kentucky? He also invented the gas mask.
Thank goodness for traffic lights. Though they can drive us crazy, they have prevented a lot of accidents, and even some fights. I'll tell you something about traffic fights next week.
Meanwhile, for what it's worth, here is a list of the results of my personal traffic-light study of Bullitt County.
Traffic Lights in Bullitt County March 2016
(Not counting railroad warning lights, school lights, etc.)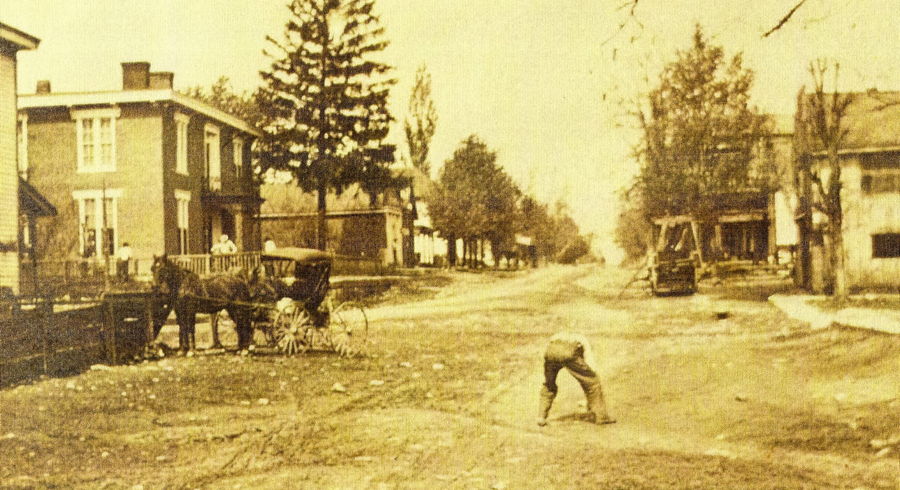 Mt. Washington before lights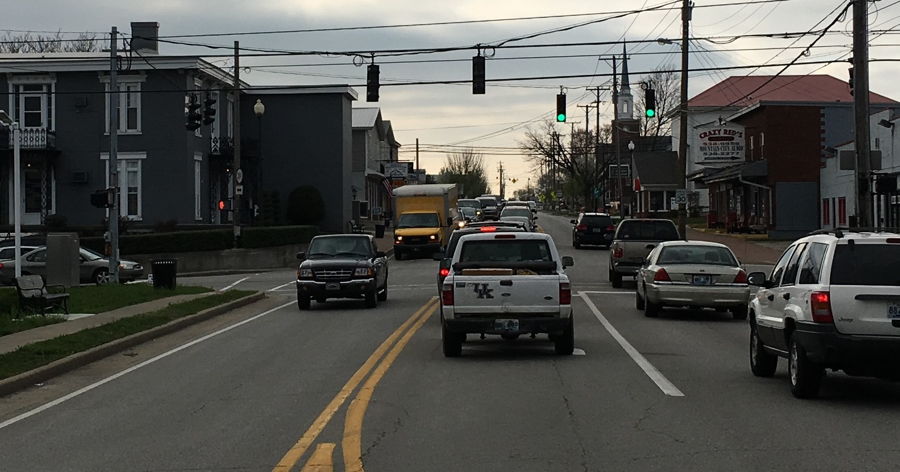 Mt. Washington with lights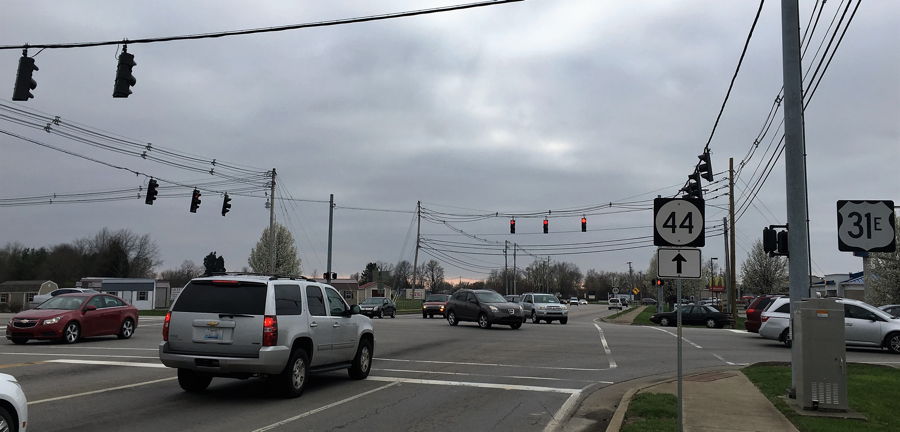 Mt. Washington By-pass
Preston (Highway 61)
Bullitt/Jefferson Line to Lebanon Junction:
Hillview Woods Parkway
10
Hillview Blvd.
10
Old Preston Highway
10
Tanyard Springs
10
Summit Drive
10
Zoneton Fire Dept
6
John Harper
13
Hebron Lane
10
Highway 44
12
Second Street (Shepherdsville)
8
Oak Street, Lebanon Junction (flashing yellow)
8
Then there are these:
Burkland Blvd & Old Hwy 61
4
John Harper and Blue Lick
12
North I65 Brooks Ramp
8
South I65 Brooks Ramp
8
Brooks Hill Road & East Blue Lick
8
Brooks Hill Road & 1020 (flashing red)
8
Hwy 245 ramp at I65
8
Hwy 480 (Cedar Grove Road) I65 South
10
Hwy 480 (Cedar Grove Road) I65 North
9
Hwy 480 (Cedar Grove Road) at Omega Pkwy
11
Hwy 44 & Hester St
10
Hwy 44 & Adam Shepherd Pkwy
12
Hwy 44 & I65 west (south) ramp
8
Hwy 44 & I65 east (north) ramp
6
Hwy 44 & Armstrong Lane
10
Hwy 44 & Branham (flashing yellow)
4
Hwy 44 & North (Old) Bardstown Road
8
Hwy 44 & 31E (Mt. Washington Bypass)
13
31E (Mt. Washington Bypass) & North Bardstown Road
8
Bardstown Road & Oakbrooke Drive
10
North Bardstown Road & East Lakeview
6
North Bardstown Road & Meadowview
8
North Bardstown Road & Evans Lane (flashing yellow)
4
---
Copyright 2016 by David Strange, Shepherdsville KY. All rights are reserved. No part of the content of this page may be included in any format in any place without the written permission of the copyright holder.
---