A History of Shepherdsville's Oldest Building
The following article by Charles Hartley was published on 14 Aug 2016.
---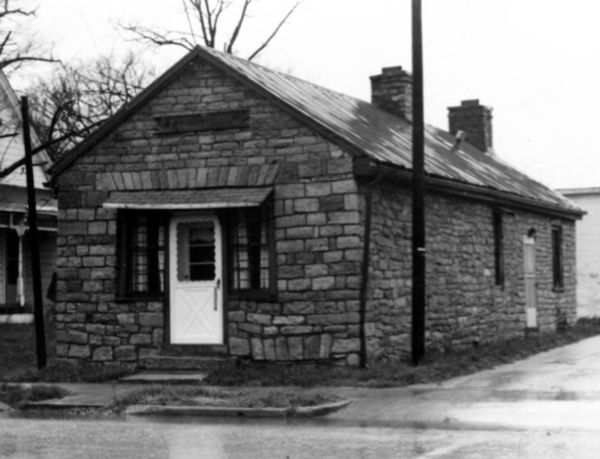 Photo taken in 1984.
For as long as I've been in Shepherdsville, and longer by far, the stone building that presently houses the First Bank Beauty Salon has traditionally been considered the oldest bank building in town.
Now tradition is a fine thing, but sometimes it misses the mark. Certainly the building's thick stone walls suggest its use as a financial institution, and its permanence as surely the oldest remaining building in the original bounds of Shepherdsville give it a unique history.
But the first bank in town, it likely was not. We know of at least one bank that existed as early as 1818 when William Jewell sold his brick medicine shop building, located where Ridgway Library now sits, to the Bank of Shepherdsville whose president was John Reed, with William Simmons, Richard P. Simmons, Nathan Miles Jr., Nathan Harriss, Jacob Bowman, William Jones, John Grayham, and Thomas Q. Wilson, as directors of the Bank. Alas, that bank appears to have lasted no more than a few years.
Actually we are even uncertain when the stone building was constructed. In an effort to learn more about it, we've examined the deeds granted for the lot where it stands, beginning with the first sale from the trustees of Shepherdsville to John Scott in 1797. Scott purchased the northern half of what was then called lot #5 (later renumbered as #56), "being that half whereon said Scott lives." So as early as then there was some kind of structure there.
However, when John and Anna Scott sold the property to their son, John Jr. a year later, the deed indicated that it included the "cabin" they lived in.
When John Jr. sold the property to Francis W. Thomas in 1813, the deed made no mention of a specific building existing there. Nor was any mentioned when Thomas sold it to John Burks two years later.
Francis, who had married Sally Crist (daughter of Henry Crist) in 1805, sold the place to John Burks Jr. in 1815. Once again, no mention was made of a specific building. Nor was any mention made when Burks sold it to Seth B. Thornsberry the next year, or when Seth sold it to Daniel Thornsberry in 1817.
Daniel sold the property to Abraham Field Jr. in 1821, and at that time there was still no mention of a stone building.
We've written about Abraham Field before. As a young man, he worked at Mann's Lick, hired by David Ward to drive a horse around a salt-well sweep. With what money he had saved, and Ward's endorsement, he went into the merchandise business in Shepherdsville. It is likely that his business was located on this lot.
He was said to have retired in 1849, having accumulated a handsome property which included several lots in Shepherdsville, as well as property in Louisville. When he wrote his will in 1852, he decreed that all his real estate was to be divided up amongst his five children as they saw fit. It appears they did so amicably for a deed was recorded in 1856 which did so. In it, his son Richard H. Field received "the stone store house and brick office" sitting on the property we've been following.
So, it is almost certain that the stone building was constructed by Abraham Field sometime between 1821 and 1849 when he retired from business.
He obviously used it as a store building, but was it ever a bank? More specifically, was it ever a branch of the Bank of the Commonwealth of Kentucky as suggested by tradition? Well, that bank was established by the General Assembly in November 1820, and by 1840 commissioners had been appointed to close the Shepherdsville branch. These dates correspond with the time that Abraham Field was in business in Shepherdsville.
So, we can't yet say with certainty that the bank was not located in Field's establishment, but neither can we say that it was. Perhaps additional research will answer that question.
As for the building itself, we know that Richard Field sold the stone house to B. F. Caldwell, perhaps during the Civil War while Field was serving in Frankfort as a legislator. Caldwell died before the end of the war, and his son J. D. Caldwell sold it to his brother-in-law, John Isaac Rickerson in 1871. At that time B. F. Caldwell's widow Margaret was living in it.
Rickerson continued to own it until his death in 1925. He likely rented it out when possible, but we don't yet know who the tenants were. Following his death the building and lot came to his daughter Olivia Pearl Lee. We know that she had it fixed up and rented it to the Robert Hardy family in the latter part of the 1930's.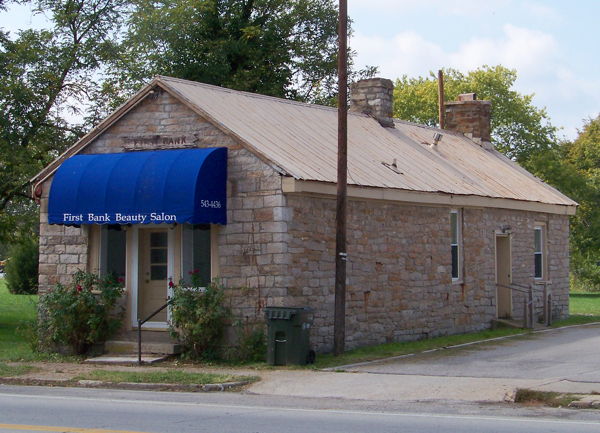 In 1955 the Lee family sold the stone house and lot to Forrest Barger. The Rickerson-Lee family had owned it longer than anyone else - 84 years.
Forrest and Sarah Fern Barger sold it to Jean Hatzell in 1969, and she operated her bookkeeping and tax service there until she was elected Circuit Court Clerk. She sold it to Charles and Mary Hamilton and Burlyn and Jean Pike in 1983. It was added to the National Register of Historic Places in 1986.
In recent years the old building has taken on a new life as the home of a beauty salon currently operated by Jamie Cromer.
General store, home, bookkeeping service, beauty salon, and maybe even an old bank, this grand old building has been a lot of things, and is likely to witness many more years of change in this fine old town.
---
Copyright 2016 by Charles Hartley, Shepherdsville KY. All rights are reserved. No part of the content of this page may be included in any format in any place without the written permission of the copyright holder.
---