A Stansbury Family Legacy
The following article by Charles Hartley originally appeared in The Courier-Journal on 5 Oct 2014. It is archived here with additional information for your reading enjoyment.
---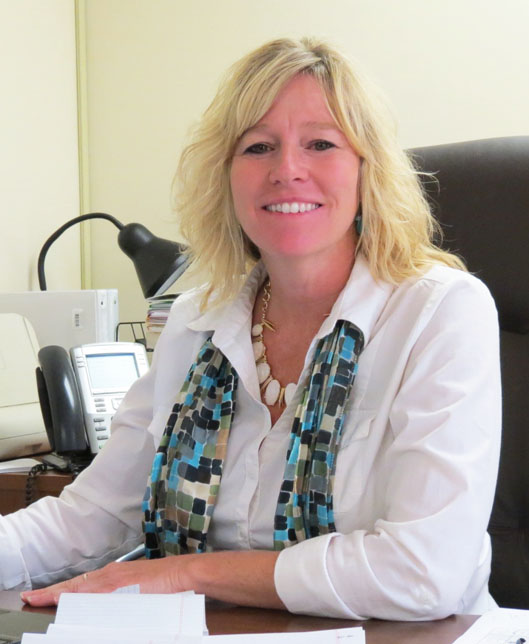 Christy Coulter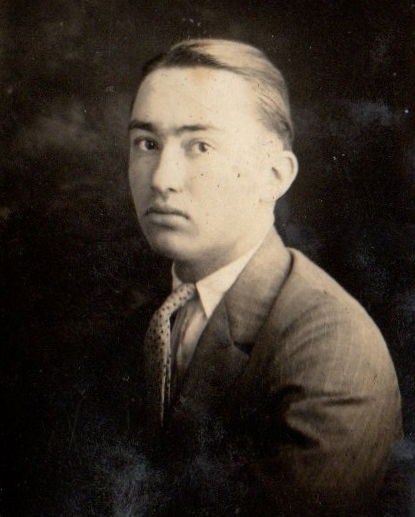 Edgar Stansbury in high school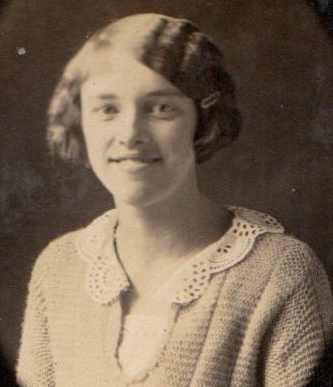 Christine Stansbury in high school
Sometimes it's just amazing how one generation's choices can inspire the generations that follow. Just ask Christy Coulter. Today Christy is Director of College and Career Readiness and Innovative Programs for the Bullitt County School System, but much of her life has centered around Bullitt Central High School where she has been a student, teacher, coach, and principal.
But to really appreciate her choice of careers, you have to step back three generations to the family of Emmett and Mabel (Bell) Stansbury.
Emmett married Mabel Bell on Christmas Eve, 1901, and together they had four children: Edgar, Christine, Myrtle Ruth, and Blanche. While Emmett farmed the land, as his father and grandfather before him, he and Mabel had other plans for their offspring.
Across the river in Shepherdsville was a school led by Professor Jack Sanders. This is where Emmett and Mabel's children would be educated. Professor Sanders said that every student should finish high school, and college if it could possibly be arranged. He believed that the main purpose of education was to develop good citizens, and the Stansburys were one of many families who believed in what the professor said.
Edgar, who was fondly nicknamed Dooley by his classmates, graduated in 1926, and soon afterward enrolled at Western Kentucky Teacher's College in Bowling Green. An outstanding athlete, he played and lettered in three sports at Western. Indeed, a whole article could be written about his accomplishments at Western, in the military, and as a businessman. After graduation, he returned to Western as a coach before enlisting in the military, and serving in the European and Pacific theaters and the Pentagon. After a short return to WKU following the war, he re-enlisted and served until his retirement in 1961. He then entered the business world with considerable success. When he died in 2009 at the age of 103, he left endowments of more than a million dollars to fund scholarships at WKU.
Each of his sisters graduated from high school, and two, perhaps inspired by their own teachers, became teachers as well.
Christine Stansbury graduated from high school in 1927, and almost immediately started teaching, first at the Clermont school, and then at Beech Grove and Bardstown Junction, before moving to the Shepherdsville school, and finally to Roby Elementary where she retired. In those days, a teacher could begin teaching right out of high school, provided they passed a test. This was what happened with Christine and her sister Myrtle Ruth after her.
Christine was determined to get her college degree, and spent summers taking classes toward that goal. She married Pat Cruise in January, 1931, and they had two children, Jimmy and Patty Ann.
Her sister, Myrtle Ruth Stansbury also taught at Beech Grove, and later at the Pleasant Grove school before moving to the Mt. Washington school. She married Stanford Harris and they had a daughter, Donna who provided the family picture you see below.
Their sister Blanche Stansbury, after high school, married Jimmy Moore and they were living in Frankfort, where both worked. Blanche had an operation and did not recover from the anesthesia. This was two years after the death of their mother.
Both Christine and Myrtle had long, distinguished careers in education. But it was Christine who played the greatest role in encouraging her granddaughter to become a teacher. Christy recently talked about her grandmother. "College was a requirement and stressed early on for me and teaching was my clear focus. I remember playing school for hours upon hours, she was a huge influence."
Christy shared, "Every class I had would start with, 'Are you Christine Cruise's Granddaughter?' I was so proud!" And the legacy continues with Christy's son who is majoring in education in college. Emmett and Mabel would be proud to know that what they started has borne such fine results.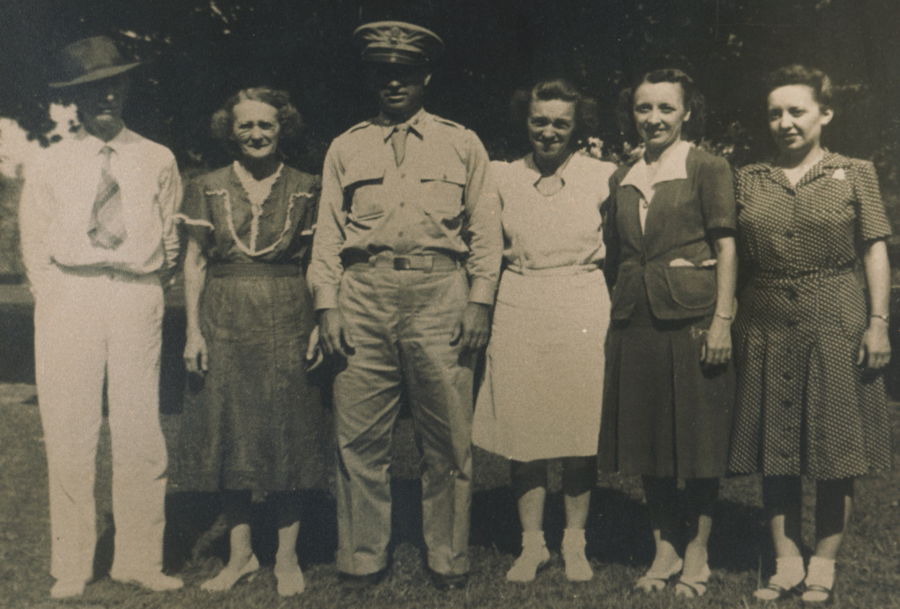 The photo is courtesy of Donna Stout, daughter of Myrtle Ruth Harris. Pictured in it from left to right are Emmett Stansbury, Mabel Bell Stansbury,
Edgar Stansbury, Christine Stansbury Cruise, Myrte Ruth Stansbury Harris, and Blanche Stansbury Moore. The picture was taken in the early 1940's.
---
Copyright 2014 by Charles Hartley, Shepherdsville KY. All rights are reserved. No part of the content of this page may be included in any format in any place without the written permission of the copyright holder.
---