A Serious 1882 Train Smash Up
The following article by Charles Hartley was published on 8 May 2016.
---
In the early 1880's, life was complicated enough for a railroad engineer hauling freight though Bullitt County. Coming from the south he had to be aware of potential slowdowns or stops by other trains at eight different places, beginning at Lebanon Junction and continuing northward past Belmont, Bardstown Junction, Salt River, Shepherdsville, Gap-in-Knob, Hubers, and Brooks.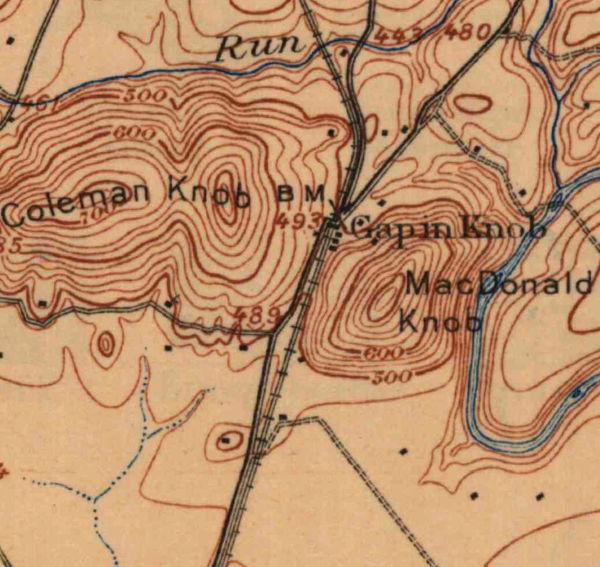 Gap in Knob area in 1907.
Trains were supposed to run on schedule, but often didn't for one reason or another, so each engineer had to be especially alert for potential problems. He knew of one particular stretch, just north of Shepherdsville that required him to increase his speed to climb about 60 feet in less than a mile to reach the curve at Gap-in-Knob, a small station appropriately named as it sat in the gap between two knobs.
Such was the case for Engineer George Sullivan Minott, as he piloted his freight train on the morning of October 21, 1882. Trailing his locomotive were freight cars filled with corn, cotton, and Georgia pine logs, a heavy load. He had just crossed the Salt River bridge and run past the depot at Shepherdsville, and his mind was on gaining enough speed to reach the approaching gap.
Minott lived in Louisville on Twelfth Street with his wife Kate, and their four children, George Jr., Anna, Edna, and baby Charles who was just four months old. After a long haul homeward, he was anxious to reach Louisville.
The tracks north of Shepherdsville were straight until they reached the Gap, and with his heavy load, Minott instructed his fireman to give him more speed. Just then, he spied a team of mules on the tracks ahead. There was a gap in the trees that lined the track where farmers could move teams and equipment from one field to another.
Even as Minott reached to apply his brakes, he knew he could never stop in time.
The train struck the mules, tossing them aside, dead before they even hit the ground. But the impact caused the locomotive to leave the tracks. It ended up fifty yards from the tracks in a corn field, with its many cars trailing it. The locomotive was completely demolished and the cars were total wrecks. The corn, cotton and pine were scattered all over the place.
There had been five men on the train: Minott, the engineer; Charles Cameron, the brakeman; the fireman who was only identified by his first name, John; and two hobos who were stealing a ride on the train. The hobos escaped injury despite being thrown from the train. The most miraculous escape of all was that of the fireman who went over with the engine, and was in the worst of the wreck, but came out without the slightest bruise.
Another man, Mr. McClintock, the road-master, had gotten on the engine at Bardstown Junction, with the intention of coming into Louisville, but, looking at his watch, said he would wait to get his dinner and catch the next train, which he did. He thus avoided the accident.
For quite a while the brakeman, Charles Cameron, was the only injured man found. He was cut on the head and badly injured on the thigh and hip joint.
Dr. George W. Griffiths, the railroad's surgeon, went immediately to the wreck in a special car. He dressed Cameron's injuries, and ordered him to St. Mary's and Elizabeth's Hospital. Griffiths didn't regard Cameron's injuries as necessarily fatal, but thought they were very serious. We've not been able to learn if he survived his injuries.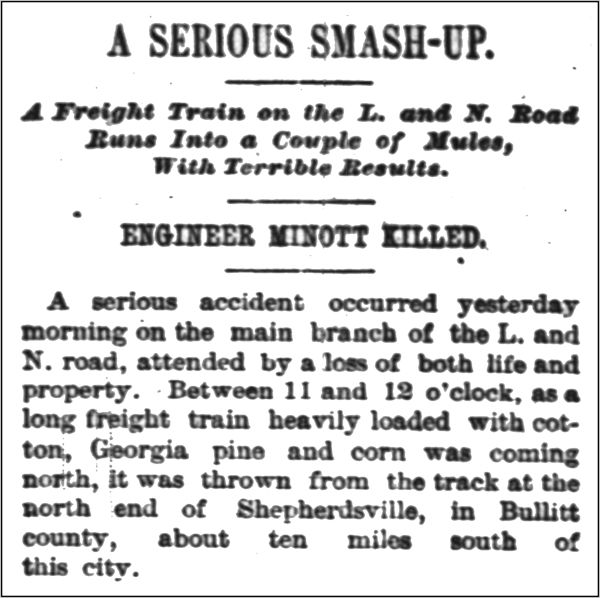 Courier-Journal
headline, 22 Oct 1882
Meanwhile the search for Minott discovered him crushed in a shapeless mass under his engine. He was lying on his face with the back part of his skull crushed, his legs and arms were broken and the entire body was mangled. His life had ended just four days past his 33rd birthday.
George Minott had married Katie Croak in 1875 in Louisville. She was the eldest daughter of Thomas and Bridget Croaker. The family had shortened their name prior to Katie's marriage. Thomas Croaker was an Irish blacksmith who had died just three months earlier.
Now Katie was faced with the task of rearing four children, all six-years-old or younger, without the benefit of her husband or her father. We know that she sued the railroad the following Spring, but are not sure what became of the suit.
Kate Minott never remarried. Of her children, George Jr. was a traffic manager for Hearst Newspapers in San Francisco when he died in 1934. Anna married twice, first to William Slattery in 1906. William died in 1919, and Anna next married Captain Clayton Allen in San Francisco in 1922.
Edna Minott married Frank Carothers in 1913. They had three children: Robert, John, and Katherine. Her son John Carothers was a First Lieutenant in the Air Force who lost his life during World War II.
George and Kate's youngest son Charles Minott began his career as a linotype operator for The Courier-Journal. He worked as a printer and typesetter for various news publications around the country. He and his wife Anna spent time in Duluth, Minnesota, New York City, Phoenix, Arizona, and Colorado Springs where Charles died in 1934.
Katie Minott lived with her daughter Edna's family in her later years. When she died in 1945 at the age of 95, she was buried at Cave Hill, next to her husband; together again after 63 years.
---
Copyright 2016 by Charles Hartley, Shepherdsville KY. All rights are reserved. No part of the content of this page may be included in any format in any place without the written permission of the copyright holder.
---