Woodrow Masden
The following article by Charles Hartley originally appeared in The Courier-Journal on 29 May 2013. It is archived here with additional information for your reading enjoyment.
---
I first met Woodrow Masden when he sold me his house. So, when I came across his name recently as a teacher at the Cane Run school near Lebanon Junction in 1935, I was curious to know more about him. Fortunately, I was able to make contact with two of his children, and they graciously agreed to share their memories of their parents with me. Then I also found a short "memories" piece that Woodrow himself wrote about growing up on a farm down Pitt's Point Road. Together with other bits and pieces that I've learned, I've come to know Woodrow better, and I'd like to share a bit of his life with you.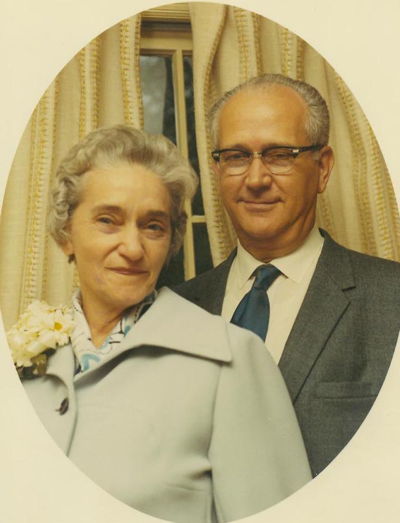 Woodrow and Nancy Masden
Woodrow's Bullitt County heritage goes back to his great-great grandfather, James Masden, a Pennsylvanian who found his bride here in Bullitt County, marrying Elizabeth Howlett in 1811. Two generations later, John Mackelvany Masden, known to family and friends as Mack Masden, married Elizabeth Roby and they had a son they named Leslie who married Isophane Porter. They were Woodrow's parents.
Late in life, Woodrow, who was born in 1912, recalled growing up on the farm down Pitt's Point Road. Among his memories, he recalled watching his mother washing clothes in the back yard. As he tells it, "I can see her now, with a fire under a large 20-gallon iron kettle. There were three wash tubs on a long bench, one for washing and two for rinsing. There she was, pushing up and down on a wash board with each garment in the soapy water. She didn't like the hand-crank wringers of the day. She would wring each piece by hand. Then after rinsing the garment in two tubs, she hung the garments on a nearby clothes line to dry in the hot summer sun. It was quite an art to hand-wring a large bed sheet."
He also recalled traveling five miles to school in Shepherdsville in a buggy pulled by a hard-mouthed old mule named John. On the way John kept trying to turn back, making it hard for a young boy to keep him on the road. Woodrow remembered, "After school, it was a different story. John was ready and willing to head for home at a fast pace. Most of the time I didn't need to hold the lines. John knew the way."
More of Woodrow's remembrances may be found on another page.
Although the family had a Model-T Ford, it generally stayed in the garage during the winter months as the road out was usually muddy and full of ruts. Travel was usually by horseback or buggy.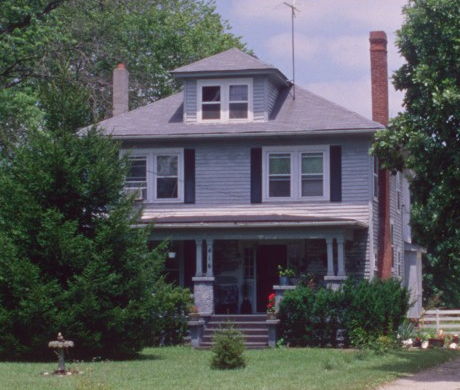 Leslie Masden Family Home
Late in 1920, Leslie Masden purchased a farm of one hundred acres on the edge of Shepherdsville, and the family soon moved to this new location. The farm sat between Blue Lick Road and the Bullitt's Lick Road, Highway 44 West today, and included the land where Bullitt Lick Middle School sits.
Woodrow liked school, and the move to town made it easier to get there. Fortunately for him, it was also the era of Professor Jack Sanders as the school's leader. As we have noted before, Sanders made numerous improvements at the Shepherdsville school that greatly benefited students like Woodrow.
After he graduated from high school, Woodrow enrolled at the Western Kentucky Teacher's College in Bowling Green where he earned his teaching certificate. We think his first teaching job was as the teacher at the Cane Run School I mentioned earlier.
We know that he was teaching at Nichols Elementary School in the 1940's for that is where he first met Nancy Rowland. After they married, both moved to the school at Shepherdsville where he taught fifth grade and she taught second grade in the same schoolhouse where he had graduated. From there they took jobs in Jefferson County because the pay was better.
Their son recalls that Woodrow continued to work the small farm, and to make ends meet he hired out during the summer to bale hay and help others bring in their harvest. At the end of school in the spring, Woodrow would have to borrow money to tide them over during the summer, and then pay the debt in the fall with what he had earned with farm work. Later, Woodrow set part of the farm aside for houses and developed Masden Acres on it.
The family got their first boat in 1957. They named it Blue Smoke and used it to enjoy the waters of Lake Cumberland as often as possible. Over the years their summer days were often spent on the water.
About 1961, Woodrow was hired as the new principal at Nichols. Then about 1967 he took the principal's job at Roby Elementary where he stayed until his retirement.
Woodrow joined the local Lion's Club early on and spent fifty years in the organization. He also served as a 4-H leader, a boy scout leader, sponsored the school safety patrol, and was an active member of the farm bureau. He was also past president of the Bullitt County Retired Teachers' Association and former president of Bullitt County Bank.
He and Nancy reared their children in the Christian Church where both were very active. Their three children, nurtured in a home that valued education, each became successful in their own way. Their eldest, Ronald, was a prominent cardiologist before his death in 2004. Dann is a minister in the Christian Church; and Penny is an educator, turned realtor.
As Woodrow Masden approached the end of his long life of more than ninety years, he could look with satisfaction on a life well spent touching the lives of others in lots of good ways. A good example for us all.
---
Copyright 2013 by Charles Hartley, Shepherdsville KY. All rights are reserved. No part of the content of this page may be included in any format in any place without the written permission of the copyright holder.
---