Levi Magruder's Family
The following article by Charles Hartley was published on 10 May 2015. It is archived here for your reading enjoyment.
---
In the 1850 census, there were 35 people in Bullitt County bearing the name Magruder, 29 of them direct descendants of Archibald and Cassandra (Offutt) Magruder, and the other six married into the family. And that doesn't count the many daughters and their families including a passel of Troutmans descended from Eleanor Magruder who married Abraham Troutman, or Ursula Magruder who married Jacob Troutman. If there is one thing that could be said about Archibald's offspring, they were prolific.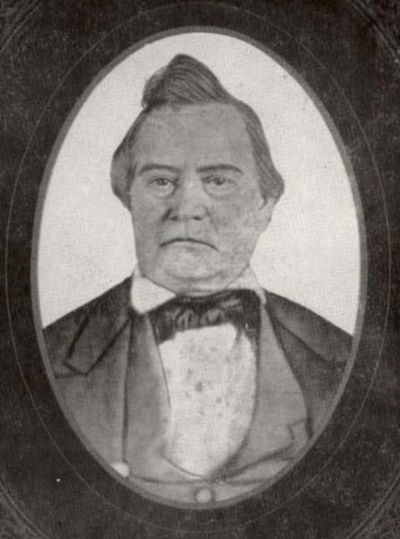 Levi Magruder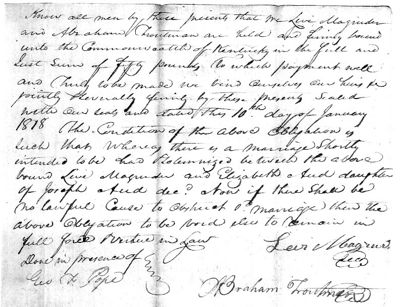 Magruder-Aud marriage bond
Altogether, there were six Magruder households in the county that year. They included Archibald's sons Ezekiel and his family, Levi and his family, and Archibald Jr.'s family (he had died the previous year). And then there was William Magruder, son of Ezekiel, and his family; Archibald F. Magruder, son of Levi, and his wife; and Arche Magruder, son of Ezekiel, and his wife.
Archibald Sr. himself would make an interesting topic, or practically any one of his offspring for that matter, but today we will devote our space to his second son, Levi Magruder, shown in the picture here.
Technically, Levi was born in Nelson County in March 1796, but not many months later, his home became part of the new Bullitt County. He was 21 when he and his cousin Abraham Troutman obligated themselves to the state for fifty pounds on a marriage bond for his forthcoming marriage to Elizabeth Aud, daughter of the deceased Joseph Aud of whom I wrote previously. This would be the first of three marriages for Levi that produced a total of 22 children.
When Joseph Aud died in 1815, the farm was divided with the widow Ann receiving her one-third dower share, and the remainder going to the children, all of whom were minors at the time. Thus the widow Ann Aud continued to oversee the entire farm.
Following Elizabeth Aud's marriage to Levi Magruder, it appears that she and Levi moved in with her mother, and Levi assumed responsibility for managing the Aud farm.
He and Elizabeth wasted no time in starting a family, and by 1830 they already had seven children, four girls (Letitia, Elmira Jane, Elizabeth Zurilda, and Mary) and three boys (Archibald Ferdinand, James Commodore Perry, and William).
Elizabeth's sister Ann Aud had married Philip B. Troutman in 1817, and her other sister Mary Eliza married Henry C. M. Cartmell two years later. The last of the Aud siblings, Ignatius married Nancy Leewright in 1827, leaving the farm as well.
In March 1830, Elizabeth's siblings sold the farm to Levi Magruder for a thousand dollars. This included the entire 304 acres, minus two acres set aside for the St. John's Chapel and cemetery. Of course, Ann Aud was still living, so she was still entitled to her dower share.
Then, in 1831, Levi Magruder petitioned the County Court to have Ann Aud's dower portion of the farm remeasured to establish exactly what its boundaries were. Thus, when Ann Aud died not long after this, the entire farm was settled in the hands of Levi and Elizabeth.
Levi and Elizabeth had four more children, three boys (Levi Troutman, Joseph Felix, and Francis Marion Ignatius) and a girl (Verlinda). Francis Marion Ignatius Magruder, who was born in March 1839, would not remember his mother, for she died less than three months later.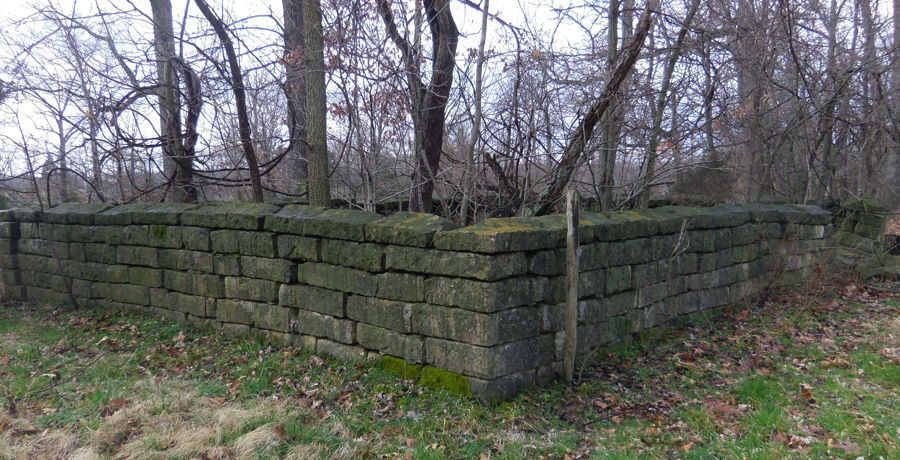 Magruder Cemetery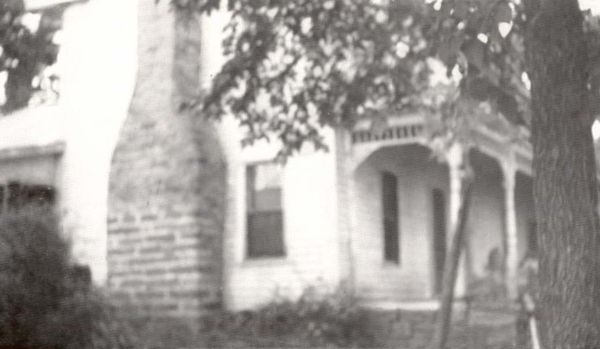 Aud-Magruder Home
Levi, who was a protestant and a mason, knew that he could not be buried in the Catholic cemetery, so he laid out a separate one outside the bounds of the Catholic cemetery. He had it surrounded by a rock wall, as you can see in the picture shown here.
In the Fall of 1841, Levi married Catherine Brown. He was 45, she was 25, but had already been married twice and brought three daughters to the marriage. Born Catherine Ann Elizabeth Straney on Christmas eve, 1815, she married Richard Simmons in March 1831, and they had two daughters, Elizabeth and Mary. He died in 1839 and she married Ignatius Brown that same year. They had one daughter, also named Elizabeth but called Bettie, and then Ignatius Brown died in March of 1841.
Levi and Catherine also heeded the call to be fruitful and multiply, producing eight children, six boys (George Riley, David Anderville, Ezekiel Monterville, John T., Sexton P., and Henry Harvey) and two girls (Melvina Catherine and Rhoda Rogenia) between 1843 and 1858. Rearing Levi's earlier children and her own took a toll on her, and she died in January 1863.
A year later, Levi married again, this time to Mary Straney who was 31. Mary, who was apparently Catherine's younger sister, had been living with the Magruders since at least 1860.
Levi was now approaching his 68th birthday, but he was not yet finished. He and Mary would have three sons (James Frank, Albert S. J., and John Levi) before Levi died in May 1868.
Quite an accomplishment, I'd say.
The Aud-Magruder home remained in the family for several generations, and as late as 1956 was still occupied by Mrs. Duke Manakee (Mattie E. Magruder), daughter of Ben Magruder (1852-1943), granddaughter of Archilbald Ferdinand Magruder (1822-1909), and great-granddaughter of Levi and Elizabeth Aud Magruder.
However, aerial images of the area today show only what appears to be the faint remains of a foundation where I believe the house once sat.
All that remains today is the old cemetery where Levi and his kin rest in peace.
---
Copyright 2015 by Charles Hartley, Shepherdsville KY. All rights are reserved. No part of the content of this page may be included in any format in any place without the written permission of the copyright holder.