Lebanon Junction High School Senior Class - 1937
The following article by Charles Hartley was originally published in two parts on March 20 & 27, 2016.
The two parts have been combined here.
---
Sometimes when I come across an old group picture in our museum's files, I wonder what in their lives brought these people together, and what became of them afterward. Often these pictures present us with faces frozen in time with no names to identify them. But sometimes we're lucky, as in the case of this picture of high school seniors of the 1937 class at the old Lebanon Junction School. Thanks to all those who have commented, and especially Steven R. Masden Sr., Lebanon Junction's local historian, we have identified each of the students in the picture shown below.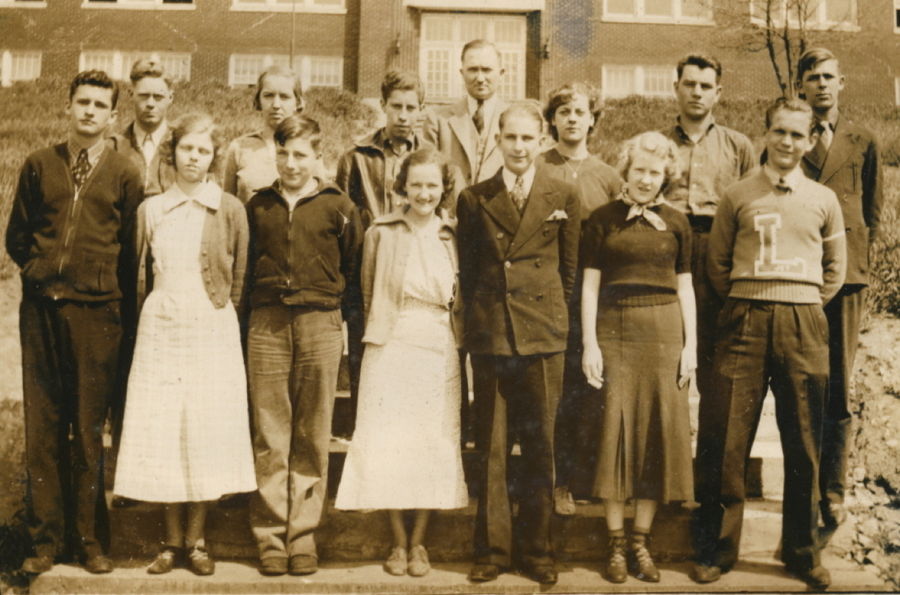 Front row, l. to r.: Fred Bryant, Lucille Judd, Dewey Simmons, Helen Mitchell, James Mattingly, Lillian Ruth Horn, and Leslie Hornback;
back row, l. to r.: Lamont Berry, Naomi Perkins, J. L. Thompson, C. E. Burkhead (class sponsor), Dorothy Thomas, J. L. Booth,
and Howard Daugherty; not pictured: Mary Roberts Ferriell.
Let's talk about the girls first, and then we'll get to the guys.
We'll start with Mary Roberts Ferriell who served as photographic editor for her school annual. Unfortunately she is not in this picture. Her parents were Eugene and Lillian (Price) Ferriell. Eugene was born in Harrodsburg, and Lillian in Athertonville, a small town between Hodgenville and New Haven. They moved to Cleveland, Ohio, where Eugene worked for a time as a motorman for the Cleveland Railroad Company. Mary was born there. By 1930 they were back in New Haven where Eugene was a barber. Mary appears to be one of several attending the Lebanon Junction school who did not live there. Following graduation, she married Dawson C. Logsdon, a local railroad maintenance worker living in Lebanon Junction. By the 1940 census, they had a daughter.
Lillian Ruth Horn was the annual's extra-curricular editor. She grew up in Irvine, Kentucky before moving to Lebanon Junction sometime in the early 1930's. Her parents were William and Dovey (Sample) Horn. William was a longtime engineer for the railroad. After Lillian graduated, she joined her older sister Bessie, working at the St. Francis Hospital in Cincinnati. As the story goes, the usual gathering place after work was the Queen Bee - a family oriented tavern in the neighborhood. And it was there that Samuel Fekete chanced to spot this "beautiful platinum blond." Samuel was originally from Cleveland, but was then working as an orderly at St. Francis. As a daughter told me, "he introduced himself, and sat down; and that was the beginning of their love story."
Catherine Lucile Judd was secretary-treasurer of her senior class, and editor of the Junior Class page. Her parents were Davy and Mary Althea (Peak) Judd. They lived on the family farm in northwestern Hardin County along the road to Pitts Point. By 1940, Lucille was married to James Burton Reesor, and they were living with her parents. They were living in Nelson County on their own farm when Burton, who was but 29, died in 1948 of cancer.
Helen Drusilla Mitchell was one of six daughters of Albert and Georgia (Clark) Mitchell. Her mother died when Helen was four years old. By the 1930 census, Albert and his children were living on Gray Hill Road in that part of Hardin County destined to become part of Fort Knox. Helen, who joined the class in her sophomore year, was an especially good speller, placing second as a junior and first as a senior in the County Spelling Bee. She also was art director for the annual and senior class vice-president. In the fall, after graduation, Helen married James Mattingly, a classmate.
Naomi Perkins was a daughter of John and Maggie (Ricketts) Perkins. John was a carpenter by trade. The family was living near Hobbs along the Clermont Road when Naomi was born. By 1930, they were living along the Lebanon Junction and Wooldridge Ferry Road. In school, Naomi was a reporter for the school newspaper for two years. We lose track of the family after graduation; but later Naomi married James Beeler in Colesburg.
Dorothy M. Thomas, a daughter of William and Vivian (Johnson) Thomas of Lebanon Junction, made her mark in school as a cheerleader, and editor of the grade school pages of the annual. Outside of school, she placed second in the county-wide beauty contest during her junior year. Her father worked for the railroad as a fireman, and as an engineer. Following graduation, Dorothy married John Clark Jr. of Lebanon Junction who also worked for the railroad. By the 1940 census, they were still living in Lebanon Junction, and had a daughter.
Now we will talk about the boys, listed below in alphabetical order.
James Lamont Berry was president of his junior class, and business manager for the school annual. His parents, Earl and Frona (Wise) Berry were living near Vine Grove when Lamont was born. By the time this picture was taken, they were living along the road to Pitts Point on their farm. Lamont enlisted in the army in 1942, and served for the war's duration. He served in an artillery battalion. He married Noelita Catherine Huffman following the war, and they had a son and daughter.
James Mattingly's father, James Henry Mattingly, was an automobile mechanic with a repair shop in Lebanon Junction. He and his wife, Catherine Eulalie Belle (Cox) Mattingly had several children including James and his younger brother Lloyd who would become better known as "Hog" Mattingly, and would become well-known for his models depicting early Bullitt County history. After graduation, James joined his father at the repair shop before the war. He would serve in the Naval Reserve as a Motor Machinist Mate. James married Helen Drusilla Mitchell, a classmate, and they had a number of children.
John Lee Booth played on the Lebanon Junction basketball team. He was born in Colesburg to William Lee and Ollie (Wise) Booth. Their farm was on the Pine Tavern Road. Following graduation, John joined the navy and made it his career. He served in World War II and the Korean Conflict, and reached the rank of Lieutenant Commander. He married Marguerite Lyle Drinkwater and they lived in Manteo, North Carolina. They had two sons.
Fred Bryant was president of his senior class, and editor of the school newspaper. Fred was a son of Fred and Lottie (Westerfield) Bryant. Fred Sr. worked for the railroad in Lebanon Junction. Following graduation, Fred Jr. married Dorothy Webb. He enlisted in the army in 1942 and served for the duration. Fred and Dorothy had a son and two daughters.
Howard Daugherty was the feature editor for the school annual. His parents were Howard and Vera (McNeil) Daugherty. Howard Sr. was a car repairer for the railroad in Lebanon Junction when young Howard was born. Following graduation, Howard moved to Louisville and went to work for Aetna Oil Company. Then, in August 1941, he joined the army. Later he married Vivian Leota Pfeffer, and they had a son. Howard worked for the oil company following the war.
William Leslie Hornback was an honor student, a member of the debating team, treasurer of his junior class, and a member of the school basketball team. His parents were William and Maude (Jackson) Hornback. William Sr. worked for the railroad in both Louisville and Lebanon Junction. Following graduation, Les attended Spencerian Commercial College, and then earned a law degree at the University of Louisville. He entered Special Agent's Training School at Quantico, Virginia in 1943. As an FBI Special Agent he served in various parts of the country including Louisville. He retired in 1974. He and his wife Dorothy had three children.
Dewey Lee Simmons was the youngest member of this class. He parents were Willie and Stella (Brumley) Simmons. We know that Willie Simmons was working as a freight loader for the railroad in the 1940 census. Dewey's mother taught school at various places in the county. After Dewey finished school he married Willie Mae Grant, and they had a daughter. Dewey entered the army in 1942. After the war we know that he was working as a press operator for the Peerless Manufacturing Company in Louisville.
John L. Thompson was a son of John and Carrie (Chambers) Thompson, a local farmer who donated the land where the school was built. John Jr. played on the school basketball team, was the business manager for the school newspaper, and the sales manager for the annual. After graduation, John attended the school of agriculture at the University of Kentucky. He married Lula Emeline Gardhouse in 1942. I also understand that he constructed the Knob View Golf Course on family land.
This remarkable group of young people endured the terrible flood of January 1937, and still managed to put together the school's first yearbook. It is a testament to their determination to succeed, along with the efforts of the school's faculty, that they managed to complete their education, and be successful in life. I appreciate the opportunity to learn more about them, and I thank you for allowing me to share their stories with you.
---
Copyright 2016 by Charles Hartley, Shepherdsville KY. All rights are reserved. No part of the content of this page may be included in any format in any place without the written permission of the copyright holder.
---