Bullitt Memories: The Lions Clubs, Part 3
The following article by David Strange was originally published on 29 Mar 2015. It is archived here for your reading enjoyment.
---
Last week, I wrote to you about three of the Lions Clubs in Bullitt County. Let me tell you this week about the other three. Well, two are Lions Clubs; the other is a special Lioness Club. I'll get to that in a minute.
The fourth Lions Club to form in the county was Zoneton North Bullitt, so named because it is based in the northern part of the county, near the area known as Zoneton. According to Bill Monhollon, perhaps the last active charter member, four members of the Shepherdsville Club, along with several other good people, wanted a club closer to their homes. So, in October, 1971, Zoneton North Bullitt was chartered.
For fundraisers, the club first began selling fruit cakes. In 1972 it started selling hot dogs and soft drinks, which led to an annual BBQ, which led to more food concessions, though much of that has faded now. The club has also sponsored some large events such as demo derbies & tractor pulls. Over the past two years the members have developed a large sports swap meet at the county fairgrounds.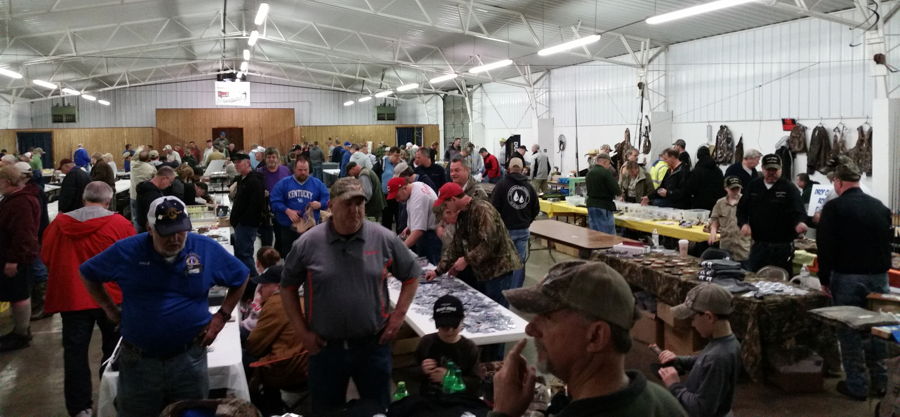 Recent Swap Meet
The club's biggest community support work has included providing eye glasses & exams for those in need, and supporting Lions Camp Crescendo and the Lions Eye Foundation. A few years ago, club members helped a child in need of a special medical procedure in China, and helped pay for a small school in Haiti.
Zoneton North Bullitt became co-ed in 2013 and currently has 38 members. It meets on the 2nd & 4th Monday at 6:30 at the Jack Taylor Lions Building, 201 Cathy Way.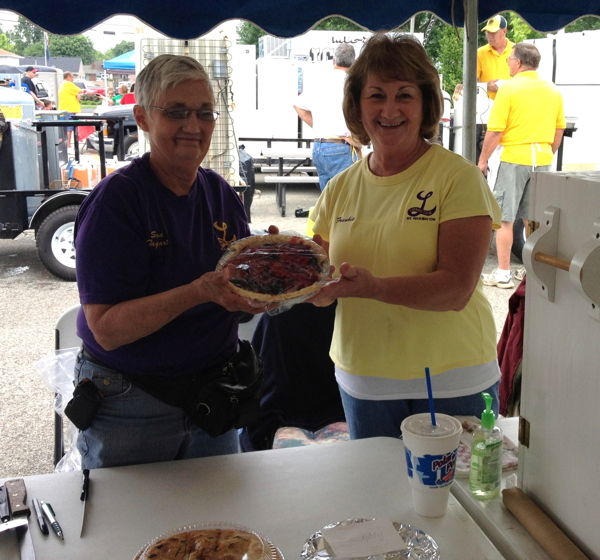 Lioness Club members selling pies at a recent town festival.
Now the Mt. Washington Lioness Club is an interesting case. It is the only Lioness Club in the county...by choice. The club, chartered May 3rd, 1988, is not just a ladies' auxiliary, but a club in its own right. The ladies often join forces with the all-male Mt. Washington Lions Club, but they often choose their own path as well. Activities include a chili cook-off and cake auction, Valentine "Sweets for Your Sweetie" Sale, and Spring & Fall festivals for the town, in cooperation with the Lions Club.
Community support projects include helping the family resource center for Mt. Washington & Old Mill Elementary Schools, providing children gifts at Christmas, donating to the Crusade for Children, and the Lions Eye Foundation. The Lioness Club also provides a $1000 annual scholarship, and sometimes helps with utility bills and other requests.
The Mt. Washington Lioness Club meets on the 1st Monday of the month at 6:30 at the Bill Breeden building.
The newest Lions Club in Bullitt County is the Crescendo Lions Club, which meets at Lions Camp Crescendo near Lebanon Junction. Chartered on June 27, 2008, this club's focus is the three summer camps held there for children with special needs such as sight and hearing impairment. To fund those activities, the club sponsors fun events such as its Zombie Fest and Zombie Walk at the LJ community center each October.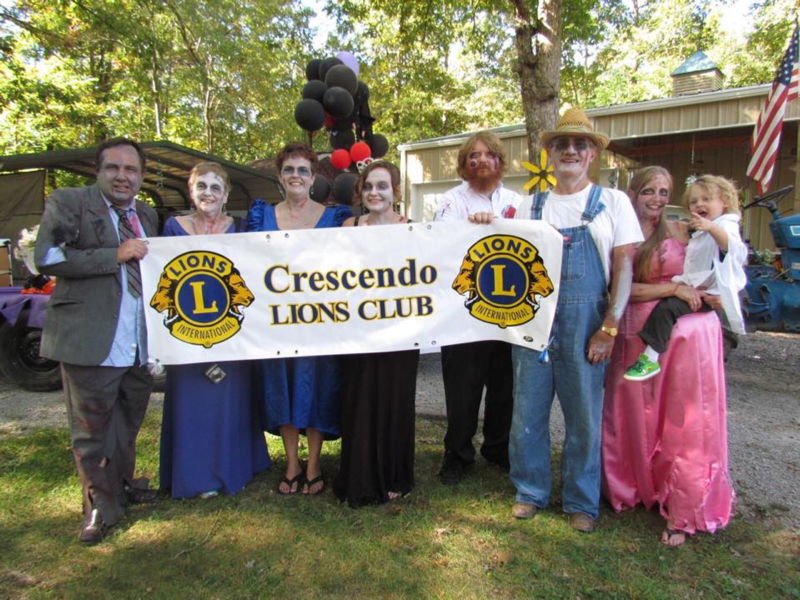 Crescendo Lions Club members 'dressed to kill' as Zombies,
as they promote their annual Halloween Zombie Walk.
The Crescendo Lions Club meets at the lodge at Lions Camp Crescendo on the 3rd Friday of each month at 7:00 pm.
Times have changed over the years for community service organizations like Lions Clubs. For example, providing eye glasses and other aid to fight sight impairment has been a primary focus of Lions Clubs from its inception. But government programs and generally better health awareness have diminished the need for local fundraising groups for this cause.
There are still countless local needs, of course, yet membership is declining in most service clubs that have traditionally helped fill those needs. Many Lions Clubs around the state are at risk of closing, as the LJ club did in 2011. I suppose it is indeed an indication of changing times. With both spouses working, careers, increased children activities, and a wider array of other organizations in which to be involved, traditional local community service clubs are struggling for members.
Such are the times. Such is the need. Whether it be Lions or some other organization, consider getting personally involved in helping your community today.
---
Copyright 2015 by David Strange, Shepherdsville KY. All rights are reserved. No part of the content of this page may be included in any format in any place without the written permission of the copyright holder.
---