Charles Lehr, Telegraph Operator
The following article by Charles Hartley originally appeared in The Courier-Journal on 29 Aug 2012. It is archived here with additional information for your reading enjoyment.
---
The Civil War produced many stories of heroism and bravery including at least one that happened right here in Bullitt County. It featured a telegraph operator named Charles Lehr who volunteered for a dangerous assignment in September 1862.
Lehr was the operator at Springfield, Missouri when hostilities broke out between Unionists and Secessionists in that state. When his lines were repeatedly cut by the Secessionists, he gave up his work there and joined a company of home guards for a time. However, his skills as an operator soon landed him at a station just over the Missouri line from Quincy, Illinois which is upstream from Hannibal and St. Louis.
Although a civilian, Lehr's willingness to serve the Union cause led him to join the U. S. Military Telegraph Service. He was actively involved in the construction of the telegraph through Kentucky, and in July 1862 was put in charge of the Central Kentucky district between Cumberland Gap and Louisville.
He found himself in Louisville when Union General Buell arrived there from Tennessee on September 25th. Buell had hurried to Louisville ahead of Confederate General Bragg's forces, but a large part of his troops and supplies were still on the way. They had not yet reached Lebanon Junction when a second attempt by Confederate forces to destroy the railroad bridge at Shepherdsville on September 21st helped convince Buell that his supply wagons were in danger.
The telegraph line had been cut south of Louisville and Buell was desperate to learn where the supply train was, and to communicate orders to it. He asked for a volunteer operator to restore the telegraph lines and Charles Lehr volunteered.
We are grateful to William Rattle Plum who described what happen next in his 1882 book, The Military Telegraph during the Civil War in the United States which we will paraphrase below.
Lehr took four soldiers, all dressed as railroad section men to propel a light hand-car, and started down the tracks toward Shepherdsville. They reached that place without seeing any rebels, but found the iron bridge somewhat damaged. After dragging the hand-car over the debris, they continued down the line about two miles where they spotted a rebel camp on the left. Rather than slow down, they continued vigorously forward as if they belonged there, and the rebels let them pass.
Finding some damage to the telegraph at Rolling Fork and again at Muldraugh's hill, they paused to make repairs and then pushed on safely to Elizabethtown, arriving about five in the afternoon. Lehr connected his telegraph instrument and gained a circuit to Louisville. His first excited message was, "Glory to God! Tell Buell I'm here. The train not yet come up."
Buell sent word for the supply train to turn west to the Ohio River where it could be brought to Louisville aboard steamboats, thus preventing it from falling into enemy hands.
The next morning they found that the telegraph line had been cut again, and the five men decided to abandon the hand-car and make their way back to Louisville on foot which they thought might be safer.
As they approached Lebanon Junction they spotted approximately fifty Confederate cavalrymen coming out of the woods a short distance away. The four Union soldiers, still in their railroad workers' clothing, ran across a cornfield, but were soon overtaken. Fortunately for them, they were not accused of being spies but instead were accepted as railroad men and later released.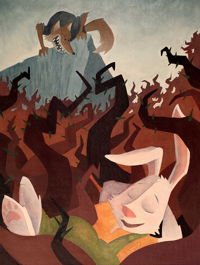 Meanwhile Lehr had not been immediately spotted, and he ran down a bank along the road toward some heavy blackberry bushes that grew in abundance along that way. When two of the rebel horsemen spotted him, he ducked into the bushes to hide. After a while, the rebels gave up the chase.
One wonders if the story of Brer Fox, Brer Rabbit and the briar patch ran through his mind as he waited for them to give up the chase.
Lehr was familiar with Lebanon Junction, having spent some time in the area earlier as part of his work as a telegraph operator. He knew the country and people fairly well, and managed to find a Union man's house where he spent the night.
Continuing north the next morning, he was approaching the rear of a house on his route when he met a slave woman coming from the house who warned him that the front room was "full of rebels." Skirting around that danger, he continued on to Shepherdsville. There he found a force of rebels in place that prevented him from continuing north.
Waiting for darkness, he brazenly pretended to be a rebel citizen, and even enjoyed a meal at a tavern by the side of a Confederate officer. After dark he crept past the Confederate pickets and continued north, finally reaching Louisville, with his shoes torn and his clothes in rags, where he received hearty congratulations from General Buell himself.
Later, in December, Lehr supervised the construction of a line from Lexington to Mount Sterling in his role as the chief operator of the military lines in Central Kentucky. His work continued at least into 1864 when he supervised the construction of lines from Cumberland Gap to Knoxville. We lose track of him after that.
One can only hope that he lived a long life, and was able to tell his grandchildren about his adventures, and especially about his hiding hole in the blackberry bushes.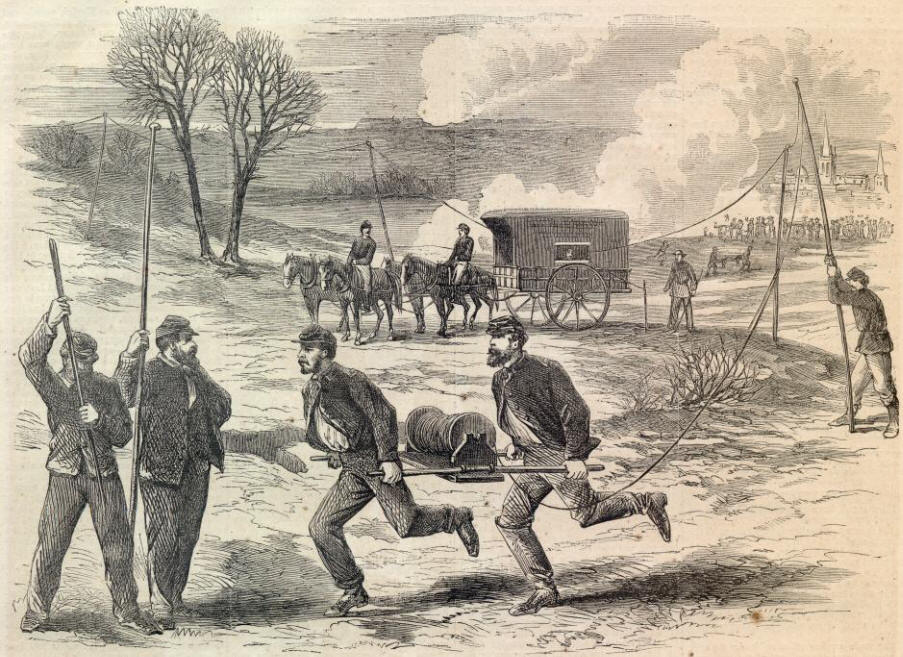 Sketch from
Harper's Weekly,
[24 Jan 1863, p. 53], showing telegraph workers.
---
Copyright 2012 by Charles Hartley, Shepherdsville KY. All rights are reserved. No part of the content of this page may be included in any format in any place without the written permission of the copyright holder.
---