Bullitt Memories: The Last Great Tree of Shepherdsville
The following article by David Strange originally appeared in The Courier-Journal on 2 May 2012. It is archived here with additional information for your reading enjoyment.
---
Though a lover of history, or perhaps because of it, I appreciate wise change and modernization. I am also enough of a pragmatist to realize that, appreciated or not, change will come.
I have been paying attention to the beauty of Bullitt County recently, with its rolling hills covered with rich green foliage and colorful spring flowers brightening and refreshing our lives after the grayness of winter.
But in recent years an awfully lot of trees have been cleared for huge concrete developments and parking lots in the county. And that has caused me to think about how so many of those beautiful trees have come and gone.
There is a photograph of Shepherdsville's main street in the 1920's (or perhaps a little earlier). The photographer must have been standing at the then fairly new one-lane Salt River bridge in town, looking north up Buckman Street (then known as Main Street). The trees were so thick that hardly anything else but a couple of buggies and a couple of cars could be seen.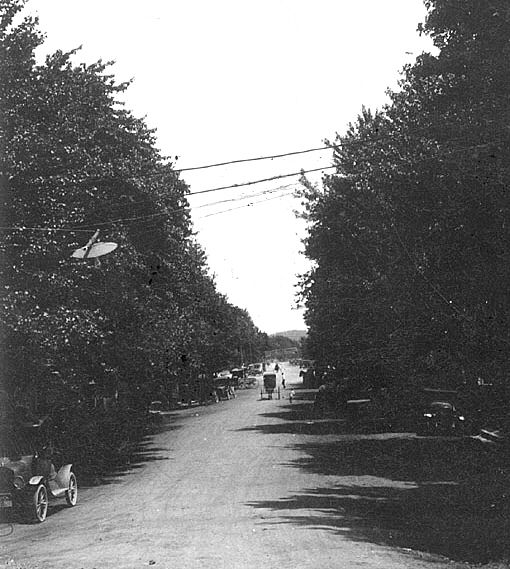 1920's or maybe a bit earlier. Shepherdsville looking north from bridge built in 1906. Trees now are so thick that little but the carriages and Model T automobiles can be seen. Note the hanging stop sign for the one-lane bridge, and the hill at the far end.
Today, only one of those great old trees still remains of the hundreds that once filled the heart of town. That last tree is located at attorney Eric Farris's office at 193 South Buckman.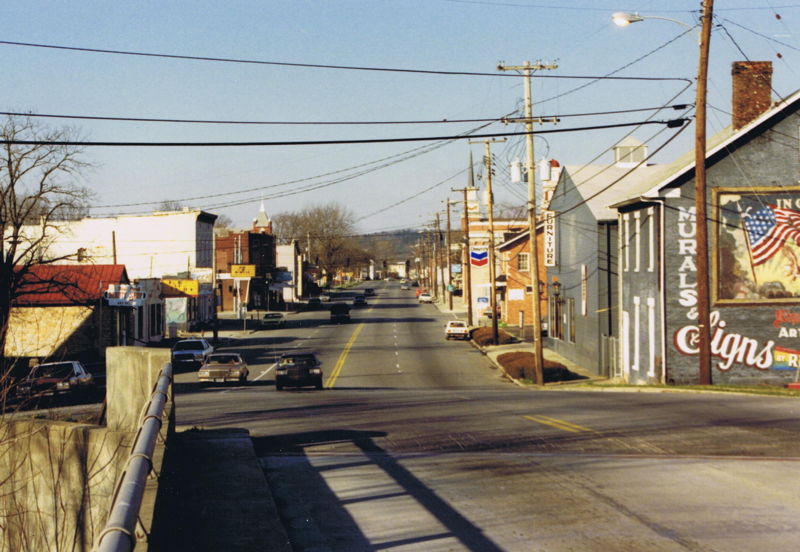 1990. Old Stone Bank on left. Building on right, with a 1980's wall mural by Lou Torok, is in the 1841 painting.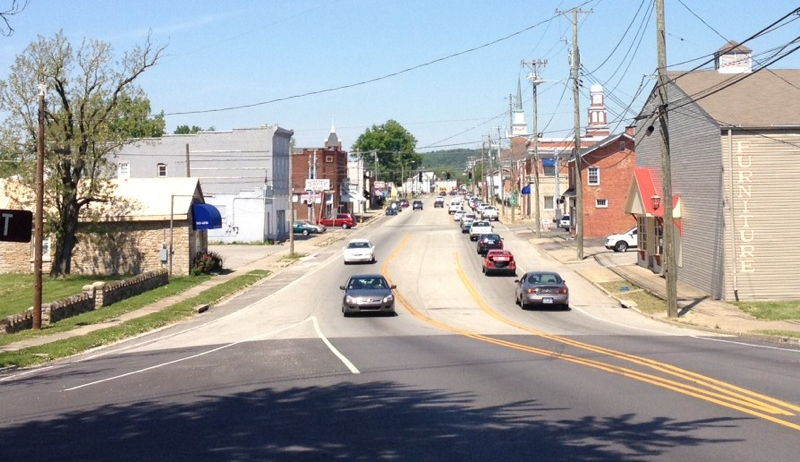 Shepherdsville April 2012. Same view, now from the bridge that was built in 1962.
The Old Stone Bank still remains. One last great old tree far in the distance.
Change has come, like it or not, and sooner or later that last great tree will go, leaving a diminished town for its passing.
But nearly a century earlier, there were also hardly any trees in town (or in the county for that matter), having all been cleared for firewood for the salt & iron furnaces that once consumed enormous amounts of wood in our area. It is said that one salt furnace could use six cords of firewood a day, every day, and there were dozens of such furnaces in operation. Additionally the iron furnaces would use hundreds of acres of wood each year.
At one time, in the early 1800's, there was hardly a stand of decent trees left to be found.
There is an 1841 painting of Shepherdsville, owned by Roy and Rhonda Welch, a copy of which is at the Bullitt County History Museum which shows this. I remember, when I first looked at the painting, I thought the artist must have been lazy, because there were very few trees in the scene. Then I realized what I had read about all the trees being cut.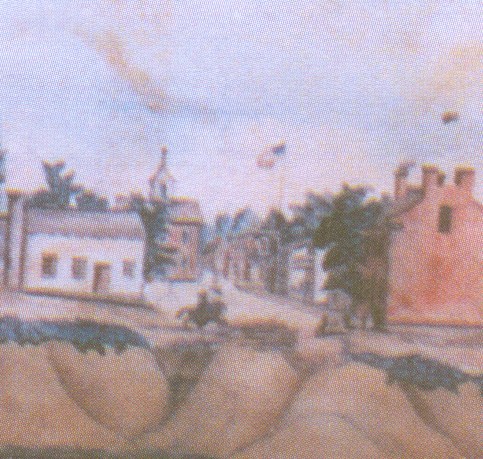 Detail from an 1841 painting of Shepherdsville looking north
on Main Street. The Old Stone Bank (on left) and the red building
(on right) still exist. The old courthouse in the center of the
street is gone. No bridge had yet been built.
But, with the decline of the salt and iron industries, new trees eventually came along and grew into the grand old trees of the 1920's and 40's. It is interesting to notice the scarcity of trees in the 1841 painting, a detail of which is shown here, compared to the 1920's , and then to the photograph I took only recently. It is also interesting to notice a couple of the buildings that still exist such as the Old Stone Bank and the furniture store.
Look around closely now and you can see "Time" continuing to make its changes. New trees are growing in the shopping centers and roadways. New oak trees were planted in front of the courthouse in 2004 and are rapidly becoming real trees of substance on the main street again.
And county citizens such as Tom Givhan, and organizations such as Bernheim Forest, have started a movement of planting decorative trees throughout the county.
So time and change happens, like it or not. Some good and some bad, but always, constant, change. The last great tree will some day yield to Time as will us all.
Just allow the historian in me to be a bit nostalgic from time to time. To respect the beauty of Nature, while loving the convenience of modern life.
Maybe one day someone will again be able to comment about all the big trees in town, those having grown from all the new ones that have been planted today.
I like to think so anyway, and look forward to being an old man and remembering back when all the trees were small.
Again.
---
Copyright 2012 by David Strange, Shepherdsville KY. All rights are reserved. No part of the content of this page may be included in any format in any place without the written permission of the copyright holder.
---