Hardy Family Roots, Old and Deep
The following article by Charles Hartley was published on 15 November 2015. It is archived here for your reading enjoyment.
---
When we moved to Shepherdsville, we soon found ourselves buying our groceries at Harold Hardy's store, doing our banking with Bill Hardy at the Peoples Bank, purchasing our insurance from Bud Hardy, buying furniture from Jimmy Hardy at Henderson-Hardy, and getting auto supplies from Sam Hardy at Hardy & Mooney.
It seemed like these brothers and cousins had a hand in almost every business in town. And as research has shown, they came from a long line of entrepreneurs.
Their great-great grandparents were George William and Lucinda (Hagan) Hardy. G. W. and Lucinda were married in Bardstown, but by the late 1840's they had moved their growing family to the small but then growing community of Pitts Point in Bullitt County. He was a carpenter by trade, and likely found lots of work there. He was appointed the town's postmaster in December 1856.
Following the Civil War, and G. W.'s death, his son Frank became the proprietor of a local hotel. Frank's brother James Harrison Hardy moved to Colesburg where he operated a dry goods store.
Frank and his wife, the former Malinda Hamon, had ten children. Of these, Charles Edgar Hardy following his grandfather's occupation as a carpenter, while both Frank Jr. and George William "Bill" Hardy became businessmen. Frank Jr. moved to West Point in 1905, and operated the Hardy Hotel there. G. W. "Bill" Hardy remained in Pitts Point for a time, operating a general store there. Like his grandfather, he was postmaster there in 1898.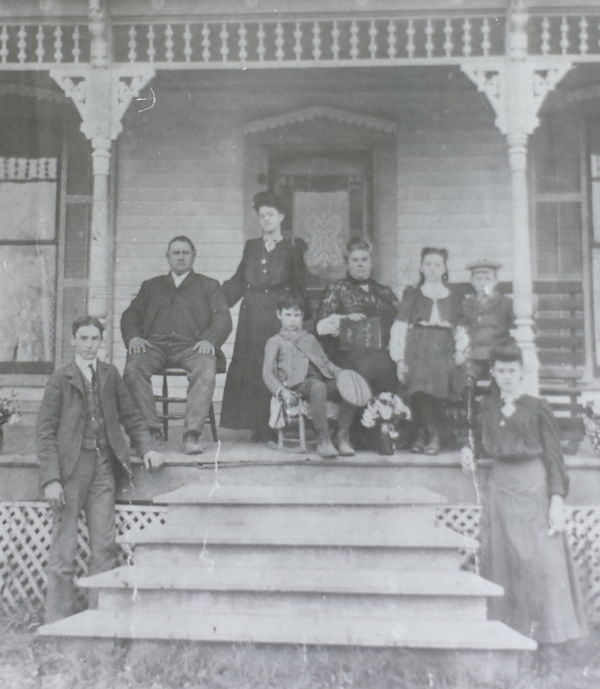 Left to right: Robert Marion Hardy, George William "Bill" Hardy,
Cora Birdie Hardy, Samuel Howard Hardy, Mary Alice Hardy,
Ollie Belle Hardy, James Hilary Hardy, Clara Grace Hardy.
Bill married Mary Alice (Greenwell) Sweeney in 1885. She was the widow of James Harvey Sweeney, a Presbyterian minister from Springfield.
Bill and Alice had six children: Cora, Robert, Grace, Ollie Belle, James Hilary, and Samuel Howard Hardy. The picture you see here shows the family on the steps of their home.
By the turn of the century, it was becoming increasingly clear that Pitts Point's days were numbered. The boat traffic up and down Salt River was all but gone, and the railroad had taken away much of the commerce that supported the town.
According to family lore, Bill and Alice sold their remaining property in Pitts Point and moved the family to the Zoneton area. It is said that the move was so extensive that it took upwards of 20 wagons to make the transfer.
Those same family stories relate that Bill Hardy was mail carrier for a time on the route from Shepherdsville toward Mt. Washington. As the story goes, there was no bridge at Floyd's Fork, and when the Montgomery Ward catalogs arrived in the mail, his wagon would be too heavy for his mule to pull up the creek's bank; so sometimes the ladies on the east side of the fork didn't always get their catalogs as Bill would lighten the load by tossing catalogs into the Fork.
Of their children, Robert Hardy married Nina Grace Galbrath and they had four children including Cora Ney Hardy who was a missionary in Africa, and Harold Winston Hardy who later joined his father in business. Robert came to Shepherdsville in 1919 to work as a salesman in the Maraman store. He continued in business, including opening the Hardy Funeral Home about 1929.
Bill and Alice's next son, James Hilary Hardy married Ruth Evelyn Sutton in 1922, and they first lived in Zoneton. Later they moved to Shepherdsville where Hilary had a restaurant across from the Courthouse. He then opened a general store in the Salt River community, before purchasing a farm on Deatsville Road. There they raised crops and livestock, and developed a small dairy farm. Hilary did carpentry on the side, and was a deputy sheriff for some 16 years. They had four children: Mary, Bud, Bill, and Sam.
Bill and Alice's last son was Samuel Howard Hardy who married Ella Myrtle Stansbury in 1919. They had two children, Mary Eloise and James Ray Hardy, before Samuel died in 1932. He had been in the hardware business with Ralph Henderson, a business that would grow until it became the Henderson-Hardy Furniture Store. James, better known as "Jimmy," would grow up in the business and later head it.
By the time we reached Shepherdsville in the mid 1960's, Robert's son Harold had both the funeral home and the grocery store on Buckman Street. Jimmy Hardy had the furniture store that was well known throughout the region. J. Hilary "Bud" Hardy ran the State Farm Insurance office and sold real estate. Sam Hardy and Joe Mooney had the Hardy & Mooney Auto Supplies and Hardware Store. And Bill Hardy, who began working at the Peoples Bank in 1949, was now managing the bank.
Alas, times change. J. C. Thompson bought the grocery in 1969. Then later it was closed and the building demolished. A lawyer's office stands there today. Jimmy sold the furniture business. Today that building has found other uses. J. B. Close operated the funeral home for many years; he too is gone but that business is still open across from the Courthouse. Bud Hardy died in 1997. Sam Hardy and Joe Mooney sold their auto supply business. And Bill Hardy is retiring from the banking business.
Not only have the Hardys been good businessmen, they've been good citizens, and good friends; and they won't soon be forgotten. Bill and Alice would be proud.
---
Copyright 2015 by Charles Hartley, Shepherdsville KY. All rights are reserved. No part of the content of this page may be included in any format in any place without the written permission of the copyright holder.
---