An Honor for George
The following article by Stephen Thomas was originally published in The Pioneer News on 5 Feb 2018. It is re-published here with permission. The text and photos associated with this article are copyrighted by Stephen Thomas and The Pioneer News.
---
PIONEER VILLAGE - It was a long journey from Bullitt County to Okinawa, Japan for George Bradbury.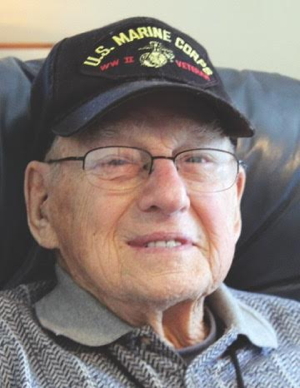 George Bradbury
It was an even longer journey for Bradbury to Washington DC, a journey that took a lifetime to experience.
Bradbury, 92, recently participated in the Honor Flight Program, an organization dedicated to transporting veterans to the nation's capitol, free of charge, to visit war memorials dedicated to them.
Born in 1925 and raised in Belmont, Bradbury did his part to receive such honor, surviving some of World War II's deadliest battles.
"I was a corporal," he said. "I did a sergeant's work, but I didn't get paid for it.
The son of George and Miriam, Bradbury attended Belmont School and graduated from Shepherdsville High School in 1943, at the height of the war. He decided to enlist in the United States Marine Corps before he got drafted.
"I didn't want Army or Navy," he said. "I saw a lot of pictures of the Marines in the paper. I wanted to be a gunner in an airplane, but it didn't work out. I worked at the L&N (Railroad) shops right out of high school. They offered me a deferment, but I didn't want it. I was gung ho, I wanted to go."
Bradbury participated in six weeks of boot camp, six weeks of infantry training, and six weeks of communications school in San Diego prior to his Pacific Theatre deployment.
"Overseas I went," he said. "I never came back home. They gave you ten days, but it took five to get home and five to come back, so I visited a friend's family in Arizona."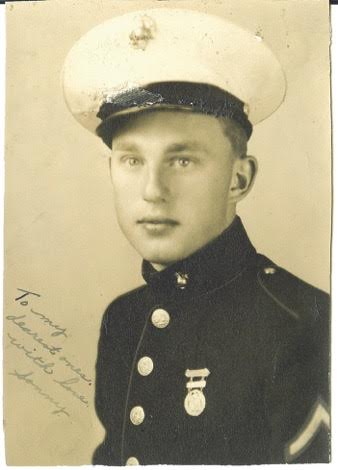 Bradbury was deployed to a Marine home base on the Russell Islands, a portion of the Soloman Islands, at the end of 1943. He said the base was located 12 degrees from the Equator.
Eventually Bradbury saw his first action with the 1st Marine Division during the Battle of Peleliu, often referred to as the bitterest battle of the war for the Marines.
"The reason for the invasion was to destroy the airstrip (on the island of Peleliu) so the Japanese couldn't invade the Philippines," he said. "There were 10,000 Japanese soldiers there. The island was actually a big ridge of coral with a lot of caves."
According to Bradbury, 87 amphibious vehicles transported American soldiers to island beaches, with coral reefs hindering the transport.
"We were supposed to land at high tide," he recalled. "We had to wait because we couldn't get over the coral. They took us in as far as they could, and then we waded in. There was a lot of heat. The average temperature was 130 degrees."
A battle anticipated to last three days took closer to three months, with many more casualties than anticipated. The 1st Marine Division alone reported 6,500 casualties.
"It was terrible," Bradbury said. "We only had three canteens of water. We got within a mile the airstrip and we couldn't see it through the smoke."
Still just 18 years old, Bradbury remembered sitting below a small embankment with an older marine.
"I was nervous," he said. "I tried to dig deeper, and my knife went into a corpse. It was a Japanese corpse."
The morning following the landing, Bradbury's unit was given orders to cross the air strip. During the attempt, three Japanese tanks came toward the soldiers, 50 yards away, dragging barrels full of soldiers who were shooting at them.
"I saw a plane flying over that morning, but it wasn't doing anything," he said. "All of a sudden it dropped a bomb. The bomb went down and hit the tanks. I can still see tires from the tanks flying through the air now."
Once the landing strip was secured, Bradbury returned to Russell Island, resting up for his second event, the Battle of Okinawa.
"My first night on Okinawa, I helped deliver a baby," he remembered.
According to Bradbury, the 1st Marine Division helped secure the island's north end, which was primarily farmland.
"Boy, they had some good vegetables," he said.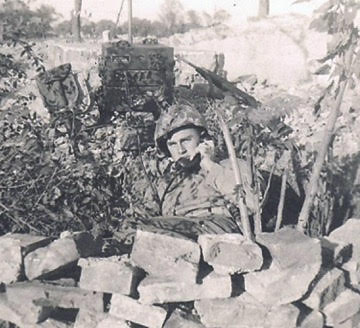 As a radio operator, Bradbury worked with the Navajo Code Talkers, a group of Native Americans whose language was implemented for secret messages by American troops.
"It was the only language that the Japanese couldn't decipher," Bradbury said. "Some of the Navajo thought that the white people were still against them. But they were the nicest people."
Bradbury spent weeks on Okinawa, and was there when the first atomic bomb was dropped on the city of Hiroshima, some 300 miles away.
"I could see the glow," he said. "Half the hemisphere turned red. When that first bomb went off… we thought the Japanese hit one of our airstrips."
The atomic bombs effectively ended the war, but Bradbury still had one more assignment. The 1st Marine Division headed to Northern China, helping Japanese soldiers and civilians return home and offering protection in the midsts of a Chinese civil war taking place.
"When i was a kid in church, I was a member of the R.A.'s, the Royal Ambassadors," said Bradbury. "I wanted to go to China. I got to see the Forbidden City in Peking."
From China, Bradbury eventually returned to the U.S. at Parris Island. and Bradbury returned home to Belmont. His days as a soldier were over.
"I was through with it," he said. "I didn't even want to go hunting anymore."
Bradbury was discharged at Parris Island and given $50 to travel home. He took a bus to Louisville, then a local commuter train to Belmont.
"I got off the train at Belmont, I looked around and I didn't see a soul," he said. "I just looked around and figured out which way to my house. I remember the house looked very small."With $500 saved, Bradbury enjoyed life until the money was gone, then took a job with Mengel Furniture in Louisville. In 1954 he met his future wife, Geraldine, through her cousin. Geraldine won the 1954 Miss Bullitt County contest. The couple had three children, including Craig, George Jr., and Valerie Meyers.
With more money saved, Bradbury built a service station on Highway 61, and eventually opened up a skating rink. He would later become the owner of Skate-O-Rama in the county's north end, a popular hangout for generations of local kids.
Meyers noted that Bradbury was famous for his discipline at the rink, which was unofficially endorsed by the parents in days past.
Bradbury also spent time on the Bullitt County School Board, serving alongside longtime superintendent Frank Hatfield.
Although his return home from war was not as difficult as the way soldiers returning from Vietnam experienced, Bradbury still received no fanfare. It is part of the reason the Honor Flight Program was created.
"A lady at my doctor's office asked me about it maybe five years ago," he said. "She gave me the information, but I never really thought about it."
Meyers had also heard of Honor Flight for several years. She said she considered it more for her father after her mother died. Honor Flight participants are required to be accompanied by a guardian, so Meyers volunteered to accompany Bradbury.
"They sent us a training video to help us know what to expect," she said. "But they did everything for us."
The Honor Flight event included an all-expenses-paid round-trip flight from Louisville to Washington, providing meals for about 75 veterans and their guardians, including 20 World War II veterans. The participants are flown back home later that day.
"Boy, they were really organized," Bradbury said.
In Washington, the first visit was to Arlington National Cemetery, where the group witnessed the Changing of the Guard at the Tomb of the Unknown Solider.
According to Meyers, the guards did a special scuff step with their boots during the changing, something they add to the ceremony when they are aware of World War II veterans in attendance.
"It really got to you when they did that," she said. "It was a special moment."
The group visited the World War II Memorial, featuring the Freedom Wall, which showcases 4,048 gold stars, each star representing 100 American lives lost during the war.
Other highlights included visits to the Korean War Memorial, the Air Force Memorial and the Vietnam Memorial Wall.
"It would make your head swim," Bradbury said.
One the best features of the Honor Flight Program is the reception the veterans receive upon their arrival. According to Meyers, hundreds of volunteers showed up at both airports to greet the veterans with a heroes welcome.
Bradbury received a commemorative book afterward, with photos and biographies of the veterans that attended the trip, as well as photos from the trip.
Back home, now residing in Pioneer Village, the lifelong Bullitt County resident wanted to publicly thank all of the well-wishers who have supported him over the years.
"I appreciate all the letters the students have sent, and all of the patronage at the skating rink," he said. "I couldn't have done it all without them."
For more information on the Honor Flight Program, visit honorflight.org.
---