Bullitt County's First Courthouse
The following article by David Strange was originally published on 30 Oct 2016.
---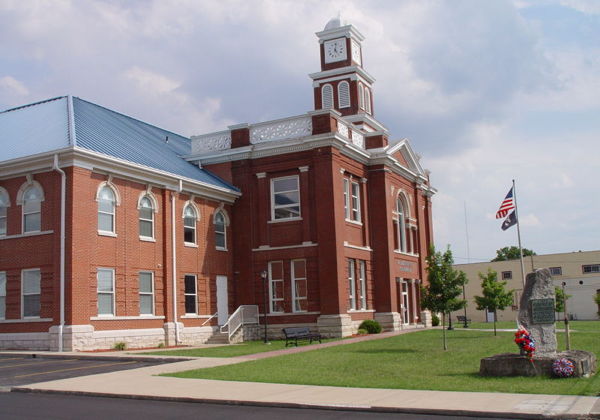 Bullitt County Courthouse Today
If you visit Bullitt County's courthouse today, you see a classic bell-tower structure that was completed in 1900. If you look closely, you might notice that the larger back portion of the building has been added in recent years, though it nearly matches the older front section.
What you do not see is the original Bullitt County Courthouse.
Kentucky authorized the creation of the new county of Bullitt on December 13, 1796, out of sections of Jefferson and Nelson Counties. The first official meeting of this new county's governing body was held "in the town of Shepherdsville" on Tuesday, February 28, 1797. Just imagine all of the responsibilities these people had that day. There was as yet no one to take care of roads, no one to enforce the law, no one yet to lead government. There were yet no government buildings; not even an official place for government to meet. Looking at the minutes from those early meetings, one begins to understand the very long tedious days that these founders put in to get their new county underway.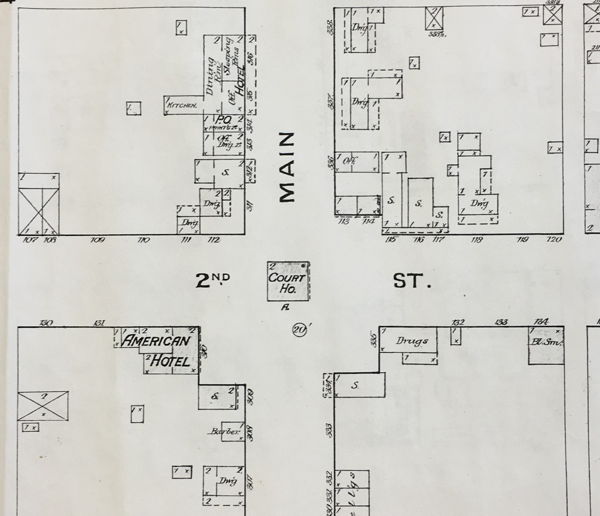 Courthouse Square in 1886
Meeting in the house of Benjamin Summers, they first had to organize themselves as an official body. Moses Moore, Jesse Drake, Thomas Saunders, Benjamin Ogdon, Joseph Irwin, and James Caldwell were selected as the first "Justices of the Peace" (what would be called today the members of Fiscal Court, who lead the county government). Thomas Speed was appointed County Clerk. After they were sworn in, they began days of tortuous work establishing a county government, beginning with the appointment of numerous people to see to repair of roads, survey the county, build roads, collect taxes, enforce the law, and countless other smaller duties that had to be attended to.
On March 7th, they took up the issue of necessary public buildings, ordering that public buildings for the county be erected in the center of Shepherdsville, using portions of lots 12, 13, 20, & 21 to square off the intersection to allow a new court building to be built in the center of Second and Main (now Buckman) Streets. That was the beginning of the first courthouse of Bullitt County.
But the courthouse was not the first public building. Interestingly, one of the first orders of business was to create a county jail. Benjamin Summers was appointed to see to the refitting of a two-story storehouse owned by Adam Shepherd down by the Salt River "in such a manner as to serve as a county jail". That same day, commissioners were appointed to plan and build a real jail, 40X20 feet by two stories tall. That first official building, a wood and brick structure, was built in 1800. That structure is now long gone.
The first courthouse was not built until a few years after the county was formed. In 1799, the Justices were still meeting in homes, planning to meet for the coming year in a large room in a house owned by Stephen Briscoe, and rented by John S. Parrish.
But finally, the first courthouse was begun. Henry Crist, a local hero and leader, was selected to build it. Began in 1803, it was completed in July, 1804 at a cost of $3,150. It was a small brick structure of just 28 X 46 X 32 feet high, in the center of a small circle in the center of the intersection. But people were proud of it, praising its strong brick and stone construction, its 22-inch-thick walls, and its fine bell. I have written about the bell before, which is said to have been cast in Philadelphia as part of a special series of bells in honor of the famous Liberty Bell. Sadly, so far, that Bullitt County bell has been lost to time.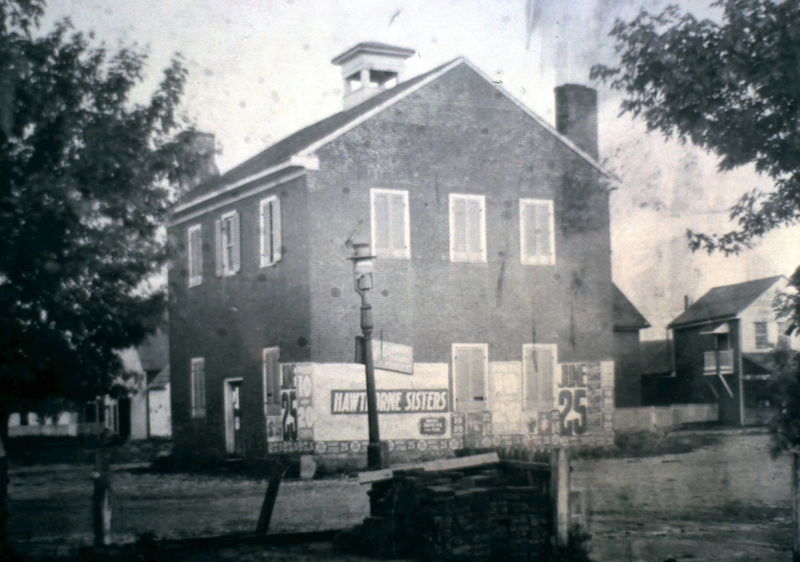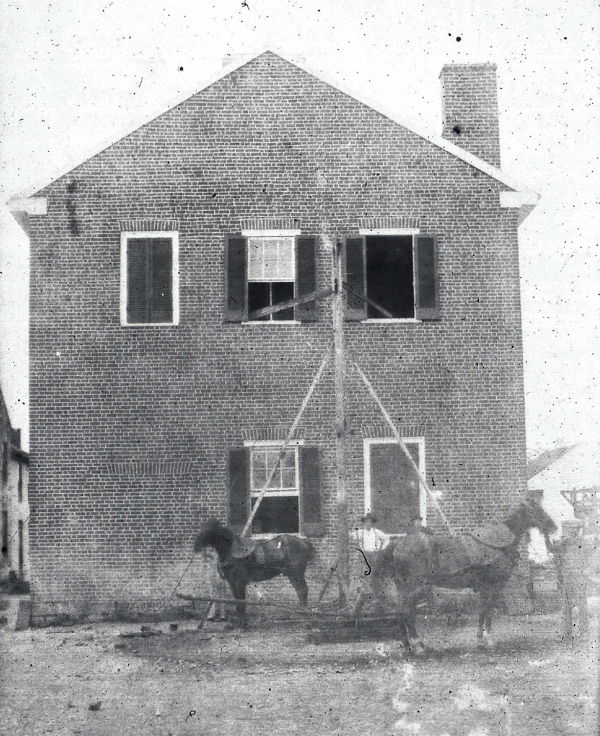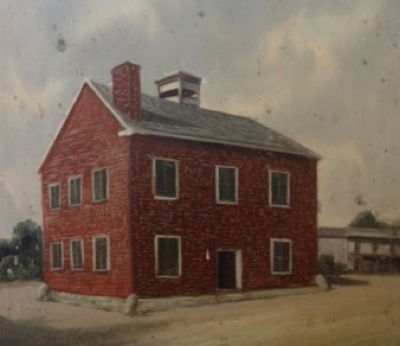 First Courthouse
And so the first Bullitt County Courthouse was built in 1804 and it stood the test of time fairly well. But by 1840, county leaders were already thinking of the future, buying two lots just a little farther up from the river. In April, 1840, they bought lot #9 "for the purpose of a new jail", and lot #10 "for the erection of public buildings". An 1886 map shows the location of the first courthouse, but also shows lots where the next jail was built. Those lots became the location for the eventual second courthouse, part of which is used today.
In 1898, plans were drawn up for the new courthouse, construction started in 1899, and construction completed in 1900 at a cost of $17,400 with new furniture costing $5,700. When that building was completed, the original courthouse was torn down, but the circle in which it stood remained for many years afterward, used as a site for the county Christmas tree.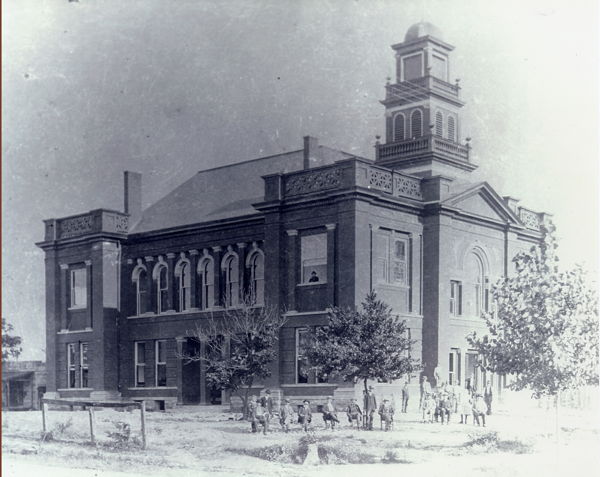 2nd Courthouse in 1909
By 1909, the first courthouse was gone after a century of service. Remarkably, the second courthouse that was built in 1900, also lasted a century until it was considered for replacement in 2000. County leaders decided, however, to preserve the front portion for history-sake, and to replace and expand the back portion with a new construction that mirrored the historic design of the original.
Well, not exactly the original courthouse, as you now know. The second, but modestly more grand, 1900 courthouse still stands, thanks to the preservation vision of county and history leaders. In 2004, the revitalized building reopened to the public, using that old front section as the first-ever Bullitt County History Museum.
The old circle of the original courthouse was eventually cleared away as a traffic hazard, and the street corners filled in with businesses. Today it is hard to imagine that little intersection of Second and Buckman Streets with a building in the center. But now, if you drive through that part of town, maybe you will think of the little brick building in which a new government of a fledgling little county once began.
---
Copyright 2016 by David Strange, Shepherdsville KY. All rights are reserved. No part of the content of this page may be included in any format in any place without the written permission of the copyright holder.
---