Fall is Here; Winter is Coming
The following article by David Strange originally appeared in The Courier-Journal on 18 Sep 2013. It is archived here with additional information for your reading enjoyment.
---
As I sit writing this week's column for you, I look out from my porch and see summer beginning its miraculous conversion to a Kentucky Fall.
I yearn for the pure, clean rains of September to bathe the countryside, preparing it for its long winter's nap.
The long, hot Summer has ended, and refreshing cool breezes have taken its place, causing a restful rustling of the drying leaves. The hills of Bullitt County, covered with deciduous trees such as Maple, Oak, and Ash are just starting to turn their beautiful golds, reds, and yellows. It will all soon take on the aura of a grand oil painting. The leaves become so bright that, along with the low setting autumn sun, the very air takes on a golden hue. Long evening shadows fill the valleys. Mists fill the mornings.
Everything in Nature seems to be giving out one long sigh.
Bonnie and I have begun harvesting our pears and apples, and enjoying the taste that only fresh-ripened fruit can give.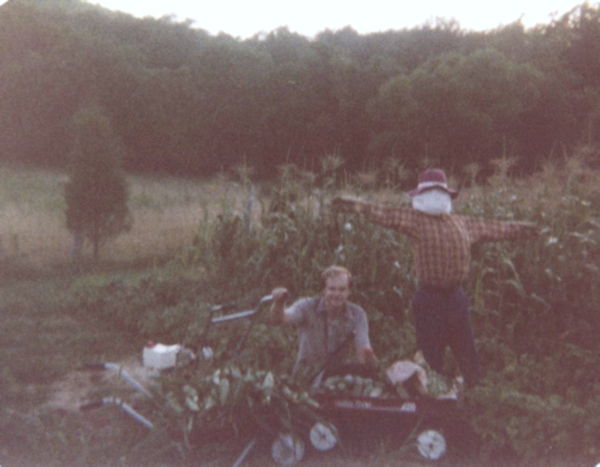 Dave in his 1978 garden.
When I was younger, I grew a huge garden of corn and green beans, pumpkins and squash, and tomatoes, giving away the surplus to neighbors and friends. But anymore I do good to grow a few home-grown tomatoes. I am not sure a person can be a true Kentuckian if he does not like home-grown tomatoes.
I long ago gave up on my English Walnut trees and Pecans that become ready for harvest this time of year. Those trees yield a fruit that is like candy to squirrels, almost putting them in a trance, oblivious to intruders like me. One year a young squirrel discovered my Missouri-Hardy "papershell" walnuts. I watched, with mixed emotions, as he opened the first shell, discovering how easy it was to open and then tasting the treasure inside.
To my surprise, he suddenly dropped it and ran off. But within a few minutes he returned with his mate. I swear, the squirrel picked up the nut, looked it over to make sure it was perfect, and handed it to the other as if it was a present. I am sure that he must have said something like, Here, Honey. This is for you. See how I love you?"
Oh, I do what I can to get my share of the nuts, but I know it's a losing cause. And that's okay; all of Nature needs to prepare its harvest.
My hands will soon be stained greenish-brown from harvesting black walnuts, but that's okay, too. Breathing the clean, crisp air while I work...even the smells of the last fresh-cut grass of the year, is one of many rewards of living "in the country." Black Walnuts are not really worth the trouble to me anymore. I have become too "citified" for them, preferring to write rather than work. I just gather the nuts to give them away.
Black Walnuts have a long tradition in "the country." The nuts are very hard to crack, and the outer hull is tough and messy (pioneers and Confederate Civil War soldiers even used the stain as a dye for their clothes and uniforms).
People who live on a gravel rural road might lay the nuts on the road on purpose, letting passing cars run over them, busting and removing the outer hull but not breaking the tough inner shell.
I used to do the same on my gravel driveway.
Looking back, it made a nasty looking mess, but the winter rains would eventually clean it up soon enough. Now the road is paved and my driveway is a nice white concrete. My wife, and maybe my fellow-citified neighbors, would not be happy with a big black stain in the middle of all that. Meanwhile, falling nuts from the wild trees naturally growing along the roadways stain even the paved roads brown along the country lanes.
Until the cleansing rains of fall come again to wash it all away.
And the squirrels enjoy it all, packing and preparing their harvest for winter as well.
Nature, like all of us, needs to slow down a bit once in a while and take a breath. Fall seems a little like that sometimes.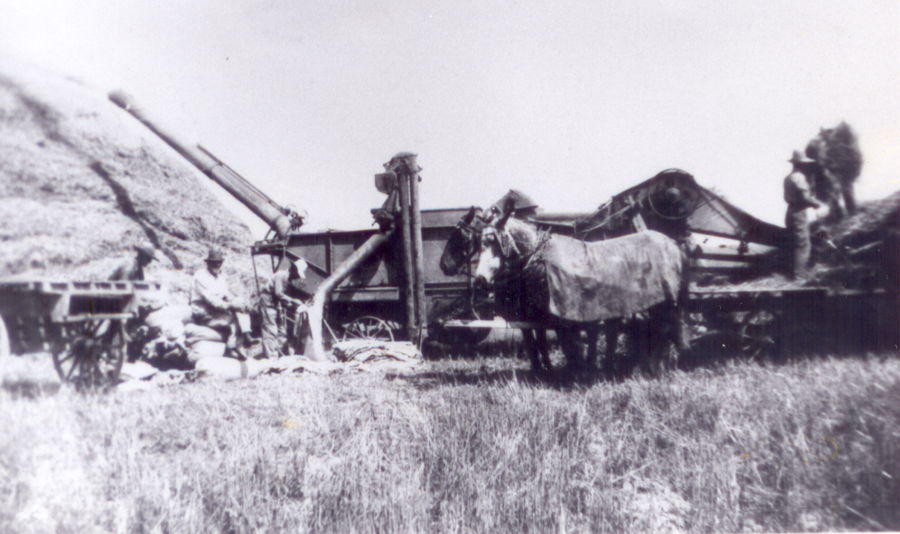 But first it is harvest time. Time to reap the seed that has been sown.
Vast fields of corn are turning brown, ready for the reaper, the scythe, and the machine to gather in the bounty.
Sorghum molasses-making will start any day now at the Mann family home, if it has not been done already.
The Canada Geese gather on the lakes and in the fields, many waddling over to my yard seeking the fruit that has fallen from the trees; fruit fallen like the leaves that have begun their last gentle dance back to the ground from whence they came.
Sitting peacefully in a comfortable chair on my back porch, still shaded by a huge maple and an oak, with a cool, gentle breeze blowing through the trees and across my face, I watch a pair of bright yellow finches and several bluebirds playfully flying around the yard, enjoying the last rays of evening light.
Half a dozen crows thoughtfully work across the lawn, searching for food and keeping a wary eye on me.
As evening sets, a few young deer carefully drift in from the shadows, taking their turn at the lush grass and the low-hanging pears.
And all the while the leaves whisper with a thousand voices as the wind breezes past them, singing lullabies to us all.
The only thing missing is my dear children, all grown up and on their own now, and my beloved wife, gone for the day on errands and her work.
But even now, my mind's eye looks across the yard, remembering when the kids were small, exploring this same yard many years ago much like the little fawn is now. I can still see them sitting next to the bushes and the cherry tree, playing with dolls and toy soldiers. Running and gleefully shouting as they played with our much loved cocker spaniel, Charlotte, now buried at our "family tree" nearby.
Sitting in the stillness, I can still hear Bonnie calling the children in for the night. "Awww!", they would respond, "Just a little while longer?"
It's quiet now, with only the breeze, the birds, and the memories singing their songs.
Rain begins to patter on the roof and it's time to go in for the night.
I sigh, and it seems all of Nature sighs as well.
Summer has ended. Fall is here. And we will all soon settle in for a long winter's nap.
May you have a pleasant and peaceful fall season wherever you live.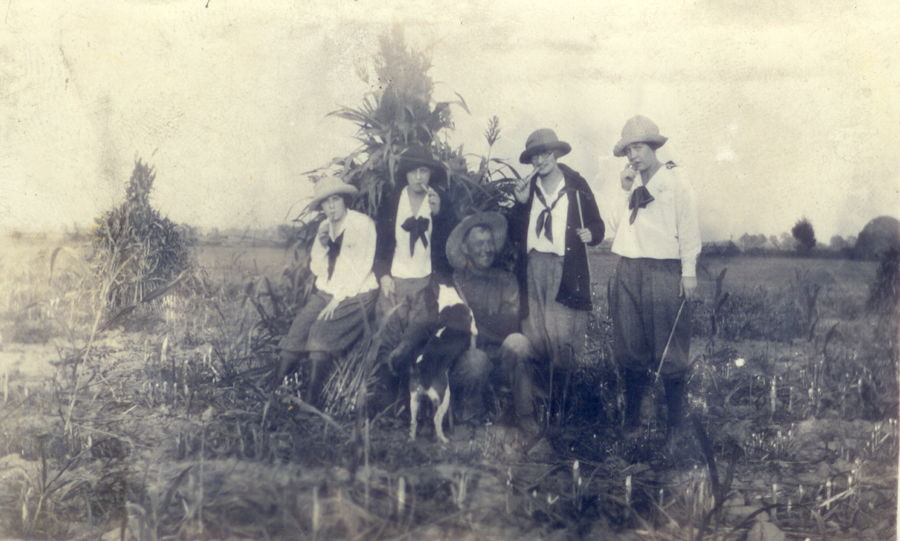 Enjoying a bit of sugarcane in 1925.
---
Copyright 2013 by David Strange, Shepherdsville KY. All rights are reserved. No part of the content of this page may be included in any format in any place without the written permission of the copyright holder.
---